Books mean the world to me. In the course of the last few years, I have not only written four books of my own, but have also contributed to several renowned international trade publications. Almost exclusively, my focus was on creative tourism as an international trend in cultural tourism, as well as trends in social media marketing (again, with reference to cultural tourism).
Most recently, I had the privilege of contributing two chapters to a publication called "Creative Tourism: Activating Cultural Resources and Engaging Creative Travellers" for the international publishing group CABI, which specializes in publishing books on human sciences and tourism.
One of my chapters discussed the basics of creative tourism in Austria, with special reference to Kreativ Reisen Austria and the demand for this kind of cultural tourism in this country. The other one was dedicated to the broader topic of "Creative Tourism Marketing & Social Media": Here I got to write about my professional experiences in the field as well as my work for the European cultural tourism network EuropeTour.tips.
You are welcome to watch my presentation here:
The book launch event took place online via Zoom: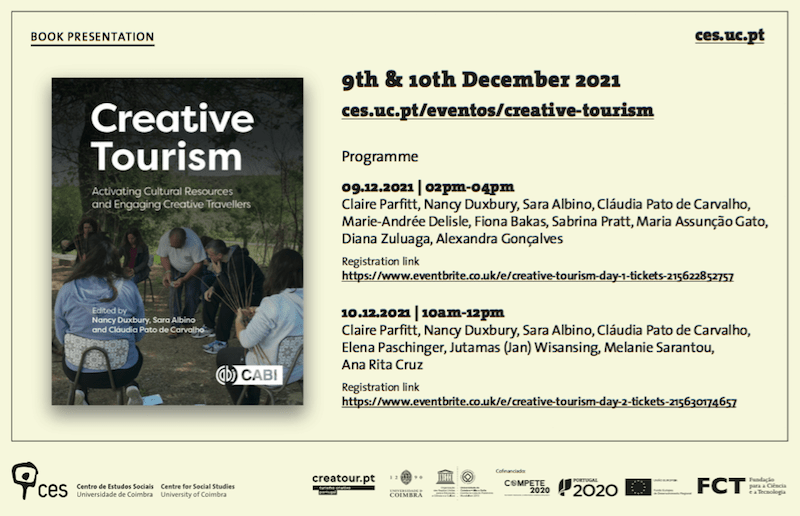 The book is available at a 25% discount until the end of 2021 by entering the below-mentioned code. It is chock full of know-how for the planning, implementation and continuous improvement of projects and ventures in creative tourism. Best practice examples include case studies from 15 different countries: Austria, Brazil, Canada, Colombia, Denmark, Finland, Kenya, Namibia, New Zealand, the Netherlands, Portugal, Slovenia, Spain, Thailand and the United States.
Predominantly aimed at entrepreneurs and public institutions interested in developing activities and programs in creative tourism, students and researchers in the fields of creative tourism, cultural tourism, and community-based tourism will also find the results of the international field research appealing.