Dear Matthias! Today, we would like to know more about your work as a "digital influencer". How important are community & networking for you, and where will the way still lead you both personally as well as in business?
We are curious to know more! Thank you for taking part and answering my interview. Here we go 🙂
How do you personally explain your "digital influencer" status through www.traveltelling.net ? What is necessary to succeed, according to your belief?
I have to admit that I don't particularly like the word "digital influencer" – too business-like, and too trendy for my ears. I rather see myself as a digital travel writer. Someone who inspires others by publishing content online.
Influencers, or digital content writers, have come about because today's generation, who grew up in the digital age, no longer trust traditional media, or old-fashioned marketing campaigns. What (or who) they trust, is their "friends", and other potential buyers (online). The more specific, the better, like, "Solo Travel as a Woman", "Travelling in a wheel chair", or "Travelling with Hand Luggage". Likewise, you stand the chance to become an expert in your field, by publishing authentic stories about real people, and places.
This, I believe, is the most important capital in order to "stay afloat" in the endless sea of information on the Internet. Don't let yourself be bought out, and do keep developing your blog, also in terms of SEO, Wordpress, and Social Media so you can stay up to date with the most recent developments.
I am not saying it is easy, always managing a solution on your own. The most important virtue is patience. A lot of time will pass, until your blog will show the kind of return it deserves. Do hang in there, it is worth it in the end! Never try and be someone else, always be yourself. Especially when it comes to writing!
What has been your most successful project through "TravelTelling"? How do you measure and evaluate that success?
TravelTelling is a niche travel blog focusing on Slow Travel. I attribute my success both to the clicks I get on my website, as well as to the interaction with my fans & followers on Social Media. Apart from the sheer numbers' game, I am really proud of the fact that I can reach more and more people, about the virtues of slow travel, a very important topic in today's mass travel market I believe. It moves me to see, that people react to my (personal) stories, where I also talk about my struggles, my personal life, and my challenges.
Moreover, what definitely helps is my professional tourism & online marketing background. I love getting great positive feedback from my peers, including the German TV channel WDR, which has recently broadcasted a short news piece about me and my work through "TravelTelling"!
Why do you (still) attend travel trade shows, networking events, conferences, etc.? What are some of the most important criteria here?
I have attended both ITB Berlin, as well as the World Travel Market in London, since 2006. First as a tourism student, then as an employee of a tour operator, and since 2014 also as a travel blogger. World Travel Market is the best in terms of (international) best practice, and knowledge development. Usually, what I do is gathering support for a travel venture, such as cycling through South-East-Europe, then tie in the project talking to relevant stakeholders at the tourism fairs. Another important point, is meeting old friends, networking, and of course all evening events to party and celebrate together!
It's been several years now since you've become a trusted travel publisher in the German-speaking markets. Where will your spheres of influence still lead you? What are some business opportunities you would like to develop further?
As a blogger, you always have too many ideas, too little time and even less money to do everything you want. Likewise, you are simply forced to prioritise, and get organised. After starting a series of monthly prize draws, and a monthly newsletter, four more projects are in the pipeline for 2017. One of them is called TravelTelling TV, referring to building my YouTube channel with more videos and vlogs. Our latest video documenting the longest flight in the world has been viewed 2.600 times in just one month, at only 80 current subscribers. That's something, and encouraging me to go on.
Travelling, too, has created new plans. Barbara, my girlfriend, and I are currently on the road again exploring Macedonia, Kosovo, Albania, Montenegro, and Bosnia. As I am writing this interview, I am sitting in a small hostel in Skopje, soaking up the feeling of this one of a kind travel destination. We have both been working hard on our first e-book, talking about our cycling trip – a love letter to the Balkan states, as well as to slow travel! 150 pages, filled with 2.500 kilometres of cycling from Germany to Romania: Go get it on Amazon!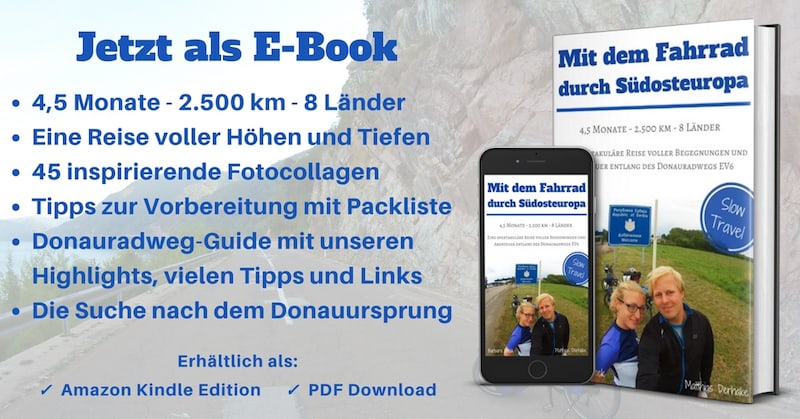 What is your single biggest tip for those wishing to work with you?
Dear PR person! Please make a point of watching out for the right niche, and do not let yourself get carried away by Social Media accounts with high numbers, but low interaction. Listen to experiences & advice from your colleagues. I totally get that you are using templates, but do try and be a little bit more personal at times. Check out the "About me" section of a blog, it really is worth your time getting to know the person you wish to work with.
Like you, I get a lot of questionable (spam) mails, unable to convince me of the need to work together. As bloggers, we are very well linked in our groups and forums, and you have only one chance for the first impression: Do it right! Talk and respect each other, because this is a sure guarantee to get you where you want: Increasing reach, and brand awareness, of your destination, hotel, or travel business.
How do you go about researching your next trip? Do you yourself value the opinion of other travel influencers, or do you prefer being surprised over planning ahead ..?
As soon as I have an idea for a trip, I first check out other travel blogs on Google. Then, my research also leads me to the websites of travel destination companies, forums for exchange, as well as YouTube videos, especially in the case of less known destinations. Personally, I care more for the East, as in Eastern Europe as well as South East Asia. Places like Canada, or North America as a whole, have not been able to convince me (yet).
What is your single biggest inspiration in travel? And in writing (sharing, filming, etc.)?
The biggest inspiration are the people I meet – including myself. You do change through the people you meet, and interestingly enough, you keep meeting people of a similar lifestyle, or passion, on the road. People who inspire you in the most unusual way possible. Sometimes slow, sometimes active on their bikes, sometimes travelling only with hand luggage, and quite far from the usual tourist trails. Long or short. High or low. This is the kind of inspiration, and change I need, for writing the kind of stories I publish. Thoughts, and images, just come together naturally.
What do you always carry with you on your trip?
Cell phone, Laptop, GoPro, swimwear, sandals, and my smile! 😀
How do you (really) relax? Allow us a glimpse into your busy everyday life …!
Apart from travelling, I just love watching movies. Action thrillers, adventure films, documentation movies, even B-movies! When I'm at the cinema, or on the couch, I forget everything else around me. I also love fishing – an activity that totally relaxes me. Of course, I never bring my phone in such cases. This is when I can really relax.
Last but not least : Give us three reasons we should immediately check out your blog for! What is "TravelTelling" all about? What do readers most comment on? What are you particularly proud of?
You are tired of meeting other travellers, but would rather like to hang out with the locals and their friends? Wake up in the morning thinking, "Wow, what a great night that was!" ?
You feel you need a holiday from your holiday?
You want to explore alternative ways of travelling? Something you never thought possible, especially not for you?
Check out TravelTelling for learning more about the virtues of Slow Travel, and for finding answers to the above questions, if and when they appear in your life.
Thank you so much, dear Matthias, for such an interesting interview!