You wouldn't be here if you weren't curious.*
Hi! I'm Elena! Welcome to my travel blog Creativelena.com.
For me, it is all about "life-seeing instead of sightseeing": Join me as I create, eat & live my way around the world. Curious?
*Check out my book, "The Creative Traveler's Handbook", for learning more about what we mean by creative travel. Travelling means the world to me, makes me fit for everday life and sometimes, I trust, also calmer on the inside. Read this blog with a smile, share what you love and remember to check back regularly: After all, when was the last time you did something for the first time?
"Why is it we always rush to relax?" asks travel buddy Sarah Lee, indulgent luxury traveller from England. Afloat in a serious double bathtub offered by the LOISIUM Wine & Spa Resort Styria (complete with grapes steeped in melted chocolate, exquisite wines & wellness music), every sense of time – or indeed rush – evaporates. Of course, the fact that beloved husband Terry bubbles up next to her in this wellness wonderland is of some help, too.
"Austrophiles" & "vinophiles", the LOISIUM hotel in Southern Styria, known as one of the leading "wine & spa resorts" in Europe, has welcomed German traveller Janett of Teilzeitreisender.de, "Bloggi auf Reisen", Sarah & Terry Lee of LiveShareTravel and me located in an idyllic spot amidst the Styrian winelands.
"Wine & Spa 2.0": More than Wine & Wellness
Even upon entering the spa area at the LOISIUM Wine & Spa Resort in Styria, one thing becomes clear: Architects, wine lovers & creative directors really thought this out. I am happy to "re-discover" beauty care products made from local Styrian company Vinoble after being here on my first visit in the summer of 2012. Vinoble run a series of skin care products that are based on Styrian grape essential oils and are therefore a natural match to my sensitive skin. Wonderful.
All the spa treatment rooms are named after typical Styrian grape varieties, the outdoor pool takes us out almost straight into the vineyards and in the evening, "icy plums pair with nuts" while "liquid duck" is being served with spicy pear chutney during the "wine growers' exchange" event. Está claro?!
Well. As you know, a picture (or many) say more than a thousand words. And this is exactly why I would now like to take you out on my personal walk around LOISIUM Wine & Spa Resort in Styria.
Around LOISIUM Wine & Spa Resort in Styria: Erikas Buschenschank and the Vinofaktur / Styrian Gourmet Factory
The region along the South Styrian Wine Route is perfect for short trips from the hotel. Right in the middle of these vineyards, a secret tip lies hidden: Erikas Buschenschank. A "Buschenschank" is a typical Austrian wine bar, often found in a local hut or wine cellar serving excellent food from the area. Erika, the lady of the house, has created her own "fan buttons" which she readily distributes and serves us wine, schnapps and brandies as well as many many stories – much to the liking of Terry: "Oh I love Erika. She's a real force of nature."
Another local attraction not to be missed when staying in the "deep south" of Austria is the local Styrian Gourmet Factory "Genussregal", whose aim is to offer a tasting experience of Styrian chocolate, pumpkin seed oil, juices, wine, Vulcano ham, chutneys, honey and a lot more – all according to the SLOW food movement, of course. Entrance is only € 9,50 per person including all tastings. What else could you be wishing for?!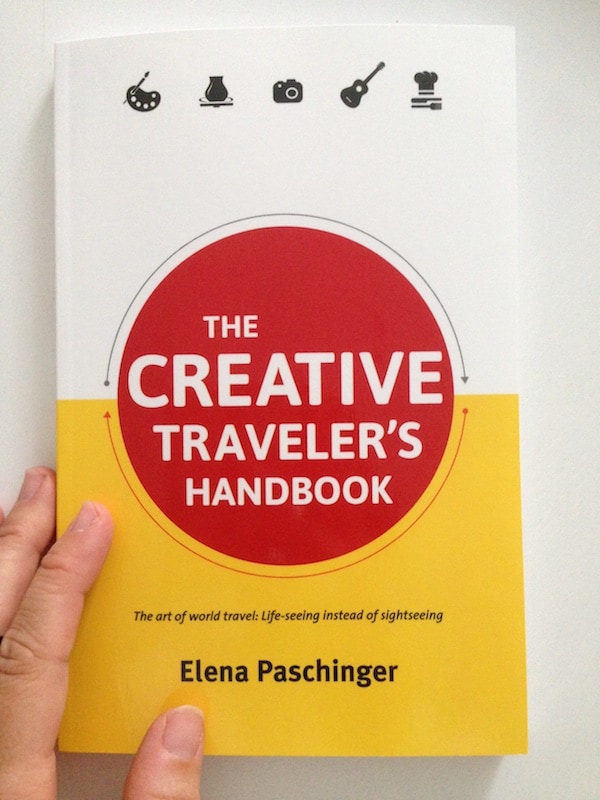 Ready for learning even more about creative travel?
Elena has recently published "The Creative Traveler's Handbook". Chock full of inspiratinal stories, travel tips and advice, it offers everything you need for planning and managing your next creative escape, addressing beginners and experienced travelers alike. Here's how to
get your hands on it
now!