You wouldn't be here if you weren't curious.*
Hi! I'm Elena! Welcome to my travel blog Creativelena.com.
For me, it is all about "life-seeing instead of sightseeing": Join me as I create, eat & live my way around the world. Curious?
*Check out my book, "The Creative Traveler's Handbook", for learning more about what we mean by creative travel. Travelling means the world to me, makes me fit for everday life and sometimes, I trust, also calmer on the inside. Read this blog with a smile, share what you love and remember to check back regularly: After all, when was the last time you did something for the first time?

Top Culinary Pleasures: The Wachau Gourmet Festival
The Wachau Gourmet Festival. For the past six years, it has risen to fame as THE annual gourmet event here in my hometown. And I've only participated this once: "Why", I ask, "have I never been here before?" Now, for sure, I will!
Together with my international friends Anna from Germany and Nathalie from Canada (who has been thrilled to the point of saying "I have never eaten this good in my whole life!"), we had many a toast on friendship, culinary pleasures, excellent wines and those top gourmet chefs hailing from all over Europe to make the festival such a spectacular event. Wow! What you get to eat, see and do in one night is this: Check it out.
Top International & Austrian Chefs: A World Cooking Show
Just a "piece of cake"? A gourmet festival this spectacular has more to it than meets the eye. Our "piece of cake" actually yields a delightful, savoury taste topped by tasty bacon croutons. Pea soup, very refined, is served to us out of glass bottles (!) using a long pasta straw. At dessert, we enjoy spicy mint and juicy strawberries together with some "real" cake. Nathalie, Anna and I dig into the famous chefs' creations as soon as the words are spoken: "The buffet is now open" (like the famous saying "Alles Walzer" at the Vienna Opera Ball! Pompous celebration ceremonies & gourmet cuisine has always been an element of Austrian culture – and one I like, I must say 😉 ).
Gourmet-Safari, Top Wines & a lot more: It's all happening this April 2013
Perhaps the single greatest aspect of participating in this culinary opening gala of the Wachau Gourmet Festival is the fact that many more events are yet to come. For instance the "wein.genuss.krems" wine tasting event on 5 & 6 April right here in the city of Krems, or the "GOURMET-Safari" on the evening of 9 April, 2013, which has already caught my attention: Each course is being served in a different, well-known restaurant, the entire wine journey & gourmet safari being commented by a sommelier. As a travel blogger with a focus on Gourmet Travel, I should definitely join some more of these events. Don't you think? 😉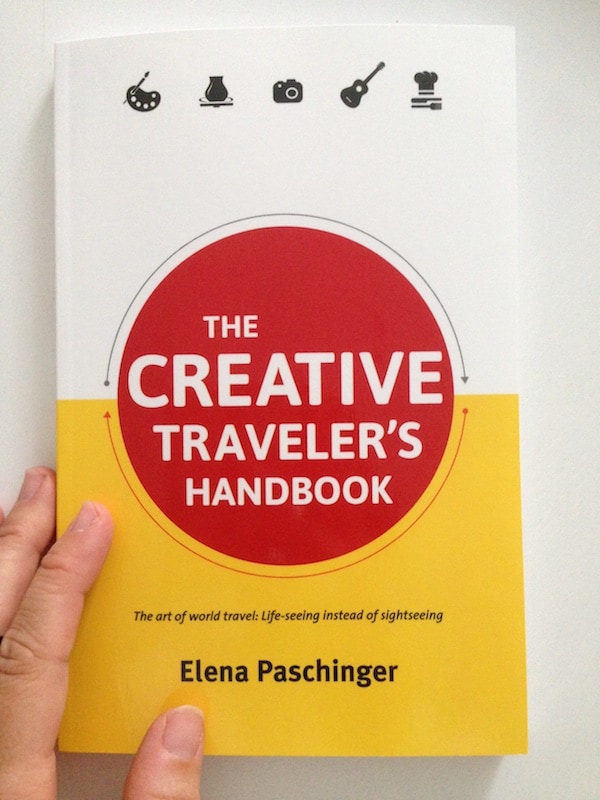 Ready for learning even more about creative travel?
Elena has recently published "The Creative Traveler's Handbook". Chock full of inspiratinal stories, travel tips and advice, it offers everything you need for planning and managing your next creative escape, addressing beginners and experienced travelers alike. Here's how to
get your hands on it
now!
Follow me on my travels: