You wouldn't be here if you weren't curious.*
Hi! I'm Elena! Welcome to my travel blog Creativelena.com.
For me, it is all about "life-seeing instead of sightseeing": Join me as I create, eat & live my way around the world. Curious?
*Check out my book, "The Creative Traveler's Handbook", for learning more about what we mean by creative travel. Travelling means the world to me, makes me fit for everday life and sometimes, I trust, also calmer on the inside. Read this blog with a smile, share what you love and remember to check back regularly: After all, when was the last time you did something for the first time?

Creative Travel in Paris: Photo Walk & Culinary Delights
Let's be honest: Aren't you dreaming about shooting the "one and only" travel picture ?! In Paris, you can combine a city tour with the option of learning more about photography (from a handsome French photographer!) thus benefitting threefold: 1) Checking out the camera in your hands (state-of-the-art technology at your fingertips!), 2) Discovering a district of Paris such as Montmartre, 3) Being creative and learning how to get your favourite travel shot.
Meet Paris' (secret) passages and know where to find "the best cheese cake in the world" (it's true).
Cheese cake, tarte fondant … whatever you may call this delicious cake, here in Paris you will find every single option for food you can think of – including the price range that comes with it. My cheese cake, as delightful as it may be, amounts to €9,-! But it IS outrageously delicious, a melt-in-your-mouth kind of cheese cake found at Bread & Roses, only two streets away from the Place de la Concorde and the tourist traps of the Champs-Elysées. What do you think: Wanna jump in and have a bite … ?
True wealth comes down to having wonderful friends. I count myself really lucky to rely on the many insider tipps my Frenchie friends show or tell me about the (less tourist) parts of Paris. For instance, did you know that the city of love is full of cute little passages, like this one next to the Métro station "Grands Boulevards"? It features international brands such as Jean Paul Gaultier right next to temporary art & jewellery exhibitions from South America, dusty book shops or simple glitz & glamour shops.
Art & Creative Stuff
Who would have thought? Sweet, tender flowers in December and a map that depicts Austria, my very own country of origin, at the "centre stage of this world". Travel broadens the mind – and the city of Paris does so on all channels, including sensory marketing with sweet flowers right in the middle of winter month December. Wonderful!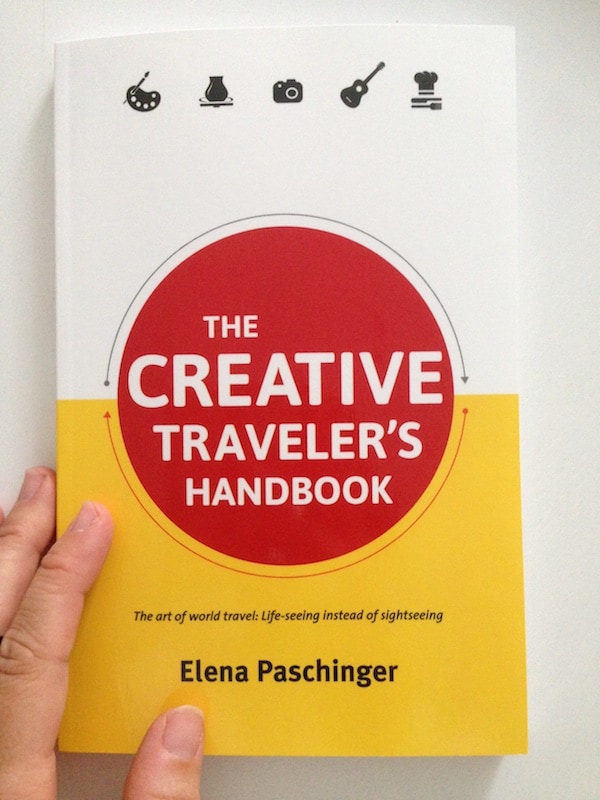 Ready for learning even more about creative travel?
Elena has recently published "The Creative Traveler's Handbook". Chock full of inspiratinal stories, travel tips and advice, it offers everything you need for planning and managing your next creative escape, addressing beginners and experienced travelers alike. Here's how to
get your hands on it
now!
Follow me on my travels: