You wouldn't be here if you weren't curious.*
Hi! I'm Elena! Welcome to my travel blog Creativelena.com.
For me, it is all about "life-seeing instead of sightseeing": Join me as I create, eat & live my way around the world. Curious?
*Check out my book, "The Creative Traveler's Handbook", for learning more about what we mean by creative travel. Travelling means the world to me, makes me fit for everday life and sometimes, I trust, also calmer on the inside. Read this blog with a smile, share what you love and remember to check back regularly: After all, when was the last time you did something for the first time?
Today, I would like to tell you something about being a foodie traveller high up North. You might be tempted to think: Will it really be tasty and focused on food there, when a visit to the high North is mostly marked (and marketed) by the great outdoors, magic landscapes, wild territories?
The capital city of Finland, Helsinki, is refreshingly different though. My taste buds tingle to the surprising varieties of spicy salmon, fresh fish, heart-warming soups and great craft beers. Even – or especially – now during winter.
"HappyGuideHelsinki offer a so-called Food Walk that I can really recommend. The owner, Karri, is a great and inspiring person: I hope you'll meet him!", my Finnish friend Eva tells me. As I am contacting HappyGuideHelsinki, I am referred to Daniela, who as an Austrian has been living in Helsinki for more than two years now. I could not have imagined a better guide to spend this two hour food tour through Helsinki with: Both of us keep going back and forth between an official tour and some easy talking among friends, all the while tasting the great variety of present-day, Nordic cuisine here in Helsinki. Check this out.
My real favourite among all the tips presented as part of this Food Walk with HappyGuideHelsinki has been the market hall with its funny-sounding Finnish name "Kauppahalli". It is located only a few minutes' walk from our hotel, Indigo Hotel Helsinki at the Boulevard street of downtown Helsinki. During the day, "Kaupahalli" is a (centrally heated!) paradise for families and food shoppers of all sorts, while turning into a funky nighttime place each Saturday: A live DJ adds some music, there is wine, beer, burger and many things more. Very cool indeed: My Helsinki travel tip for you!
Besides all the food, Helsinki of course offers more cool things to do. For a Sunday brunch, I can recommend you head to the popular Café Tin Tin Tango in the city's Töölö district, right next to the sea with its equally popular Regatta Café. Helsinki with its large main streets and wide open alleys, easily lends itself to a happy city stroll too: I love the fact you always meet either the sea or a park in this city. Must make a point of coming back in the summer, then!
Looking for even more images from my trip to Lapland & Helsinki? Here they are. Enjoy!
Disclaimer: We have been invited by VisitFinland on this trip to Lapland & Helsinki. All opinions are my own.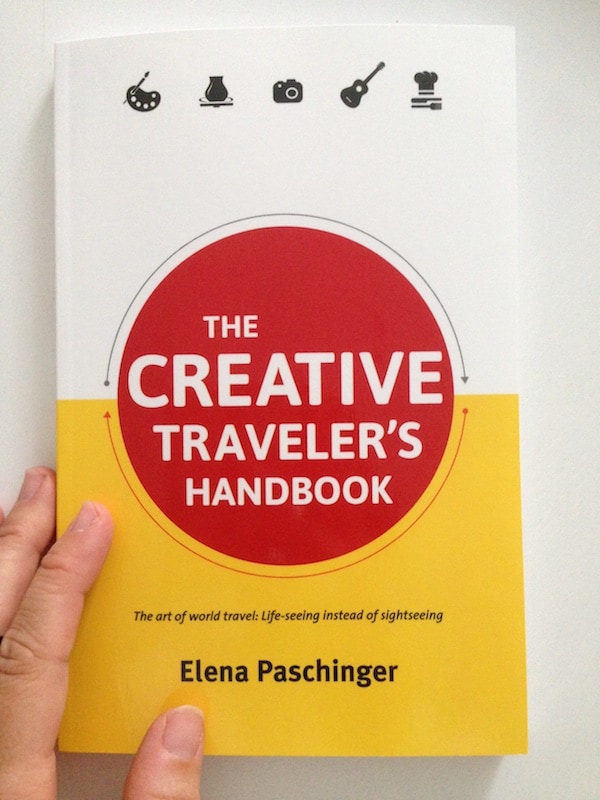 Ready for learning even more about creative travel?
Elena has recently published "The Creative Traveler's Handbook". Chock full of inspiratinal stories, travel tips and advice, it offers everything you need for planning and managing your next creative escape, addressing beginners and experienced travelers alike. Here's how to
get your hands on it
now!