You wouldn't be here if you weren't curious.*
Hi! I'm Elena! Welcome to my travel blog Creativelena.com.
For me, it is all about "life-seeing instead of sightseeing": Join me as I create, eat & live my way around the world. Curious?
*Check out my book, "The Creative Traveler's Handbook", for learning more about what we mean by creative travel. Travelling means the world to me, makes me fit for everday life and sometimes, I trust, also calmer on the inside. Read this blog with a smile, share what you love and remember to check back regularly: After all, when was the last time you did something for the first time?
It's April in the year 2013, and summer is back already (34°C when leaving Vienna!). Our minds are set on "Party Party Party !!!" Well at least, this is the wording we find in our programme for this year's festival check at Lake Neusiedl Surfworldcup, handing out the itinerary to my co-bloggers Gesa Temmen ("Lilies Diary"), Gudrun Krinzinger ("Reisebloggerin.at") & our video expert Christian Kermer. "Friday, 7.30 p.m.: Grand Opening Party. Saturday, 6.00 p.m.: Visit to the Heurigen. Afterwards, Party Party Party !!!" Sounds good 😀
"We did some crazy things …"
Ok. Nobody has been hurt. Maybe faces got redder, voices went up and someone's heart skipped a beat. Let's not talk about recommended (or achieved) alcohol levels either: After all, you might be shocked to hear that in Burgenland, every single street shop or corner offers great wine, local Gols beer, Schnaps or even so-called "Saftladen" full of delightful, home-pressed juices  … !? (I knew it: You wanted to be shocked ? 😉 Then keep on reading!) But let's start from the beginning.
Yoga by the lake, Pannonia Brewery Gols, Helicopter Flights & grunting Mangalitza pigs …
… sounds unbelievable to your ears? After all, this article is meant to talk about the "Surfworldcup in Podersdorf" … or is it? Well, there is always a lot more to it all than meets eye – or so the saying goes. As for our weekend in Burgenland, it was filled with just wonderful activities that each complimented what we saw, lived and experienced at the Surfworldcup. For instance, we joined a Yoga session by the lake with charming Daniela, both invigorating and relaxing at the same time. Using what forces we had, we then drove on to Gols only 8 km away in order to be told many a secrets about local Gols beer made by "Harry the brewery master": World-famous in Burgenländ!
And then, only a little later, Ursula's spontaneous ways drive us right into … A HELICOPTER! Hired for the purpose of flying interested visitors over & above the festival grounds, Podersdorf & lake Neusiedl at a price of € 50,- per quarter of an hour. How exciting !! When we finally stumble out of the helicopter, after what felt like eternal magic up in the air, we stepped back .. way back … back into time onto a beautiful horse carriage, "slow-travelling" to see the famed Burgenland Mangalitza pigs with their notoriously good bacon. I LOVE watching them – yet also enjoy eating their meat. It's just so good. Oh, it's complicated. Or is it? At a place called "Tschisti's Saftladen" (go pronounce 😉 ), we are being served local juice and wine while marvelling at their mountain sheep, an import from Tyrol into pan-flat Burgenland. Funny! How these sheep arrived here, is another story altogether … people and the land never tire of it: Local storytelling par excellence, made in Burgenland!
Oh and we also went slack-lining … while at the Surfworldcup!
Hard to say what we didn't do in just over one weekend. And yet, we never felt pressurized nor bored during this year's festival check in Burgenland. The Surfworldcup offers just so many ideas and activities for coming back year after year, it is great. I hope you look forward to it as much as I do. See you in 2014, I'd say? Will be nice to meet you there!
Want MORE? Here you go! Have fun and enjoy those sights … 😀
Disclaimer: We have been invited by Burgenland Tourismus to this year's Surfworldcup in Podersdorf. All opinions are my own.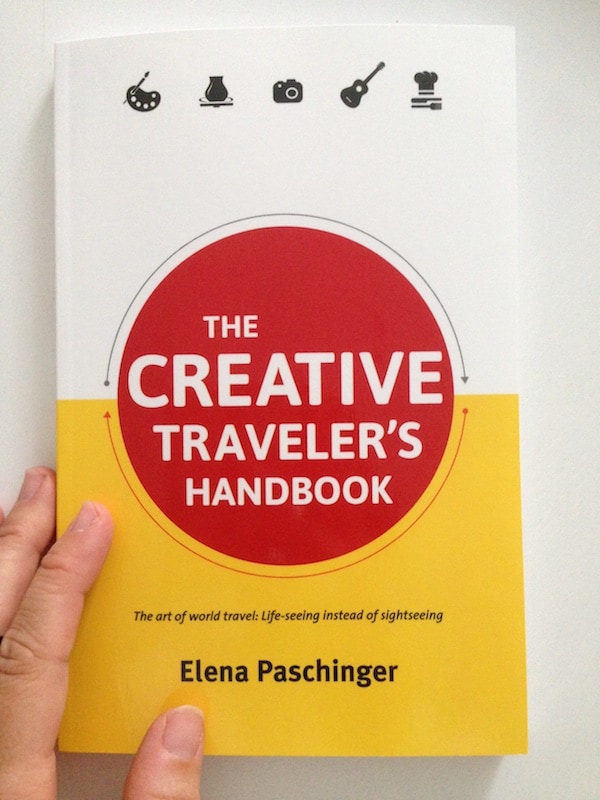 Ready for learning even more about creative travel?
Elena has recently published "The Creative Traveler's Handbook". Chock full of inspiratinal stories, travel tips and advice, it offers everything you need for planning and managing your next creative escape, addressing beginners and experienced travelers alike. Here's how to
get your hands on it
now!