"We are meeting here in Switzerland in order to explore the nuclear research facility CERN as a family", I tell my friends discussing weekend plans. A smile spreads on my face while I watch most of them clearly at a loss. "You know, the huge subterranean ring underneath the city of Geneva … the largest particle accelerator in the world … a true sensation in the world of science!" – "AH. That one. Yeah right."
Laughing, I realise that CERN with all its physical pearls of wisdom is rather for the technically inclined. The NERDS, I guess. "My brother IS a nerd", Christine now laughs, Christine my brother's girlfriend who proudly introduces us to her brother Bernhard as an aspiring, young physician having inspired all of us to travel here. "Thank you so much, Bernhard", I silently add, happy in much the same way as Bernhard: After all, when do you get the chance to travel and learn so much about science at the same time – together as a family of like wisely open-minded, curious people?
😀
Our family meets at the airport of Geneva. Together, we travel for a weekend in Switzerland. Easy as.
On my way to Switzerland, I am still caught up thinking of all the beautiful impressions I gathered in Hamburg, especially the city's #STSHamburg Social Travel Summit. What an exciting meet-up that was, filled with friendship & inspiration around the world's leading professional travel bloggers, tourism marketers & PR people. After all of that, I now really look forward to the relaxed family weekend ahead. And as if the universe conspired for us, it fills the sky with billions & billions of beautiful particles …
At Geneva Airport, my dear family welcomes me having travelled from Austria and already managed to organise some bus tickets into the city of Geneva, and to our Hotel Bel Esperance. Finally, I am able to relax once more into speaking my very own dialect (after all this Hochdeutsch in Hamburg and Portuguese in Portugal, a welcome break for a world citizen like myself!). It is only upon second glance that I am left without words again: Burgers sold at over € 10,- here? Standard hotel rooms at over a € 100,-?
Dear me. Travelling to Switzerland, make sure you've got that extra bit of money stashed away. Everything else of course, is impeccable: Swiss punctuality. Swiss order. A pretty city free of most traces of dirt. Even a huge flower clock is to be found here in Geneva, as well as the "largest water fountain in the world", presumably telling everyone else (especially the British, we joke) who are the true leaders around here. Check this out.
"My wife could not keep me in bed that night … I just had to know what happened." Erik Brack, a retired technician at the international particle research centre & our tour guide for the day, shares from decades of his life spent at CERN.
Travelling, it is characters like Erik who you simply have to meet. No matter whether you are in love with chocolate, wine or particle physics (such as Erik): It is all relative. And truly entertaining: "Thanks to an enormous amount of energy, we managed to cool down this conductor here to 1.6 Kelvin .. That is very low, offering virtually no electrical resistance and being just above the absolute temperature minimum of – 273°C! Like this, we are able to send huge amounts of electricity through the inductors, creating a massive magnetic field. Those fields hold our protons on an exactly calculated course so that when they crash – they circulate our 27 kilometre subterranean ring millions of times per second, by the way! – we are able to take precise measurements of what might have happened to the universe right after the big bang." Wow. I must say, it is impressive. What a steep learning curve during our hours spent at CERN.
Personally, I simply love Erik's energy and have already decided to become fully absorbed in his passionate storytelling, particle physics or else. If like him you dedicate 38 years of your life to nuclear research (and their electro-technical base, assisting in the building of the unique research centre CERN), you just have to understand how a man of his statute jumps out of bed at four in the morning – wife & children being used to it I guess. Fascinating. Have a look here with me.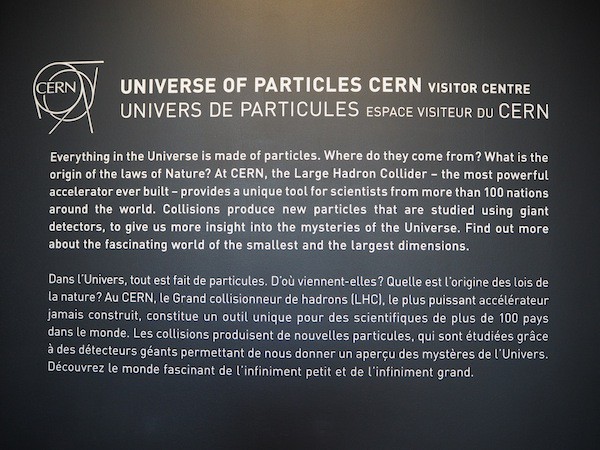 Finally Zurich, at only about three hours by train from Geneva, offers plenty of room to relax – Swiss foodie treats included.
The so-called "Wirtschaft Degenried" gourmet restaurant is a true gem for foodie travellers, being located in a pretty little forest high above the old town of Zurich. It is here where family of mine living in Zurich have decided we should go and eat together, taking us out as only locals would know. Part of the experience in reaching this restaurant is a gentle, 10-minutes stroll through the lush green forest surrounding it, connected to the city through the historic cog-wheel train Dolderbahn.
Check out even more travel stories & inspiring photography of Switzerland on my dear Swiss friend's travel blog "Travelita.ch"!
I have also published further travel inspiration on this Flickr Photo Gallery …
See you next time in Switzerland! Do you, too, have a favourite corner in this country? 🙂