You wouldn't be here if you weren't curious.*
Hi! I'm Elena! Welcome to my travel blog Creativelena.com.
For me, it is all about "life-seeing instead of sightseeing": Join me as I create, eat & live my way around the world. Curious?
*Check out my book, "The Creative Traveler's Handbook", for learning more about what we mean by creative travel. Travelling means the world to me, makes me fit for everday life and sometimes, I trust, also calmer on the inside. Read this blog with a smile, share what you love and remember to check back regularly: After all, when was the last time you did something for the first time?
For the third time this year, the charming little wine growing community Horitschon in "Sunny Central Burgenland" (yes, the destination officially aspires to be known as Austria's sunniest corner!) has hosted the annual Red Wine Harvest event. Encouraged by our local knowledge of the area, especially with regards to local wine growers and their delightful tasting events, we couldn't help but be there once more. It's a hard life!
Horitschon Red Wine Celebration
Think your vision becomes blurred after only a glass or two? Many wine growers carry the same family name here (Lehrner, Iby-Lehrner, Kerschbaum, Duschanek & so on) so you are not necessarily drunk if you hear the same name mentioned a few times over. All the wine growers do, however, differ in their personalities as well in their wine-making, from organic viticulture to traditional methods.
Franz Weninger, for instance, seen here over his favourite activity (pouring a glass of wine & ensuing a philosophical dialogue about viticulture) runs his winery according to strict principles of organic farming: http://www.weninger.com/Weingarten

New Manager at the Wine Shop in Horitschon: Anna Zell!
Not only is she one of my best (travelling) mates and has withstood many an adventure with me on our journey through Australia: Anna is immensely resourceful and simply THE person to turn to for great wine knowledge, having served many years in the well-known wine estate Polz in Austria's southern wine growing district Styria. Anna loves sharing her passion with the world around her (her clients, her friends … ultimately becoming one), so do make sure you stop and have a chat with her about the red wines of the Central Burgenland area, life or the universe. She loves to hear from you!
Become a fan here: Vinothek Horitschon
However, how could we party all alone? We took two cheeky, aspiring young wine growers from around our area near the Kamptal & Wachau valleys to Burgenland with us: Hailing from a predominantly white wine growing district, we all thought there's nothing like sharpening your tasting buds to great reds, too!
Thank you guys for visiting!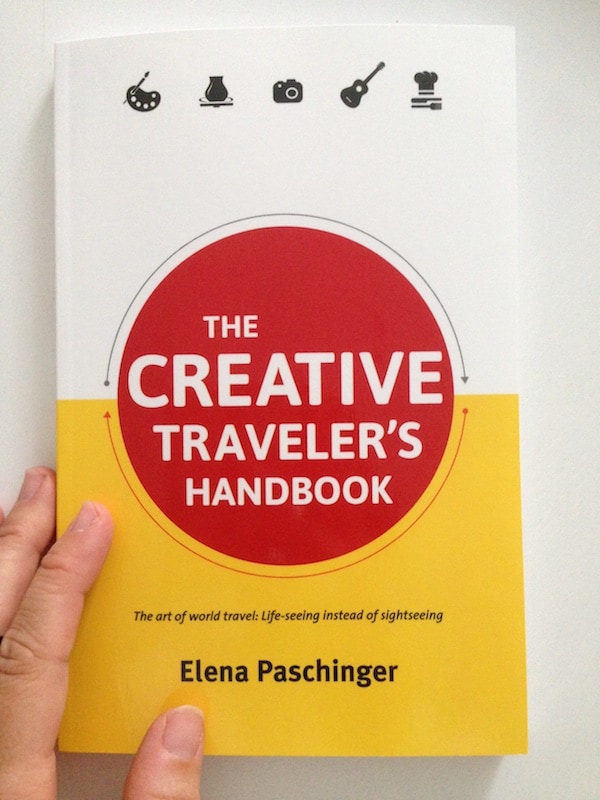 Ready for learning even more about creative travel?
Elena has recently published "The Creative Traveler's Handbook". Chock full of inspiratinal stories, travel tips and advice, it offers everything you need for planning and managing your next creative escape, addressing beginners and experienced travelers alike. Here's how to
get your hands on it
now!