You wouldn't be here if you weren't curious.*
Hi! I'm Elena! Welcome to my travel blog Creativelena.com.
For me, it is all about "life-seeing instead of sightseeing": Join me as I create, eat & live my way around the world. Curious?
*Check out my book, "The Creative Traveler's Handbook", for learning more about what we mean by creative travel. Travelling means the world to me, makes me fit for everday life and sometimes, I trust, also calmer on the inside. Read this blog with a smile, share what you love and remember to check back regularly: After all, when was the last time you did something for the first time?

Culinary Delights in France: Visiting Local Limoges
My dears. Be Prepared. To be smashed. With French delights !!! "Vivre comme un Dieu en France": This cliché is actually very true. Despite all the fuss about the French and travelling in France ("They only speak French! They expect you to do the same." 😉 ), it is always such a pleasure to be here. I just love France. Really, I do. It certainly helps I can communicate with them though, haha: "Il faut absolument que tu reviennes. C'était trop chouette de t'avoir …" Of course I will be back, dear family! But for now, let's indulge in the beauty of travelling with the locals – my local family! – in the very heart of France, Limoges: It is here where my friend Anne-Laure lives together with her mum, sisters and friends. During this one weekend in May, we all gathered to celebrate her 29th birthday. Only just start imagining the DIVINE amount & quality of food being served for this occasion … I truly felt like "God in France!" Come on then and enjoy taking this culinary friendship walk with me 😉
PS: The photos are not photoshopped, nor have they been enhanced in any other possible way. What you see is what "I got", in this case. 😉 Heavens !!
PPS: My best tip on this occasion: Go local. It seriously is the BEST WAY OF TRAVELLING.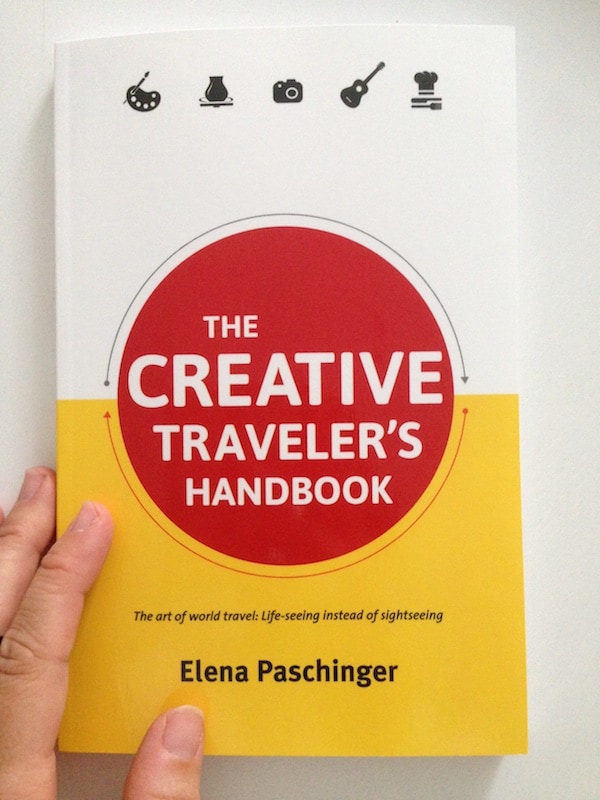 Ready for learning even more about creative travel?
Elena has recently published "The Creative Traveler's Handbook". Chock full of inspiratinal stories, travel tips and advice, it offers everything you need for planning and managing your next creative escape, addressing beginners and experienced travelers alike. Here's how to
get your hands on it
now!
Follow me on my travels: