You wouldn't be here if you weren't curious.*
Hi! I'm Elena! Welcome to my travel blog Creativelena.com.
For me, it is all about "life-seeing instead of sightseeing": Join me as I create, eat & live my way around the world. Curious?
*Check out my book, "The Creative Traveler's Handbook", for learning more about what we mean by creative travel. Travelling means the world to me, makes me fit for everday life and sometimes, I trust, also calmer on the inside. Read this blog with a smile, share what you love and remember to check back regularly: After all, when was the last time you did something for the first time?
Janett has this idea. Actually, I owe her everything. Without her, I might never have made it to Bournemouth. "Elena, you absolutely have to go there." On a(n impetuous) thought, I did: After all, I had my Interrail ticket plus the necessary flexibility already there. Just taking a slight detour from the Travel Bloggers Unite Conference in Rotterdam and participating in the international blog parade about the "Most Beautiful City By The Sea". Is Bournemouth, situated at the picturesque South Coast of England, eligible to compete I wondered? …
Well, dear readers, I will let you know. Right here and now. Why Bournemouth, out of all the places (on Earth), is just worth the visit. Have a look at this! And let me know what you think.
Because Bournemouth means enjoying one of the single most beautiful coastal landscapes in the south of England.
"Durdle Door" & Durdle Cove. The names might sound funny, however the atmosphere out here, about two hours southwest of London, is quick to take my breath away. Standing there, enjoying an endless view stretching over many miles, the calm blue sea like a carpet rolling up to the white chalk rocks swept over by lush green meadows, I feel as if one with the universe. Smiling. Every cell in my body tingles with excitement. My camera flashes. I drop down into the grass. Play with dandelions. Walk up and down the coast, hugging it like the sea. Just beautiful. Come on now and take this walk with me ..
Because Bournemouth offers a glimpse of the naked truth: "The National Trust (Warns): Naturists May Be Seen Beyond This Point."
Beware: Bournemouth and its surroundings may well leave you with a smile all over. It has to be the British sense of humor, manifesting itself in things like naked people at 20°C, light winds and overcast skies (which to the English equals to a summer day, I guess). If you fancy any such experience, I recommend you visit charming Swanage beach / Studland Heath just outside of Bournemouth. It is very easy to access using public transport from the city and spend the day out here ..
Because in Bournemouth, you can go shopping in a church & ride a hot air balloon from the centre of town.
"It's ridiculous, actually!" The large balloon, right in the centre of Bournemouth, takes visitors up and down for a total of twelve pounds including a spectacular view of the English coastal town and its surroundings. If, like me, you consider this a bit overpriced for what it is, try heading for the local supermarket Tesco, located in one of the city's many churches. After all, consumerism can actually be considered a religion these days. The church might not agree, but so what. Maybe you want to stick with the balloon, after all!
Because Bournemouth offers many a delight for sybarites.
"Sybarites": A word I had yet to learn, in Bournemouth out of all places. Sybarites we were, "enjoying life with all five senses / indulging in the sensual pleasures of life". Those looking for the true culinary delights here, like I do, will sometimes have to go prepared for leaving the country's culinary boundaries. In England, this may just happen sometimes. So, on this occasion, I would like to share two restaurant tips with you that you should not miss when travelling to Bournemouth: "Cusina" in Westbourne as well as the seafront "Urban Reef" restaurant. Let's hope your mouth waters over the following foodie pics! Enjoy 😉
Because in Bournemouth, you can find one of the best wines from back home.
What a surprise. Here I am, at Urban Reef Restaurant in Bournemouth being served one of our very own, top Austrian wines from the Lower Austrian Kamptal district. This is where I grew up! And now I find, it indeed suits this restaurant's light seafood cuisine very well, making me all the happier (and prouder) than I would already be after so many pleasant experiences here. Check it out … Bournemouth, the charming sea topped by a glass of Grüner Veltliner from Langenlois, Lower Austria: A truly unique & successful combination here in England. Funny. I like 😀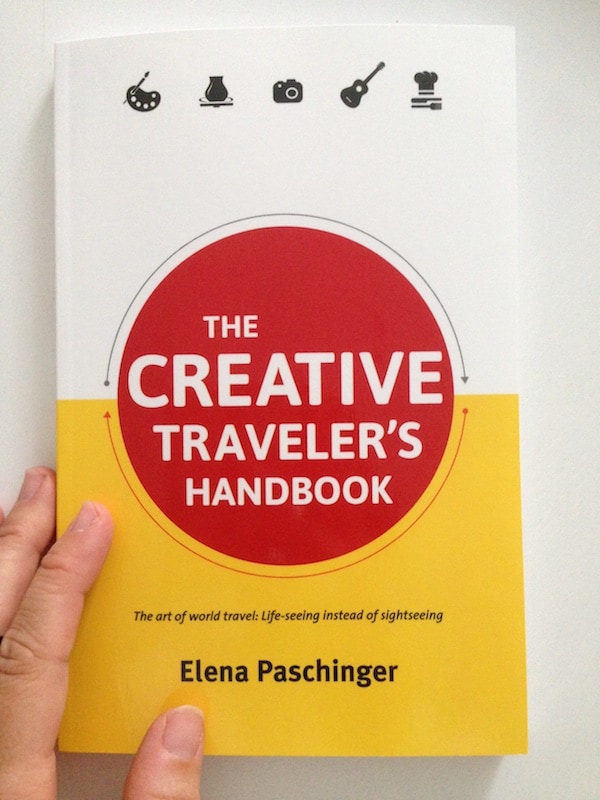 Ready for learning even more about creative travel?
Elena has recently published "The Creative Traveler's Handbook". Chock full of inspiratinal stories, travel tips and advice, it offers everything you need for planning and managing your next creative escape, addressing beginners and experienced travelers alike. Here's how to
get your hands on it
now!