"Dear Elena. The Social Travel Summit in Hamburg is about to start and we are again looking to confirm your spot in the Think Tank session with us. Just shoot us a quick notice if you are up for it so as to shape the future of travel blogging!" Melvin Böcher, himself a pioneer for creating the hugely successful platform Traveldudes.org, writes to me two days ahead of the second ever Social Travel Summit taking place in Hamburg this year. I am once again glad, honoured and very happy for having been selected to join a key group of industry leaders, travel bloggers & digital marketers in shaping the future of travel publishing after joining #STSLeipzig, the first ever Social Travel Summit in the city of Leipzig in April last year.
The Social Travel Summit is THE event to "meet, share, learn and develop new approaches of travel marketing and publishing". Let me tell you what exactly we mean by that, resulting in the first part of a cumulative report of what we have learned & gathered there.
The Social Travel Summit #STSHamburg kicks off with a most inspirational keynote presentation by Andrew Davis (@TPLDrew), who is talking to us about what he calls, "The New World View" (in terms of digital marketing). He urges to start thinking about our websites from the audience's perspective: "YOUR website is NOT the centre of the universe! Rather, do ask yourselves the following: Where is your clients' universe located? It is all about moving closer to the centre of experiences – and attention – of your audiences. Google is just the 'comfort food of search' … because after all, the customer journey is never a linear journey. There are lots and lots of loops, literally tons of interactions, journeys after journeys when people browse the web … so as branded content creators, we have to really think about where we fit in."
He then moves on to provide us, quite literally, with a moment of Inspiration. "Think about it like this: 72% of consumers reach a decision before they actually even think about any associated brand. The biggest opportunity we have in marketing today is harvesting that so-called "moment of inspiration", because M.O.I. leads to R.O.I. – 'Moments Of Inspiration' lead to 'Return On Investment'. Clear, everyone?!" Clear. You have to move fast for keeping up with Andrew. His sharp mind works at stellar speed, and so he goes on to say:
"We live in an opt-in world. Brand your content and harness the power of subscription! Subscriptions allow you to build a relationship with the audience before they even need you – or just so they need you. The power of great content is that it sends people on a real journey. Nothing has fueled our consumer culture more than the content brands we love. As travel writers & content creators, I therefore encourage you to focus on the 'travel lens' of your readers – the passion of your audience." (Andrew Davis, The Social Travel Summit).
The four "secrets to success" he gives us in his session are these:
Secret #1: Get Rich, Target A Niche. "There is this lady from a place of literally nowhere (Hamilton, Missouri!). Her name is Jenny, Doan, and she has turned the craft of quilting into a real tourism business now making thousands of people visiting her in tiny little Hamilton, Missouri. Her focus has been to establish a series of engaging video tutorials called 'Quick Quilting Every Wednesday with Jenny Doan'. A success? Yes! Because Jenny has provided the same quality, over time, with a specific focus. The message I have for you here is this: Focus on increasing the size of market instead of increasing market share!"
Secret #2: Exploit Content Holes, i.e. filling up space in a very specific market place.
Secret #3: Leverage off more than one partner in order to generate a better level of success.
Secret #4: Think BIG! Dream. Have a vision. Explore. "What if you shoot a movie? What if you write a book ..? Dare to dream – and think big!"
Andrew has also published an audiobook called "Brandscaping" and runs a successful website with a rather intriguing name: YouveBeenDrewed.com! Go check it out: Thank you for such an interesting opening speech here at the Social Travel Summit #STSHamburg, dear Andrew!
"Hire Your Colleagues": Words of Wisdom (and advice) from the so-called "Blogger-To-Blogger-Session" at the Social Travel Summit #STSHamburg.
"This session is going to focus on the actual business models some bloggers are using. They will share with you real numbers & statistics on revenue they have been able to generate. Please respect that absolutely no tweeting, or other (live) sharing of this confidential information is permitted." As the words of Angelika Schwaff sink in, Angelika who together with her team at the 'Reiseblogger Kollektiv' & 'iambassador' have successfully organised the Social Travel Summit #STSHamburg, there is a silence that fills the room here at the East Hotel Hamburg, the conference venue of the Social Travel Summit #STSHamburg. My curiosity is up: What are we about to learn now? What information is really going to be shared?
As it turns out, a lot. I must truly bow my head in respect of the openness that my fellow peers and travel blogging industry leaders have demonstrated in front of all of us here at the #STSHamburg. There is Kash Bhattacharya (@BudgetTraveller) talking to us about taking his Luxury Hostels project & website to the next level – a point where he is looking at establishing his own booking engine from the success of the project. He also shares another brainchild of his with us: The international #MustLoveFestivals social media campaign run & driven by bloggers in cooperation with nine (paying) Destination Management Organizations (DMOs) across Europe. Currently, he argues, his vision is to take the website MustLoveFestivals.com to a level where it will not be purely focused on travel stories, but also work as a resource base for travellers so as to organise their entire festival experiences.
The session continues with Yvonne Zagermann (@JustTravelous), who argues corporate content creation: "Consider your blog as your portfolio. If, for instance, you receive a free trip invitation but are keen to make money from the trip, why not turn it into 'an offer they cannot refuse'? I always argue: Give your partners the benefit of your extra worth and explain how you can provide even more value for your partners' money!" One way to do this, Yvonne argues, is by offering to produce corporate content, which then turns the negotiation into a business proposal. Is it pictures you can sell from the trip? In this case, she mentions to negotiate several different package options. Is it a (professional) video you want to produce? Think about charging by seconds, add the option of a music license, and talk details with your partner such as: Where will the content be used? Who is going to share what?
"Do charge for the premium of using your own brand in the corporate content you create. The amount will depend on where and how the content is distributed, and what the (potential or perceived) value of your own brand is. Do learn to say no. If it is not enough to make it work for you as a business, say no! Chances are, if you walk away, your partner will come back to you with a renewed interest in making things work." (Yvonne Zagermann, The Social Travel Summit).
Thirdly, Melvin Böcher (@Traveldudes) talks to us about the importance of measuring the "return on investment", or so-called ROI. To that end, he has created a website called "The Online ROI calculator", but makes no secret at his disappointment of it being used only little in the blogosphere: "The biggest problem we have as travel bloggers is that we do not know our own value. I have been talking about this for the past three years !! One answer to solving this dilemma really lies in on 'campaign / business thinking', as we have done for example with the likes of iambassador international travel blogger campaigns."
Next, Erik van Erp (@ATG_NL) speaks to us about his business model of converting affiliate partners into potential (and existing) advertising partners. "How do we make affiliate marketing work? For me, the answer has always been: Measure it, scale it. By creating a proper script, I have been able to track exactly how many people have been clicking through links from my website. I have then approached my business partners, showing them the real, hands-on statistics and telling them how much worth I have been able to create for them. It really is all about making money out of your data."
"The amount of traffic is becoming less and less important. It is the quality of the interaction that counts. And we have the analytics to show the value of that conversion." (Erik van Erp, The Social Travel Summit).
Janice Waugh (@SoloTraveler) confirms once more that "first things first, it really is all about the community. My steps in making a successful business have been the following: Build your own community. Flatten out your cash flow. ('Get that peace of mine', is what she is silently adding with this message.). Increase non-travel related revenue to your income stream, to a point where you can finally travel more like your readers." In her case, she reveals, these types of revenue have included social media campaigns for various (also non-travel related) clients, speaking gigs, hosting twitter chats, and a number of sponsored posts.
"As with every business … it's a long haul! Our 13.500 newsletter subscribers haven't come in in a day, nor in a year! At this point, however, we are able to harness the potential in monetizing that list. We have had patience. We have cross-promoted our content. And we have encouraged sharing. Our paid advisory newsletter has literally flattened out the spikes in the cash-flow of our business. A regular amount of active clients a month is now covering the overhead of operation as well as the cost of running my own company." (Janice Waugh, The Social Travel Summit).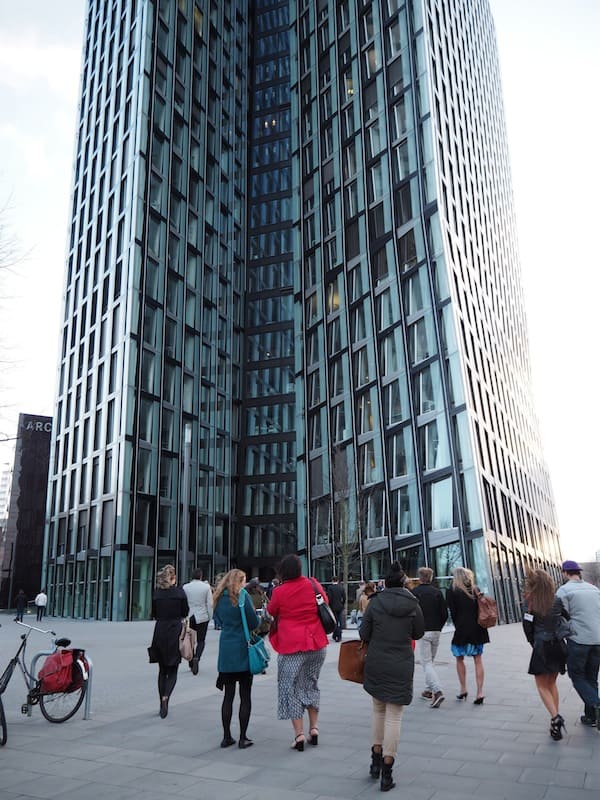 Talking about harnessing potential, let me take you on a path "from engagement to conversion: 4 simple steps for stronger online results." That's André Morys (@Morys), the CEO of Web Arts AG speaking at the Social Travel Summit #STSHamburg.
André is an interesting character. Being the true German he is, he knows how to use the power of his 'serious German appearance' only to deliver dead-panned, smart & very funny comments.
"In France, everything that's rotten is somehow .. romantic. In Germany, this does not work. …" (André Morys, The Social Travel Summit).
In explaining the four simple steps for achieving greater online results, he encourages us to "watch people taking decisions and ask yourself: Why does it happen this particular way? There are only so many decisions we take consciously. The vast majority of the decision-making process is influenced by our subconscious stream of thoughts, feelings, and memories."
So how do we find answers to tap into this, and influence, the decision-making process (of our readers, customers, partners, etc.)?
Step 1, André argues, is to "be relevant. Fight the bounce rate on your website. In the absence of a well-known brand, you must be able to tell your readers within a matter of (split) seconds what you stand for. If not, readers will simply move on and you have lost your opportunity to deliver value for them."
Step 2 is to "define your conversion goal. Once people do not bounce from but remain on your website, they clearly need to know what they should do. Your website is a business. Treat it as one. Successful companies reinvest money into optimising their business goals. If you do not know what you are measuring, investing in or working towards, you cannot improve it."
Step 3: Focus on user behaviour. "You cannot read the label from inside the bottle", André argues with a smile on his face. Yes, a small sigh ripples through the audience: It is indeed difficult to analyse your own website from an outsider's point of view. André tells us this: "Fix it before you measure it. After you implement all necessary changes and improvements, start measuring. If you have an idea, you need to measure how (and whether) it works. It really is as simple as that. This brings me back to our initial line of thought: What is it that motivates people? Think about it: We are not improving websites. What we are really looking for is driving user behaviour! And one clue I have for you here is this: Drive urgency. Ask yourself: What is happening right now on your website? How active is your website? How 'live' is it? And how appealing and user-friendly at that? There is a programme called 'Visual Website Optimizer', which I really encourage you to use and implement for your website."
Step 4: Give users a reason to convert. "This is called 'the reason why effect': People are more likely to do what you want them to do if you give them a reason for it. All our human decisions are made in contrast (against another decision, or option). If we look at the psychological principles that guide us, our human interaction and behaviour, we can deduct and learn a lot from it that mirrors failure and success in the online world."
"Emotional intensity can be measured. The power of marketing is to 'create a niche inside our minds', hitting the 'sweet spots in our brain'. When you go beyond expectations, you deliver satisfaction. Engage your audience through relevance, positive emotions, congruent brand visuals, empowered sharing and personalized content. It might sound a lot, but at the end of the day, it is as simple as that." (Sara Fay, The Social Travel Summit).
Intense? You bet. Worthwhile? YES. Totally, utterly, truly. Once again, we have learned that what is really successful is also very simple, really. The power of human connections. Of speaking & sharing the same language, and level of understanding. Of harnessing the power of thinking, and dreaming, to create meaningful engagement.
More in my next article about the "Think Tank Results" & further summaries about pitching & negotiating successful business (blogger) relations, blogs & brands, the future of social & more. Stay tuned! 😀