You wouldn't be here if you weren't curious.*
Hi! I'm Elena! Welcome to my travel blog Creativelena.com.
For me, it is all about "life-seeing instead of sightseeing": Join me as I create, eat & live my way around the world. Curious?
*Check out my book, "The Creative Traveler's Handbook", for learning more about what we mean by creative travel. Travelling means the world to me, makes me fit for everday life and sometimes, I trust, also calmer on the inside. Read this blog with a smile, share what you love and remember to check back regularly: After all, when was the last time you did something for the first time?
"Welcome back home, Elena." The man sitting next to me on the plane bound for the "Mother City" smiles. We have just left Johannesburg and Kruger National Park behind, both bucket list destinations that I have finally managed to see! The city of Cape Town, however, does feel more like "coming home": My third time back in the "Mother City" after all these years!
So where to go in Cape Town if all you have is but a few days? We had a good look around and now got the following suggestions for you.
"First things first": Where to stay? This time, we are on a real luxury trip and thus get a chance to stay at the beautiful Belmond Mount Nelson Hotel, as well as the centrally located Cape Grace Hotel right by the Waterfront. From there, it's a five minutes walk to "Victoria & Albert Waterfront" (V & A Waterfront). Memories of my earlier visits in 2005 and 2011 come rushing back at me, where I have visited my friend Antonia, who has moved here permanently from Munich. For the past few years, she has started to become a real expert in her vegan travel niche, publishing regularly on "The Vegan Rainbow" as well as hosting the "South African Travel Chat" on Twitter each Thursday night! I am proud of, and happy for you and your beautiful expat life here, dear Toni!
Food & fun wine tastings continue on the second day of our trip in & around Cape Town.
As a true #winelover, there is no way you can miss going to Stellenbosch, a little less than an hour's drive from Cape Town. It has originally been founded by European settlers, who have recognised the area's potential for wine growing, with a climate (and latitude) similar to the Mediterranean on the northern hemisphere. The soils are perfect for growing an exotic variety of (crafted) grape varieties, such as Chenin Blanc, "Chakalaka" or Viognier. Check this out.
Bound for the Cape of Good Hope, be aware of penguins & baboons along the way ..!
Animal encounters are aplenty on the road to the Cape just south of the city of Cape Town. Baboons may try and steal your food, especially if it's as delicious as the menu being served at the recently opened "Two Oceans Restaurant". Right there on Cape Point, at the end of the road, two oceans meet: The warm waters of the Indian Ocean as well as the cold waters of the Antarctic / Atlantic sea. Always wild, always windy, nature is a fascinating actor on the stage of the Cape Peninsula, where I must insist you stop at the penguin colony of Simonstown.
So how to say goodbye to moments like these? That's right: With the perfect sunset on Table Mountain ..!
Magical, again, our trip to Cape Town, into the surrounding wine country as well as out to the Cape Peninsula & the Cape of Good Hope. Late summer / early autumn is a great travel season by the way, temperatures are still very warm during the day; and cultural highlights such as the Cape Town Jazz Festival offer the perfect occasion for a visit.
Check out more pictures from my trip around South Africa, the Rainbow Country:
If like me, you can't get enough, check out the amazing safari we did prior to our visit in Johannesburg. The video, too, is beautiful as it is:
Disclaimer: We have been invited by the South African Embassy, Tourism Board & Qatar Airways on this trip to South Africa. All opinions are my own.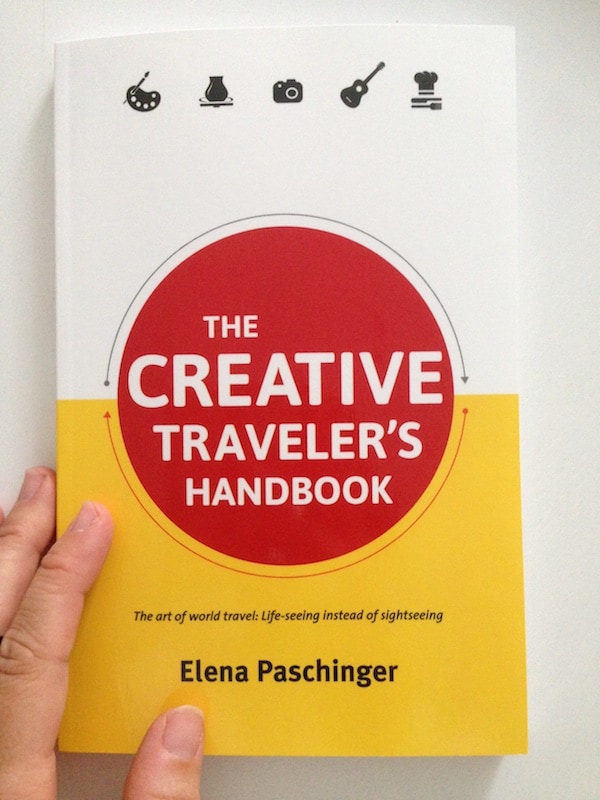 Ready for learning even more about creative travel?
Elena has recently published "The Creative Traveler's Handbook". Chock full of inspiratinal stories, travel tips and advice, it offers everything you need for planning and managing your next creative escape, addressing beginners and experienced travelers alike. Here's how to
get your hands on it
now!