The city of Prague is at our very Austrian fingertips. There are hourly connections to reach the Czech capital city from Vienna, the distance is an easy four hours by train or car, and historically speaking, there are more commonalities than differences between our two countries. Strange, then, that we have never really been there before. Meaning myself, my husband Georg and now also our little #babytraveller Liam, who went with us on his first trip abroad (check out my blog post about travelling to Prague with a four months old baby).
This blog posts holds 10 travel tips for you that lead slightly off the beaten track. Around the corner, across the street, one district ahead, (a little) further afield. Hoping that you, too, will enjoy "Prague at second glance" like we did. And it's true that travelling with a small baby has led us to a type of slow travel that we really enjoyed! Check this out.
1. And there it was … THE Czech door in Prague!
Only a few steps out from the "Royal Gardens of Prague", near the Café Písecká Brána, we found this beautifully painted doorway. I wonder where it leads to?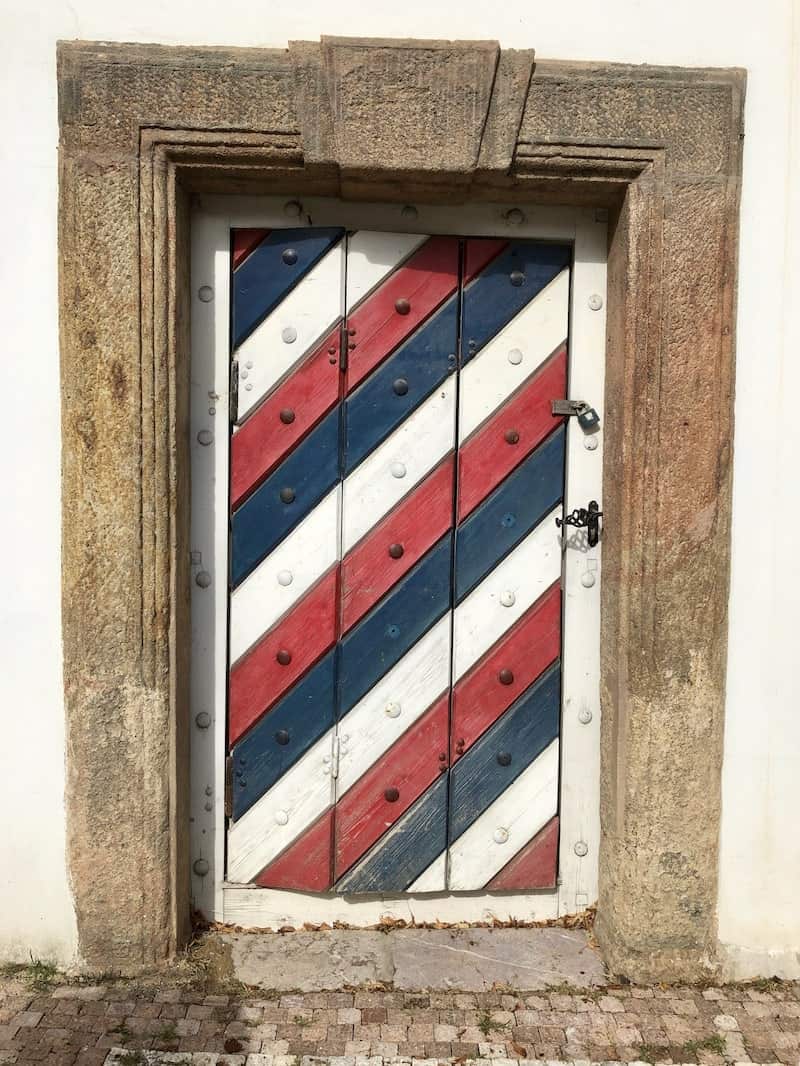 2. Unpronounceably good: Trdelník.
"They are actually from Hungary", we learn from a small street food vendor, who does not seem to care about this slight lapse. We do not, either: The sweet Trdelník are sold all over Prague and are best enjoyed hot, rolled in sugar and cinnamon!
3. Must-Sip: Fancy drinks at the Hotel Hoffmeister.
Why? Maybe because of this photograph .. and their really good taste! We also stayed at Hotel Hoffmeister & Spa, and can recommend their rooms, service and quality of food. And drinks!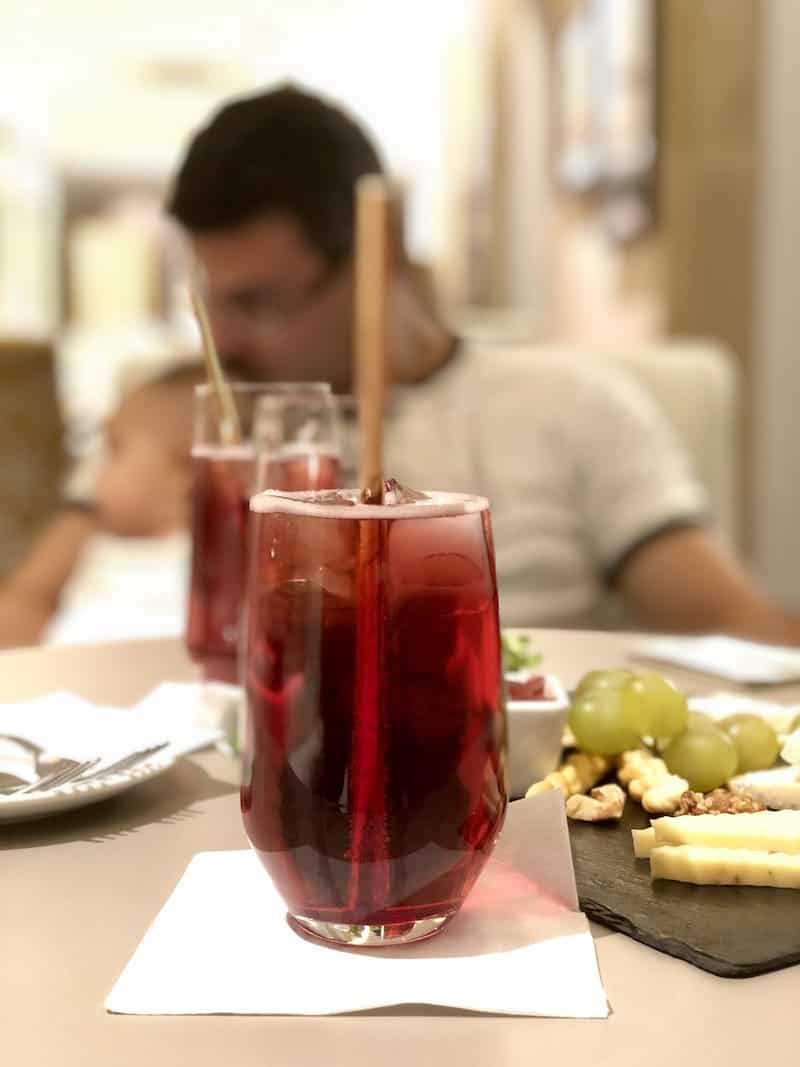 4. Must-Savour: Salt'n'Pepa Kitchen.
You can't beat a (foodie) tip from the locals. Thank you to Simona and her friends, who I've met in 2017 along the "Camino del Norte", a part of the Spanish Way of Saint James. They have given us the recommendation to go eat at the delicious Burger-Restaurant Salt'n'Pepa Kitchen. It is about ten minutes walk from "Letenská Plan" park and close to the Technical Museum of Prague. Try their homemade burgers, dips and sides. Slightly off the beaten track from the city centre, but oooh so worth it!
5. Letná Park above the old town.
Loved the views across the river and Prague at our feet.
6. "Prazsky Hrad Park" by Prague Fortress.
Walking inside the "Royal Gardens of Prague", we found this corner that gave way to a view across the city. Lovely!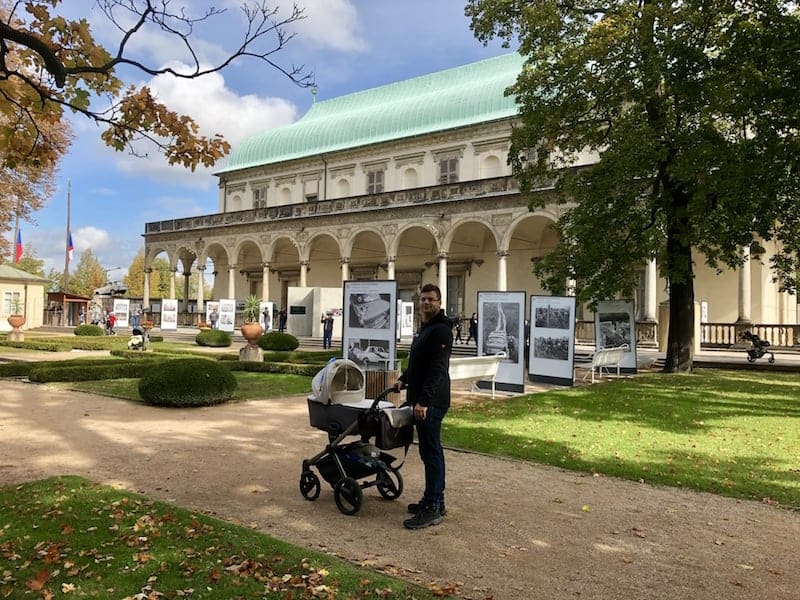 7. Underneath Charles Bridge: Fine Street Art.
As Charles Bridge has, unfortunately, fallen victim to mass tourism (there are always loads and loads of people on it), I have taken to avoiding its busiest corners and thus found wonderful street art right below it. There was hardly anyone there to share it with, and most tourists miss it by simply walking across the bridge!
8. If heading to (and over) Charles bridge, we recommend the right time of day (or night).
Our window of choice was early evening hours. Most other "bridge-goers" spend this time eating dinner, and we just went for an early dinner with Liam so as to still fit in with his sleeping times. Walking across the bridge, we just carried him in our baby sling and mingled with the fewer other visitors. A must-see, but at the right time for us.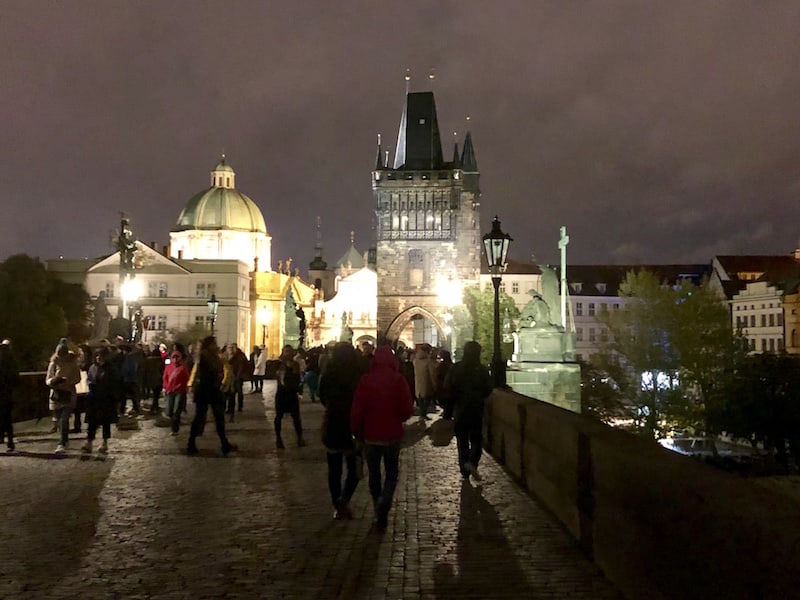 9. Walking along the river across the old town from Prague.
I found this photo spot a few steps beyond the Franz Kafka museum, towards the Vltava river. Worth it for its views upon the old town and Charles Bridge, and if you are lucky, you'll get a nice photo composition such as this one.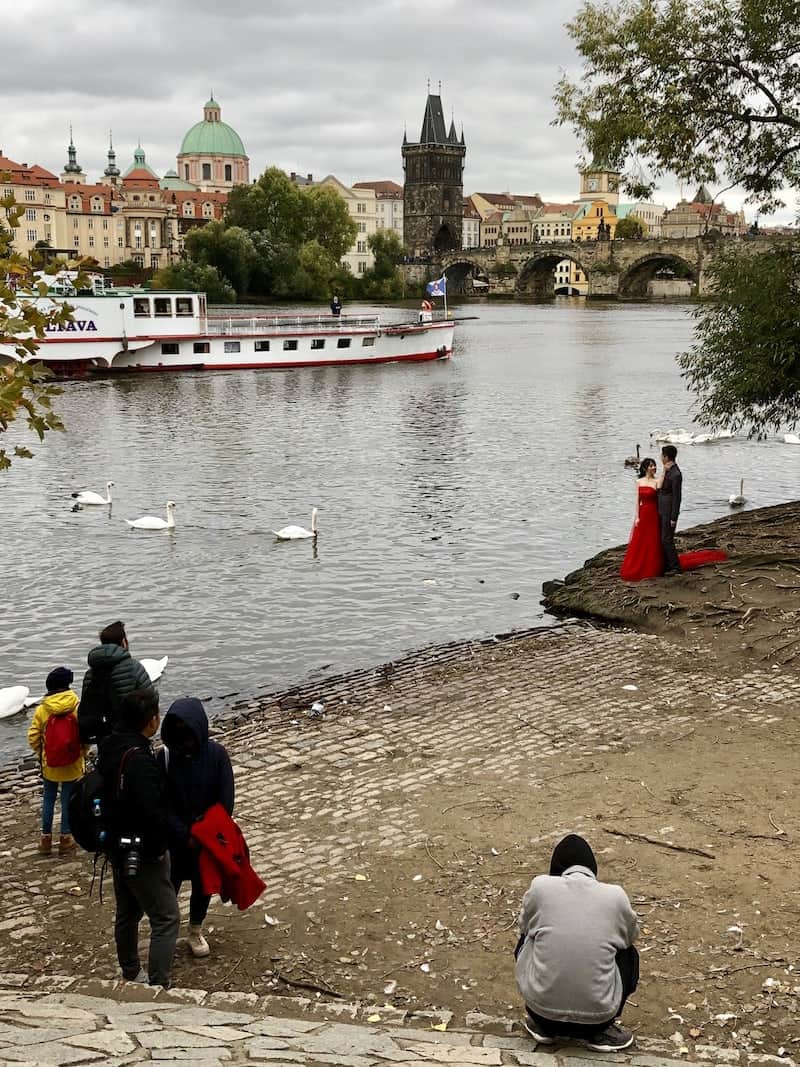 10. Lokal? Lokal!
If you are looking for a local bar and restaurant, we can recommend "Lokal" to you, a local favourite as we've been recommended it even twice. And yes, the quality of food and service was indeed good, despite being right inside the busy, touristy Mala Strana district.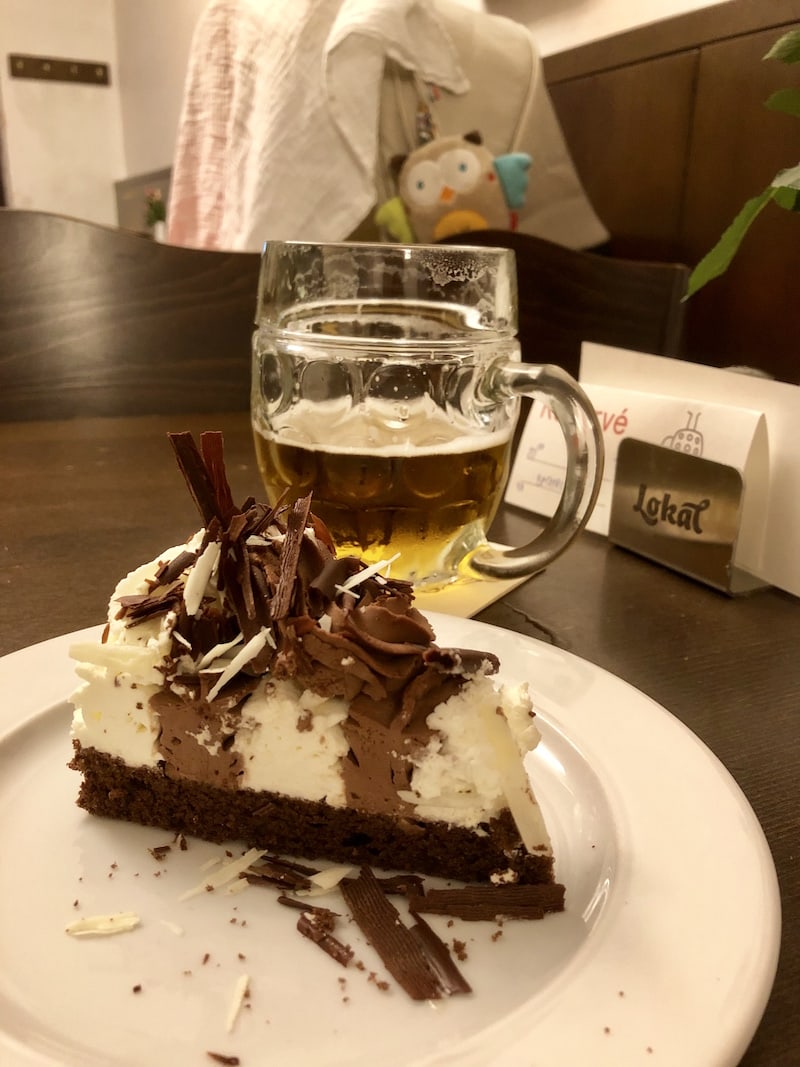 And you, which hot spots or "secret spots" have you discovered in Prague?