You wouldn't be here if you weren't curious.*
Hi! I'm Elena! Welcome to my travel blog Creativelena.com.
For me, it is all about "life-seeing instead of sightseeing": Join me as I create, eat & live my way around the world. Curious?
*Check out my book, "The Creative Traveler's Handbook", for learning more about what we mean by creative travel. Travelling means the world to me, makes me fit for everday life and sometimes, I trust, also calmer on the inside. Read this blog with a smile, share what you love and remember to check back regularly: After all, when was the last time you did something for the first time?

Train Travelling Thoughts: "Interrailing" Across Europe
4 weeks, 4.000 kilometres & just as many hours: Who would have thought that travelling by train could be so much fun. Seriously: I cannot think of any other way I could have travelled from the North Sea in Germany to Northern Spain in just as much peace, comfort and style. Simply hopping on board. Sleeping. Reading. Relaxing. Listening to music. Working. Blogging (offline, of course – until the next WiFi connection comes up 😉 ). My train ticket: All settled and paid for in advance, the only surcharges I incurred were for the use of the Eurostar or TGV high-speed trains in France and England. Altogether, my Interrail fare was a € 393,- for 10 travel days within 22 days, valid in 30 European countries. No matter if you travel two or twelve hours a day: The more you do travel, the more you make of your ticket obviously. Actually, this ticket is a bargain compared to the stress, time or money spent on 10 days travelling by plane or car. Add to this that you travel from city centre to city centre, and train travelling in Europe is hard to beat, really.
Work & Travel: My Life on the road – or wheels, as in this case!
"So Elena, how does this work? You are travelling Europe for four weeks now and what about your job (are you on holiday??)? And isn't it expensive, too … ?" Well, it is not only back home in Austria that I get asked these and similar questions. Many travel companions I meet on the trains as well as friends & colleagues keep asking me, often quite incredulous, how I do "manage it all". Actually, dear readers, it really is quite simple. As with everything in life, it all depends on your own (positive) attitude. Often, I am very lucky to be invited at my friends' places having to afford little or almost no hotels. Most of my money gets spend on inviting the very friends & colleagues I meet, and / or on gorgeous gourmet food on the road! Travelling with my powerful, extremely lightweight MacBook Air, I always keep my digital desktop in my pocket, working & editing travel videos in trains or on planes, writing posts offline (like now 😉 ), answering emails and sending / receiving them at the next point of connection. I am LOVING it! Always with good music in my ears, great views of the surroundings and really nice fellow travellers. As a "nice side effect", I find I am discovering our own "home continent" Europe anew, being fascinated with the variety, creativity and diversity I encounter in the people I meet, the regions I travel. Culture shock? Is probably going to hit when I am back home … 😉 world citizens we are !!
Check out even more comprehensive information from "Nomad is Beautiful" on "Train Travel in Europe with Interrail"! Lots & lots of really useful tips and information there 🙂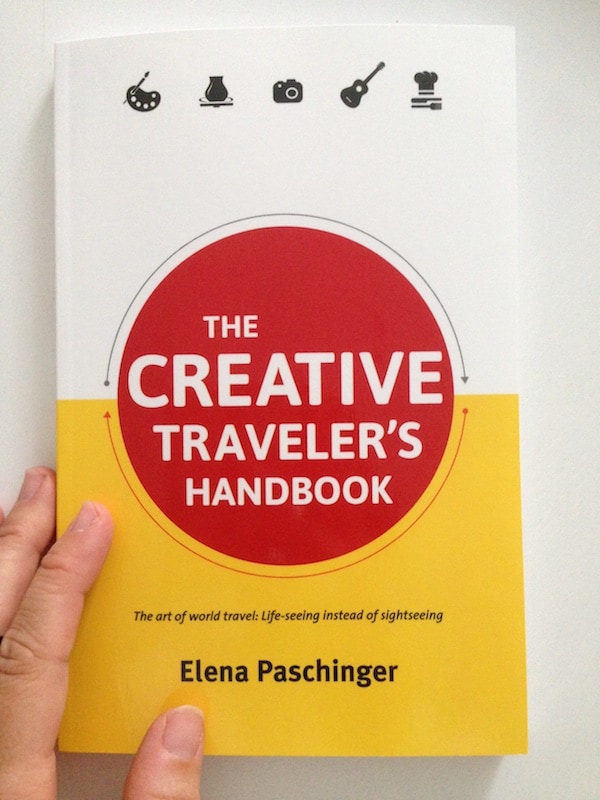 Ready for learning even more about creative travel?
Elena has recently published "The Creative Traveler's Handbook". Chock full of inspiratinal stories, travel tips and advice, it offers everything you need for planning and managing your next creative escape, addressing beginners and experienced travelers alike. Here's how to
get your hands on it
now!
Follow me on my travels: