Awesome "iphoneography". I just love the aesthetics of my high resolution iPhone5 camera device coupled with the creativity and "filter-full" playground of Instagram. As a travel blogger, Instagram is one of my favourite Social Media apps apart from Facebook, Twitter or Google+. I use it all the time to share those travel moments & photographs I deem particularly awe-inspiring. As the web world moves to being increasingly visual, photo apps such as Instagram are gaining popularity. To quote but one example, the hashtag #IGTravelThursday has definitely run into more & more momentum across the travel blogging world internationally.
This blog post, however, is all about inspiring YOU! Hence my collection of "Top Ten Travel Moments" (and stories) in 2014, as expressed by Creativelena on Instagram. So sit back & enjoy the magic!
1. Kick-off Conundrum. Where in the world is … ?
… this place? Can you guess?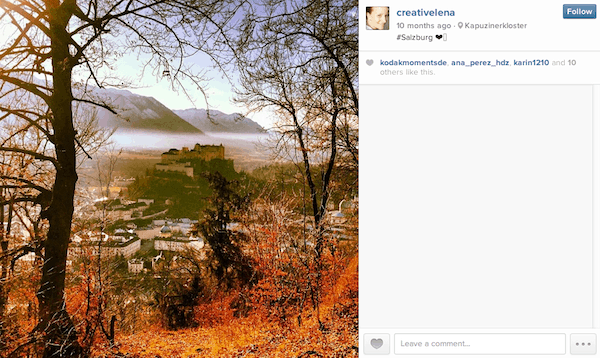 "The hills are alive with the Sound of Music …" I'm in love with Salzburg. Those of you who follow me on my culinary-creative trip ventures around Austria will agree. Have a look here if you are not yet entirely convinced of this beautiful place on Earth!
2. Ski bunnies live to tell the tale!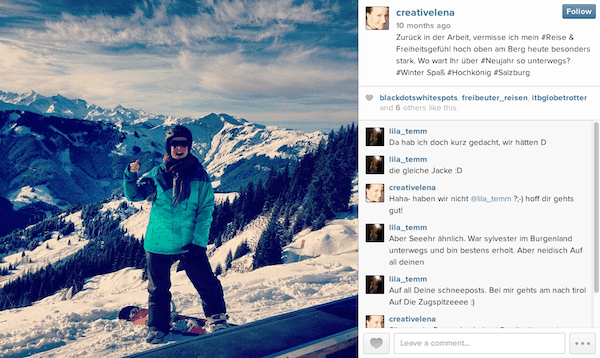 I just love my mountains. I am Austrian. On skis with three years old and snowboarding all over the place for almost twenty years now. Each winter, I need to be up cruising & carving in the crisp powder snow, under the intense mountain sunlight and in the freshest mountain air possible … Find out why here, and here!
3. #Foodie #Foodlover #Foodporn and what have you …
FOOD! "Your posts are all about gorgeous food Elena …!", I am often challenged against my still rather normal (not overweight) appearance …! Well, it's all about balance isn't it. And I just love to go jogging "the extra mile" if it is for beauties such as this one: Varietée of aspic from Styria.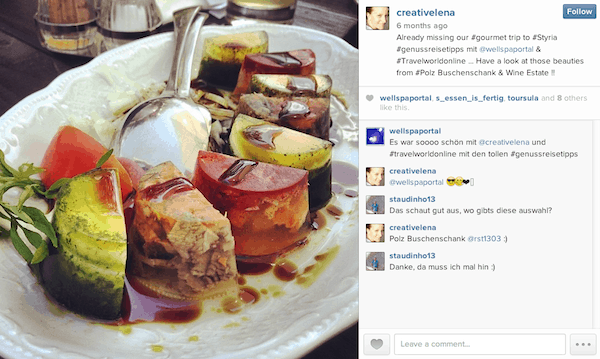 4. Magic Moments over breakfast in a tree house …!
As part of a trip to the "Leipziger Neuseenland" (the beautiful countryside around the German city Leipzig), I am offered to spend one night in this luxury tree house at Kletterwald Leipzig. The morning after photograph rocks the Instagram travel world, also being shared through the Germanytourism Instagram travel account: Love my gourmet nature moments!
5. Who or what sets you on your path?
"Der Apfel fällt nicht weit vom Stamm", is what we say in our beloved German mother tongue, roughly translating into, "the apple doesn't drop far from the tree!" And this is exactly what happens in the Paschinger family (apple) tree. Here is to two ladies I am madly in love with, all my life, travelling or else: Mum & Granny!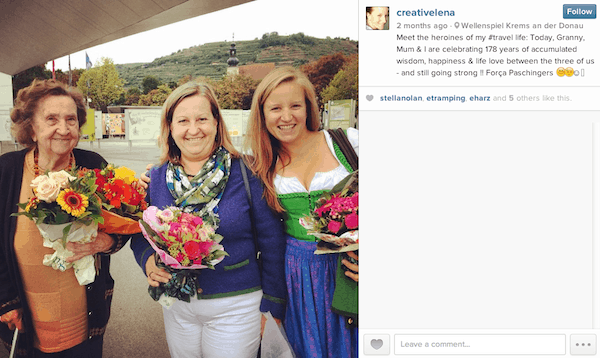 6. You realise it is all about AUSTRIA here. Especially my own neck of the woods …
… in quite the most literal sense, is what I am particularly proud of: The Lower Austrian "Waldviertel". While being on a hiking trip in the Upper Waldviertel region close to the Czech border, we got to relax on a short train ride with the historic narrow-gauge railway allowing me to take this epic landscape photograph: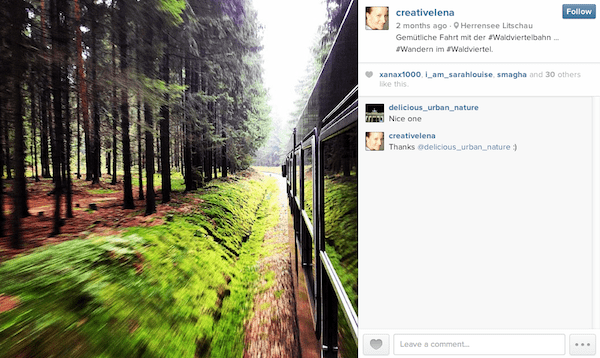 7. And the magic continues as we head south to Carinthia …
… what a beauty. I have never travelled to the Weissensee lake district before, so being on a trip with lovely Terry & Sarah Lee, travel writers at www.LiveShareTravel.com turned into friends turned into family, was pure magic … not surprisingly, they both LOOOVE Austria and vow to come and live here one day. 😀
8. … and east to Burgenland!
Travel bloggers take photos of travel bloggers taking photos … and so it goes. This one though has stayed with me for the rest of the year as one of the most beautiful Instagram travel shots I have taken in 2014: Thank you so much, dear Monika of www.Entdecker-Greise.de, for inadvertently assuming such a great pose in this one photograph of our E-Bike trip through Southern Burgenland!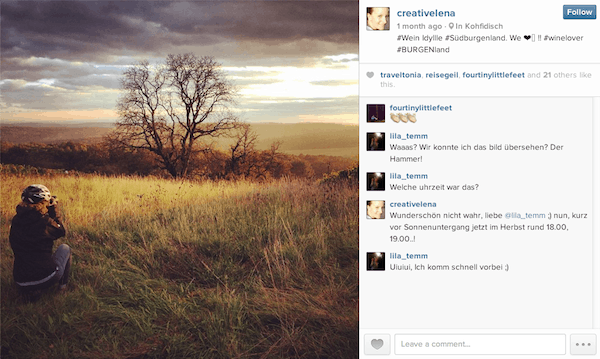 9. "Porto e punto."
Hardly anything more to add to the city of Porto than a mere point at the end. Such is the actual marketing campaign in this city I have come to love for so many reasons, and I shall be chiming in with this one single epic sundowner photograph …!
10. Last but not least: The Happiness. Of that one particular moment when time & space cease to exist while travelling …
"My instructions for travel happiness read as follows: Go to Porto. … Ask whoever you are with to take your picture. Beam and start smiling through your eyes. Laugh out loud. And hold it. Hold it, right there. At the very point where time and space cease to exist and you simply ARE. Where nothing else is important but feeling, realising, becoming aware that the magic of the entire universe is with you, in this very moment in space and time."
I am quoting myself here, dear readers. For I have nothing more to add to the sense of completion, and happiness, I felt upon celebrating my 31st birthday with my beautiful friends in the city of Porto. Pois é … e "Porto e punto." 😀