"Glamping", short for glamorous camping, meaning not to renounce luxury and comfort whilst enjoying the outdoors, is very much in fashion. Waking up surrounded by nature, yet tucked into cosy blankets and hotel-like beds? Spending the day outside, yet being able to use a state-of-the-art bathroom and toilet? Hanging out in swings, yet having only to reach over for a cool drink from a little portable fridge?
So I'm asking you: Who wouldn't want to try that?
Our lovely hosts from Southern Burgenland (in the very east of Austria), Bernhard and Doris Haanl, have thought about just that. Landscaping artists and gardeners by trade, they have turned their large country property near Neusiedl bei Güssing into a retreat-style oasis for corporate and leisure clients. After spending almost a week at an exciting Taekwondo camp in nearby Fürstenfeld, we decided it was time for us to do just that – to retreat and do nothing.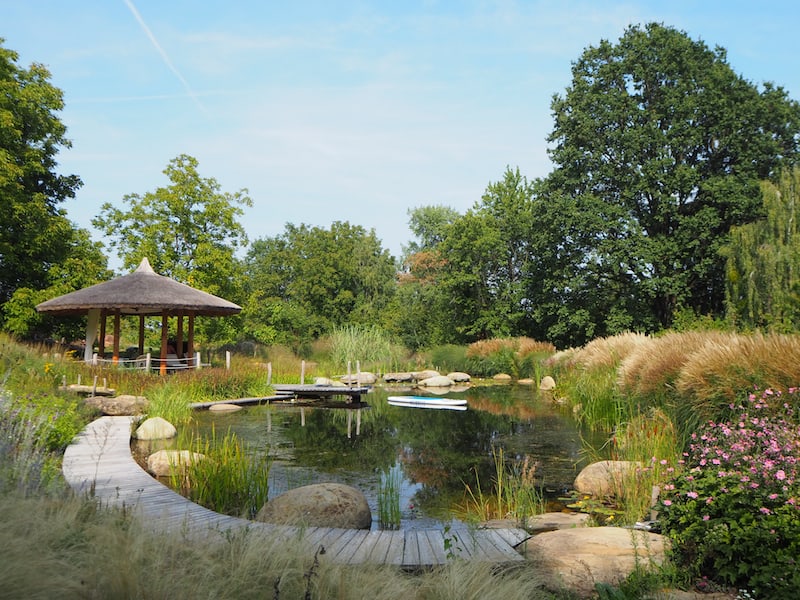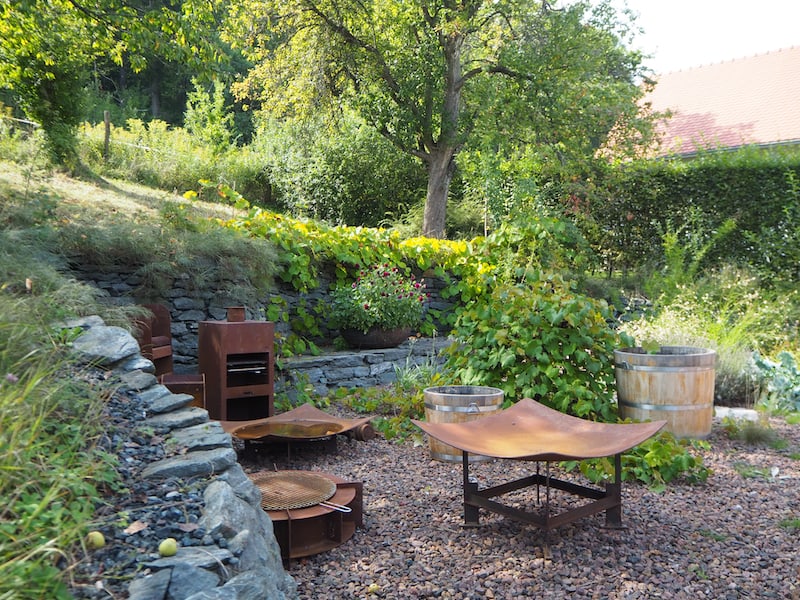 "Living In Frames", is what Bernhard and Doris call their overnight concept. Wooden "frames" as small living units, built right into the park landscape for a unique travel experience.
"I actually thought about all this myself, then went to see a carpenter for the construction part", Bernhard tells us with pride, adding that four more 'frames' will be added to the three existing ones soon. "Right now, our property is able to sleep 15 people, either in the apartment, in the bunk beds upstairs in the former barn, as well as in our 'Living Frames' inside the garden park." Each 'frame' represents a star sign and is built using different construction material that blends right into the surrounding landscape. We sleep in the sign of the lion: Larch wood outside, swiss pine inside, for extra sleeping comfort. Love the yellow background colour, too: Check this out.
After breakfast in the old barn, which the owners have carefully renovated, we spend the entire day outside. So peaceful.
"Feel free to wander around: Further up by the forest, we have turned a circus coach into a rather luxurious apartment for our guests. You will find a little forest café too, and some interesting sculptures …", Bernhard and Doris tell us. What's handy for us as guests: All paths and trails are mowed out, so it is easy to wander around and not get lost. Besides, the former barn has many more corners and rooms for lazy hours: a library, cosy chairs, and much more.
Well, one thing's for sure: We won't be leaving any time soon …
… as really, it feels like the perfect holiday, whiling away by the big pond and its Stand-Up-Paddle for a few sporty strokes, reading, talking, doing nothing much except watching the hours go by. There are cool drinks brought out by Doris herself, and our son Liam loves to just sleep the hours away on one of the comfy deck chairs, befitting his three months of age.
Check out my picture gallery for all the photographs from our trip:
Disclaimer: We have been invited by Bernhard and Doris Haanl to get to know their 'Frames'. All opinions are my own.