You wouldn't be here if you weren't curious.*
Hi! I'm Elena! Welcome to my travel blog Creativelena.com.
For me, it is all about "life-seeing instead of sightseeing": Join me as I create, eat & live my way around the world. Curious?
*Check out my book, "The Creative Traveler's Handbook", for learning more about what we mean by creative travel. Travelling means the world to me, makes me fit for everday life and sometimes, I trust, also calmer on the inside. Read this blog with a smile, share what you love and remember to check back regularly: After all, when was the last time you did something for the first time?

#InspiredByIceland: A Most Magic Road Trip of Western Iceland.
"Listen here. It is so quiet … absolutely no noise." My words carry over to my friend & travel companion Björn from Iceland, whose face immediately breaks into a knowing smile. Noticing the absolute absence of noise has us world citizens & urban dwellers almost shriek with delight. Even the sea cradles the coast in a peaceful embrace here today, at the western-most point of Iceland, right by the foot of the mighty glacial massif of the Snæfellajökoll. Quietly lapping. As if gently tapping … at the giant volcano's feet, not wanting to wake the very mountain spirit that still inhabits this long extinct volcano. Or the Elven family that lives in its foothills. It might all very well be, as I have recently found out studying at the Icelandic Elf School in Reykjavik.! Magic is definitely in the air here in Iceland, even if this air is likely to hit you in the face first of all during this cold winter climate. Thankfully, no Iceland experience is complete without a visit to the country's hot pools. "Even the great historian Snorri Sturluson has already taken a bath here in Reykholt during the 12th century", Björn smiles and points towards a hot tub that is surprisingly well-kept and inviting for its age. No hot tub as you might like to imagine, but a hot tub nonetheless …!
But let us move on to the very essence of this story.
15 pictures of today's pleasure moments. 15 reasons for your next road trip to Western Iceland. And countless Thank you's, dear Björn, for taking me on such a great trip with you!
Haven't had enough yet? I haven't either … Iceland really is too good to be true. Many more breathtaking photographs (yes, this time truly "breathtaking"!) are to be seen here: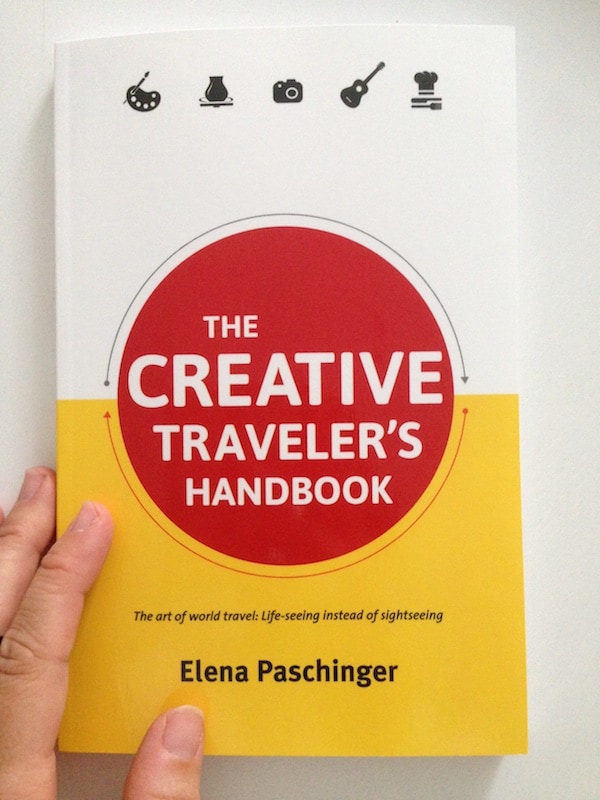 Ready for learning even more about creative travel?
Elena has recently published "The Creative Traveler's Handbook". Chock full of inspiratinal stories, travel tips and advice, it offers everything you need for planning and managing your next creative escape, addressing beginners and experienced travelers alike. Here's how to
get your hands on it
now!
Follow me on my travels: