Finally, after almost three long years of COVID-induced absences of large industry gatherings, we got to "mix and mingle" again with well-known and new faces in the international travel blogosphere. What better place to do so than in the vibrant second largest city of the Czech Republic, Brno?
Kudos right from the start, Team Traverse, for pulling off a professional event that provided interesting learning opportunities and wonderful occasions for much-needed personal exchange. It was so great to see some good old friends again, and also to meet newbies to the professional content creator travel sphere.
I have attended most of the conference's weekend sessions, and enjoyed the so-called "Midweek Experiences" provided by the Czech Tourism Board as well as the City of Brno. More about these experiences in my blog post about the city of Brno, including tips on where to go, what to do, where to eat and drink etc.
For the purpose of this article, let me share a few insights from what I've learned at Traverse Blogging Conference in Brno.
Karen Sargent, of "GlobalHelpSwap", gave an interesting talk about "The Secret to Sustainable Productivity".
Karen Sargent and Paul Farrugia are among the funniest and sunniest of "blogging couples" I know: Their happy mood is infectious every time we meet! As it turns out, Karen is originally from Malta, so we could share an interesting chat about us having visited Malta for a wedding with our two young boys back in June this year!
In her session, Karen identified four different types of energy available to us in our daily life and work: Spiritual energy (purpose), physical energy (stamina), mental energy (focus) and emotional energy (positivity). She provided us with a fun exercise that exemplified five different working styles:
Hurry up: Likes being busy, energised by urgency, works quickly
Be perfect: Likes to be accurate, wants to get it right, reliable
Please others: Happy in a team, understanding, empathic
Try hard: Likes anything new, gets things started, enthusiastic
Be strong: Takes pride in being able to cope, calm under pressure, can stay emotionally detached
So how do we choose to focus? Her advise is in making and/or having a plan: "Stay in your zone of genius!", she says. "Distraction is an action illusion – don't go down that road too often!"
In order to stay focused on what to achieve in the next twelve months, we should learn to make a plan of what to continue doing, to stop doing, or to start doing in the next three months.
Last but not least, her advice is to go deep in our work: "The depth of our thinking sets us apart from the rest", Karen argues. "Find out when you have your 'power hour' in the day, and be sure to book it in the calendar. When is your most creative hour? Set a very specific action for it, set a goal. Eliminate all distractions, put your phone away. Then revel in what you have achieved that day, or hour."
Kate McCulley, of @AdventurousKate, spoke about how to blog in the age of TikTok.
Kate has been around in the international content creator and blogging sphere for a long time. From what I remember, she was already proficient and "ahead of the game" back when I started www.CreativElena.com in 2012. Naturally, I had to use this opportunity to hear her speak at Traverse Conference again!
So how can we (still) blog in the age of TikTok?
Kate argues that "boomers don't use TikTok. They like Google and Facebook, as even opposed to Instagram and Pinterest." Also, she says that "blogging is a big tent. It fits text, video, social, email lists, etc. In my opinion, your email list may even be the most important thing you have!"
She identified the following three areas for blogging growth in the near future:
"Uncool" destinations, i.e. (for now) small and mostly popular with the locals.
Less covered destinations in popular countries.
Profiles of specific attractions, restaurants and or hotels.
The blogging tools she recommended to us from her personal experience are "RankIQ" for keyword research and "Flocksy" for ghostwriting. I must admit I have heard of neither – perhaps both are not yet popular in the German-speaking blogosphere.
She definitely impressed me by sharing insights about her latest blog project, NewHampshireWay.com. Her advice for any new project is to "get it online, to start content planning, and to do a big research trip that generates enough content for months. Once you have the new site up and running, my advice is to hire writers, to keep writing and to start any link building activities. I have built up this website to now having 40.000 sessions per months, back from when I started it in September 2021. It is hard work to achieve growth like this, but worth it if you are looking at perhaps selling it one day."
I would like to share this one excellent travel video he used in his talk, about beautiful Costa Brava in Spain. Have a look at it and tell me if you, too, can feel the "cinematic goose bumps" on your skin?!
Beautiful – so well done, Emiliano!
Last but not least, Eulanda Shead Osagiede talked about "Creating Pitch Decks that Convert".
I was immediately drawn to Eulanda during Traverse Blogging Conference in Brno. Her personality and her style are remarkable, and her positivity is wonderful to watch! No wonder, therefore, that both of her conference sessions were filled to the last chair (and beyond, people were even standing to watch and hear her speak!). So cool.
I have again written out these meeting stages for creating business here:
Start with greeting and small talk.
Transition into discussing your brand campaign.
Ask the business partners about the content they have planned, and see where your idea fits in?
If they are interested, send a visual proposal (produced content? licensing? clauses?).
At the end, thank them for their time, transition back to small talk, and close the call.
She continued by reminding us of what to do before creating any business proposal:
One learning I am definitely taking from her session is the one on Canva, as in that it enables you to build a live link presentation over sending out a static PDF file. Canva proposals, she argues, "present beautifully on any device type."
She recommends to have the following sections for any pitch presentations:
Cover page
Intro
(No more than) Three content packages, with the most expensive and extensive one on top. Any KPIs, she says, should be set in a mutual conversation with the client.
Content delivery timelines (like, video first, or live conversations, etc.)
Previous work examples
Agreement requirements (communicating non-negotiables in a friendly way)
Testimonials, and
Contact info.
Here are some more slides of her (very interesting) previous content creator work contracts: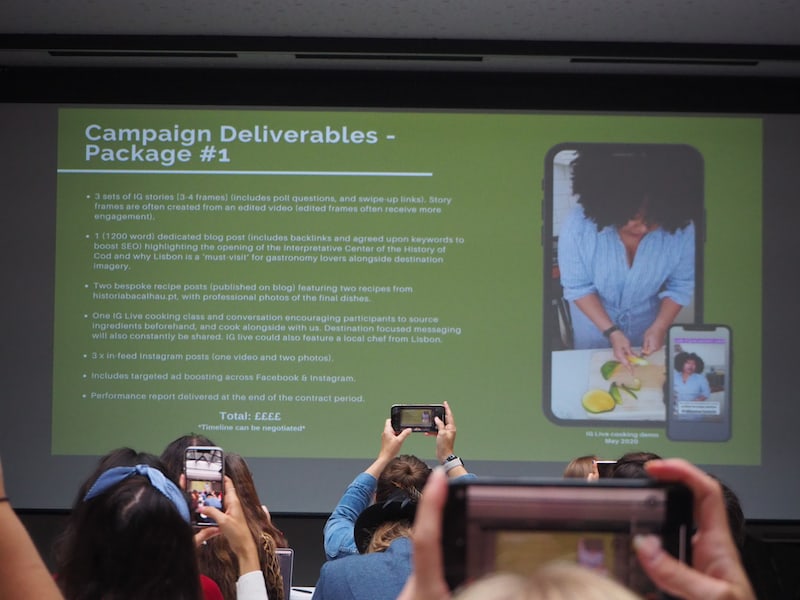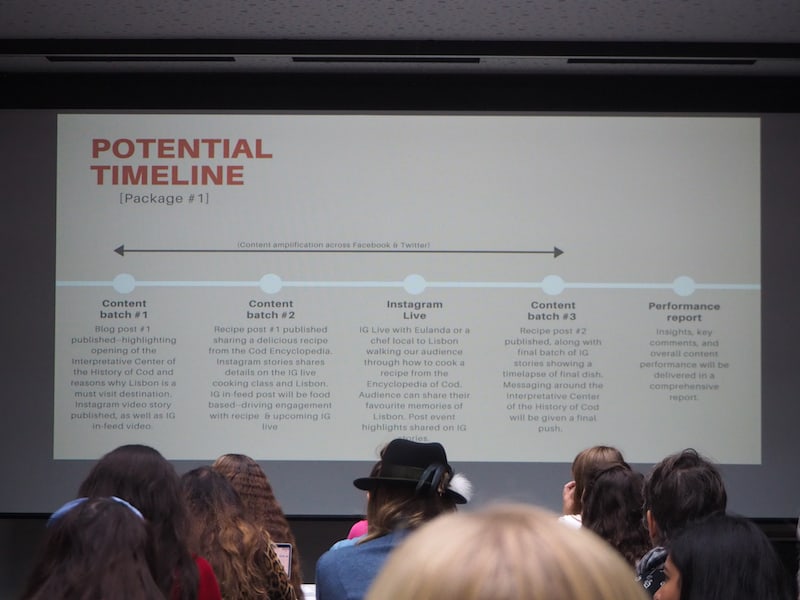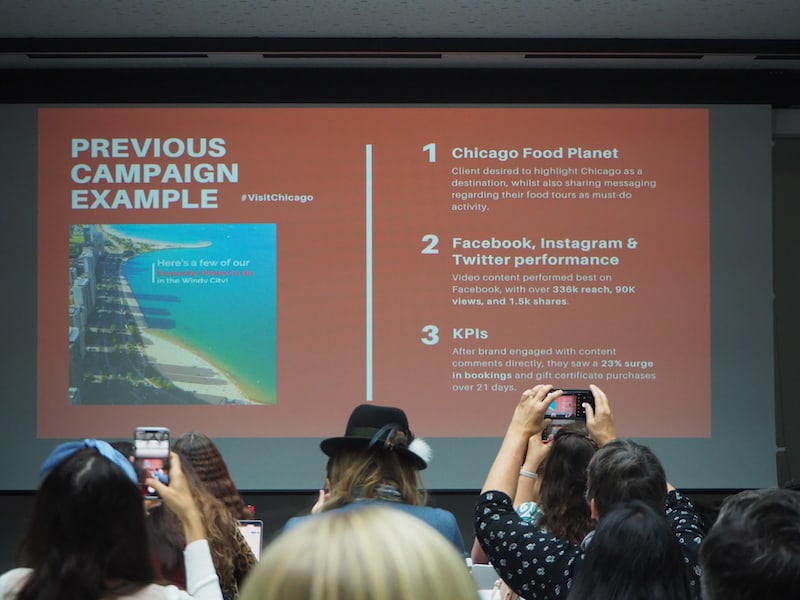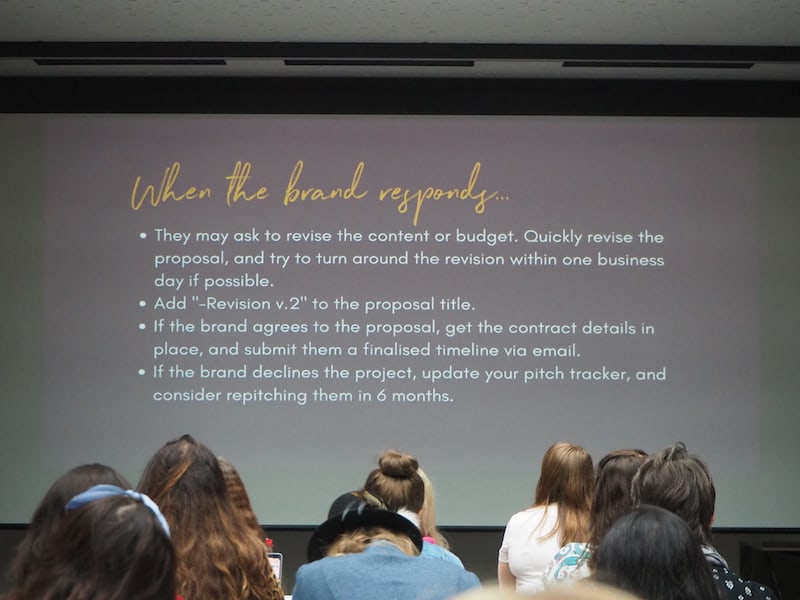 What an interesting conference, everyone! I hope you have all returned home safe & sound, and found some of my recaps and learnings useful for your work also.
See you at the next edition of Traverse Blogging Conference, and/ or somewhere else in the not too distant future!