You wouldn't be here if you weren't curious.*
Hi! I'm Elena! Welcome to my travel blog Creativelena.com.
For me, it is all about "life-seeing instead of sightseeing": Join me as I create, eat & live my way around the world. Curious?
*Check out my book, "The Creative Traveler's Handbook", for learning more about what we mean by creative travel. Travelling means the world to me, makes me fit for everday life and sometimes, I trust, also calmer on the inside. Read this blog with a smile, share what you love and remember to check back regularly: After all, when was the last time you did something for the first time?
"Let me see if I am still able to show you something new here in Salzburg", Martina tells me, smiling. I have just finished talking to her about my countless trips to Salzburg & around in recent years, including "tasty dumplings & totally awesome (moor) food", the "historic Almkanal crossing", visiting a springtime gourmet festival all the way to our very first Austrian travel blogger meet-up in the city of Salzburg. "That's been a while now", I laugh and add: "To be honest, we have simply always felt welcome here – and last but not least thanks to the really interesting 'looks behind the scenes' of the city of Salzburg."
Or did you know that, opposite from the world-famous Mirabell Palace, you can now find a trendy "Bottle Shop: Craft Beer & Cider" with tons of varieties of beer & cider? Mirabellplatz 7, info@beerbottle.eu!
"They really dare being different", is all I can think of as we slide down the beer slide (!) and into the cellar vaults of the Bottle Shop of Salzburg. Local owners Christine & Ronald Keil run a real treasure chest of craft beer varieties, which are not available in supermarkets but only from selected (micro) breweries. Altogether, their recently opened Bottle Shop therefore fills a niche and offers us to taste some previously unknown beer varieties. I am tempted to come back for one of their tasting events & brewing workshops and bring my beerlover friends! A real discovery and welcome addition to the city of Salzburg, Austria's "secret beer capital"!
Finding hidden beer treasures such as these is the work of Martina Gyuroka, known as the "Salzburg Beer Guide". For many years already, she has focused her tour guiding business on the beer history of Salzburg, running her tours full of wit, humour and interesting, historical beer facts – in English, Spanish, Portuguese and German, of course!
A true "glimpse behind the scenes" of the city of Salzburg has been discovering a beer-food pairing menu at the Trumerei restaurant, available for only €29,- per person including live comments, all beers & meals!
Johanna Panholzer is a lady of many words. Another sweet lady who has put beer high on her (professional) agenda: "I used to be chief accountant", she laughs, shaking off the past in favour of becoming one of Austria's top (and first) beer sommelières. Her knowledge about the different craft beer varieties is truly impressive, as it has already been the case with Christine Keil and Martina Gyuroka. During the "beer-food pairing tasting menu" at the Salzburg Trumerei restaurant (starting from 5-10 people, at € 29,- per person!), she is happy to explain the history behind every course, as well as the matching craft beer. We find a hint of raspberry in the beer matching our goat cheese salad vinaigrette, a dark chocolate flavour in the beer paired with our mousse au chocolat … I am still highly impressed by the perfect food pairing of the craft beer varieties served to us here.
Last but not least, I am happy to introduce you to my former study colleague, Johann Bauer, who has turned his passion for cooking & baking into a successful cooking class business here in Salzburg: "Edelweiss Cooking"!
"Our American visitors just love our apple strudel baking courses here in Salzburg. I use an original Austrian recipe for the dough, kneading it only from a mixture of flour, water, oil and a hint of salt …" Really?! I am challenged in my own ways of preparing perfect apple strudel according to mum's recipe back home. Nevertheless of course, the slight differences result in a delicious strudel after all. I really enjoy our baking class at the StieglKeller next to the "Festungsbahn" Salzburg, followed by a delicious vegetarian version of typical "Reindl" pan-fried food from Salzburg. Of course, we are being served our home-made apple strudel as dessert …
Fancy some more? My upcoming blog post guides you into making the most of your day trip out of the city of Salzburg, including the Untersberg mountain, the historic water fountains at Hellbrunn Palace as well as the "lady of the herbs" in Grödig … stay tuned!
Disclaimer: We have been invited "behind the scenes" of Salzburg by the city of Salzburg. All opinions are my own.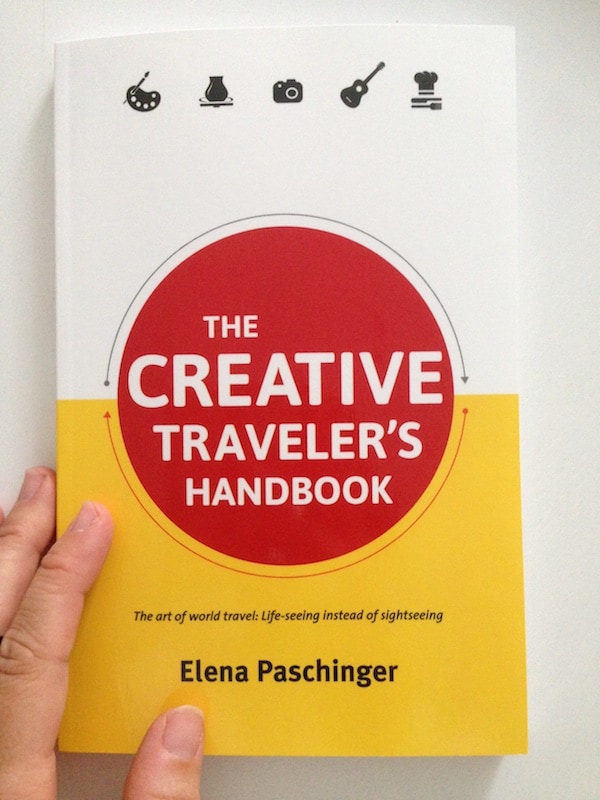 Ready for learning even more about creative travel?
Elena has recently published "The Creative Traveler's Handbook". Chock full of inspiratinal stories, travel tips and advice, it offers everything you need for planning and managing your next creative escape, addressing beginners and experienced travelers alike. Here's how to
get your hands on it
now!