You wouldn't be here if you weren't curious.*
Hi! I'm Elena! Welcome to my travel blog Creativelena.com.
For me, it is all about "life-seeing instead of sightseeing": Join me as I create, eat & live my way around the world. Curious?
*Check out my book, "The Creative Traveler's Handbook", for learning more about what we mean by creative travel. Travelling means the world to me, makes me fit for everday life and sometimes, I trust, also calmer on the inside. Read this blog with a smile, share what you love and remember to check back regularly: After all, when was the last time you did something for the first time?
Today, I want to know something from you, dear readers. How do you treat yourself when you have accomplished a big life project of yours? Your life dream even? The glorious end of my #WritersRetreat in #LaBelleFrance, crafting the essence of "The Creative Traveler's Handbook", my first ever book soon to appear on the market of international travel literature ..?
Well. I guess you just continue doing what you love: A sea tapas tasting trip kayaking #InCostaBrava! Never heard of that? Neither did I. Until I fell in love with a sweet little place called Llançà …
Llançà, about an hour south of Perpignan in northern Cataluña's Costa Brava region, is a small seaside town with all the classic charm of a typical Mediterranean holiday destination: Sunshine, beach life, tapas, siesta, sailing boats, sea breeze and the beautiful backdrop of the Pyrenees mountains to the Northwest. I thought: What better place to come to and relax after learning more about the shared food, culture & language identity embracing France to the south and Spain to the north – Catalan & Cataluña, that is?
"L'Alberg Costa Brava", one in four top youth hostels in the Northern Costa Brava region, has optimum connections with one of the most outstanding creative foodie travel experiences I have ever done: Learning how to taste algae while kayaking on the Mediterranean Sea!
"Elena, you must talk with Pau … He is amazing at what he does. Always on the lookout for new opportunities, and ever so helpful. I am sure you two would get along really well!" That's my dear friend Marc, of Alberg Costa Brava speaking: His friend Pau, it turns out, runs a company called SK Kayak and is indeed happy for me to try out their newest invention – a seaside love affair with kayaks and … algae.
Tasting local plants and algae in an attempt to understand more about the native Cap de Creus & Costa Brava flora, all the way to their use in Celler de Can Roca, the world's leading restaurant in Girona? Yes please! Evarist March, a local botanist turned nature guide, lives to tell the tale and joins us on our kayak trip.
Being the naturally curious, foodlover traveller I am, I find myself all ears in front of Evarist's and Pau's fascinating knowledge. What an exciting way to explore northern Costa Brava in an activity called "Herbokayak Tapas Marinas" – tasting our way through land and sea on kayaks just out of Llançà.
The algae tasting that marks the highlight of our kayak excursion is nothing short of extraordinary. After a comfortable stroll on the beach and some two hours spent kayaking, we find ourselves in a tiny little bay that Evarist deems perfect for … diving for algae. Two more volunteers of our group eagerly join him, all helping to prepare a seafood platter of a kind. Welcoming the wait in my kayak, I find myself gently balanced by the tidal waves hugging the bay on this northern stretch of the Costa Brava coast. It is peaceful here; no other tourists are around. Once again, I am reminded that spending your time with the local people is just the best way to go in order to explore the world around us.
Disclaimer: I have been invited by SK Kayak for a taste of their Herbokayak Tapas Marinas trip. All opinions are my own.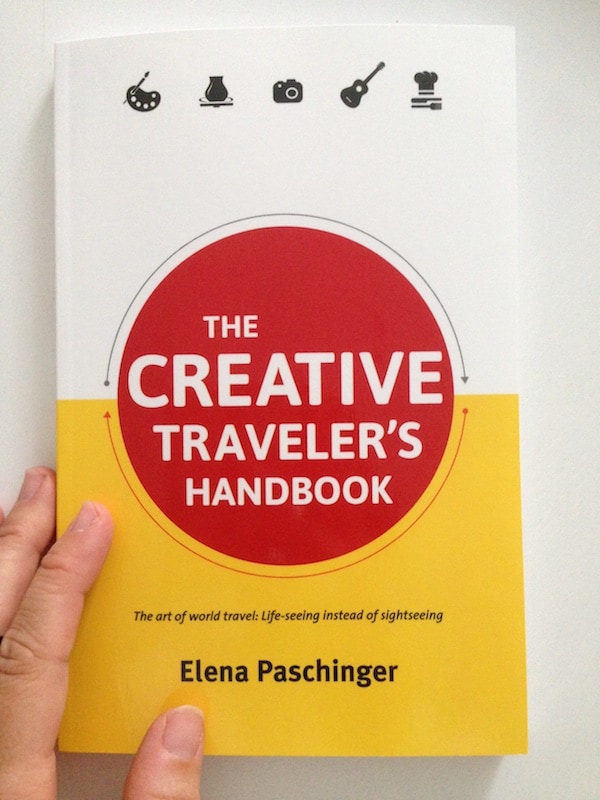 Ready for learning even more about creative travel?
Elena has recently published "The Creative Traveler's Handbook". Chock full of inspiratinal stories, travel tips and advice, it offers everything you need for planning and managing your next creative escape, addressing beginners and experienced travelers alike. Here's how to
get your hands on it
now!