You wouldn't be here if you weren't curious.*
Hi! I'm Elena! Welcome to my travel blog Creativelena.com.
For me, it is all about "life-seeing instead of sightseeing": Join me as I create, eat & live my way around the world. Curious?
*Check out my book, "The Creative Traveler's Handbook", for learning more about what we mean by creative travel. Travelling means the world to me, makes me fit for everday life and sometimes, I trust, also calmer on the inside. Read this blog with a smile, share what you love and remember to check back regularly: After all, when was the last time you did something for the first time?

Food Romance: Culinary Delights in Galicia from Vigo to Santiago de Compostela
Romaticising: Oh ain't it beautiful. And Galicia has it all: Breathtaking coastal landscapes. Deep blue sea. Turquoise sandy bays. Beautiful summer sunshine. Happy people. And then the cuisine … Seafood. Cheese. Wine. Paella. Tortilla. Dear heart, WHAT else is it you want right now!?
(Eating. Perhaps.) Enjoy !!
Culinary Adventure Trips in Vigo, the largest (port) city of Galicia
The best thing about talking a walk in the port city Vigo, located right by the Atlantic Sea with its mesmerizing views out over the open ocean dotted with cruise ships, is the fact that you will always end up in great (tapas) bars. There literally is no way round them here. A trip to Vigo has to be about food and culture, no matter if it is a beer or a coffee you order sampling one of the city's typical tapas delights, a more classic wine tasting you are looking for or indeed a cheese workshop right in the old town. Er, cheese workshops? My travel video will show you what the creative culinary networks in Galicia have to offer … check it out!
"Shoppilgrim" & further food romances: A day trip to Santiago de Compostela
The great pilgrim destination of Santiago de Compostela. My visit has been much too short in order to tell you in full about this unique pilgrimage site. However, I can share with you that as a "shoppilgrim" and a gourmet food lover, you will be equally well received here. Next time, however, I do plan arriving by walking here. And perhaps indulge in less of a food romance. Will this ever happen, I wonder … ? Stay tuned!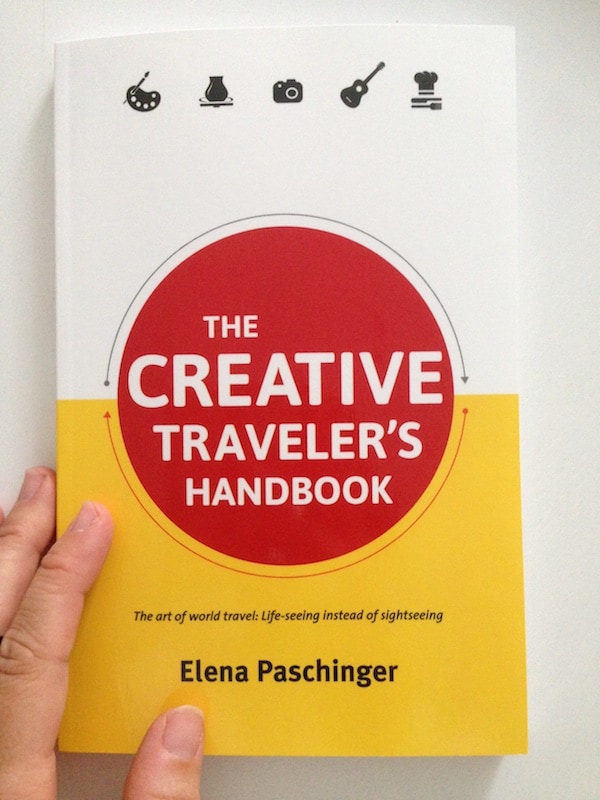 Ready for learning even more about creative travel?
Elena has recently published "The Creative Traveler's Handbook". Chock full of inspiratinal stories, travel tips and advice, it offers everything you need for planning and managing your next creative escape, addressing beginners and experienced travelers alike. Here's how to
get your hands on it
now!
Follow me on my travels: