Here we GO again. Finally, it's time to plan another big trip! For the past couple of weeks, nothing has given me more joy than finally being able to plan that long-awaited journey through Europe with my two-year-old son. Ever since my husband and I travelled to Portugal and Spain with him for a month, just ahead of the global pandemic, I long to do a trip of my own with him. Surely, as we all know, the past year has delayed even thinking of planning an adventure like this!
But now, fully vaccinated, I am once again confident in looking at my mother-and-son-trip. The big idea is not to go sightseeing, of course, but to focus on spending time with the locals in each of the places we visit. Those "locals" are for the greatest part friends of mine who I haven't seen in ages – years, at times! They live all over the place, and I have picked visiting and staying with some of them who at the same time make for a great journey on the train with my young traveller.
Why travel by train (and not by car)?
I'd say there are two main reasons. First of all, the environment: If I really choose to travel through Europe for weeks, covering thousands of kilometres – why not take one of the many, well-serviced trains that run all over the continent? Driving the same distance is expensive, and perhaps not as easy with a two-year-old in the car, on your own. The second reason is flexibility. I can much easier entertain Liam on board the train due to wonderful family departments specially equipped for parents travelling with (young) children. Those departments offer extra luggage storage, game tables, and among others even a small cinema with stairs for the children to sit on. Like in a theatre! In addition, there are always other children and parents to support each other. Check out this photograph, taken of the ÖBB Austrian Railway family department last summer, when we took the train to Pitztal in Tirol for five hours.
When checking the online booking service of the Deutsche Bahn, I even find they differentiate between family departments ("Familienbereich") and toddler departments ("Kleinkindbereich")! That, I believe, is a wonderful service. I will tell you more about the differences, and facilities, in my next blog post after completing our journey.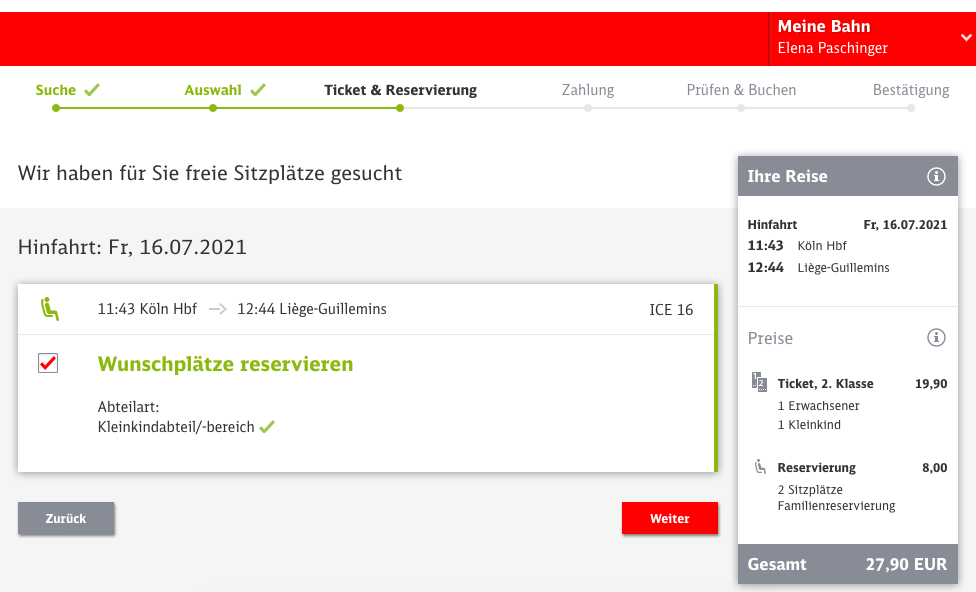 How to decide upon distances when travelling with a young child?
The choice, of course, always has to be yours! According to my gut feeling, four to five hours on the train is enough for my nerves and Liam's age (two). Also, we only travel by day, as I believe him to be too little for overnight trains yet.
Our first stops from Vienna are thus Munich and Augsburg (at four to five hours distance), continuing on to Cologne and Düsseldorf (another four hours' distance from there). After spending 10 days in Germany, Liam and I will continue on to Liege in Belgium and return home via Luxemburg and Germany once more. I have already made reservations for all long distance train services (including allocated seats for us, and making sure they're in the family departments). All other connections, such as minor bus or train services under two hours, allow for more spontaneous travel decisions.
The main advantage in my opinion is that Europe has an excellent network of public transport services! And unless anything happens, trains leave often and regularly – quite contrary to other parts of the world, such as Western Canada where their VIARail train leaves only every other day or so ..! I am thus sure that we will always be able to find the right connection for us.
What about luggage?
Honestly, I do believe this is very simple. One backpack. One stroller. One toddler. Easy, right?! Neither Liam nor I need much luggage: It's summer, and we can always take up our friends for washing laundry while we go. Family departments on the train come with extra storage room, and our "travel stroller" is very easy to store away anyway.
Thanks to flying with baby Liam right before the pandemic, we already have a practical stroller for travelling. It is made to fit into hand luggage on airplanes, and is thus very easy to store and expand. I can even pack it up lightly, with a few toys or diapers, in addition to my backpack. It should be easy to keep an eye on my young adventurer all at the same time!
How to mind (and align) travelling with those typical toddler rhythms?
Of course, I keep thinking of how and when Liam will be able to sleep on the journey, especially as he's still used to a several-hour-nap each day after lunch. It might be hard to keep it up on the days we travel. But on all other days, I can always have him rest at my friends' places, for as much as he needs to. I don't think it will be much of an issue. Quite the opposite: I can't wait for our mother-and-son travel adventure to start!
And last but not least: Why travel without daddy?
Honestly speaking, it has nothing to do with my husband, Liam's dad! It is something that I have always wanted to experience, and as such, I'll just do it. How is it really going to be, "just the two of us" on the road, Liam and I? What will be his reaction to the world, now that he has started talking and becoming more and more of a "young person"?
My husband cannot take much time off work at the moment, either – not as much as to join us for the whole trip anyway. He also has a personal goal besides: Completing his second triathlon at the end of July. "It's just as well that Liam and you are travelling: More time for me to focus on my training right ahead of the competition", he laughs. Deal, then!
Now you know! Do check back for my next travel posts, and for learning more about our mother-and-son journey this summer.