You wouldn't be here if you weren't curious.*
Hi! I'm Elena! Welcome to my travel blog Creativelena.com.
For me, it is all about "life-seeing instead of sightseeing": Join me as I create, eat & live my way around the world. Curious?
*Check out my book, "The Creative Traveler's Handbook", for learning more about what we mean by creative travel. Travelling means the world to me, makes me fit for everday life and sometimes, I trust, also calmer on the inside. Read this blog with a smile, share what you love and remember to check back regularly: After all, when was the last time you did something for the first time?

Hot Moon Valley & Cool Stargazing in the Atacama Desert, Chile
"Death Valley, Moon Valley" … ? It might not sound very enticing. Or does it? For me, a hike through Death Valley and the "canyon of salt" as well as the sunset over Moon Valley is one of the best recommendations of things to do while exploring the Atcama Desert. From my personal experience, the heat isn't so bad after all (50°C in the sun, 30°C in the shade are "carried away" by strong winds), just make sure you carry enough water, wear the right clothing and have at least some level of fitness so as to enjoy the walk. I recommend you go with a (small) group such as those offered by Cosmo Andino, who make a point of staying away from the crowds and giving great commentary as well.
Here, I share with you my photo essay of walking the Death, Salt & Moon Valleys in the Atacama Desert of Chile:
Stargazing in the Atacama Desert with local guide Jorge Corante: An absolute Must-Do!
After some initial stargazing experience at Gingin Observatory in Western Australia as well as my star gazing tour in Fiordland, New Zealand, I thought watching the stars in the Atacama desert might just be "the place to be" for its absolutely clear skies and next to no light pollution. Well, not only I thought so: Right next to San Pedro de Atacama, the "Large Satellite Array" has been inaugurated only this way, providing for the largest star observation facility in the entire world. However, as mentioned in my article about the "Altiplano" Lagoons, it is sometimes hard deciding which operator to go with. So I googled. And found Jorge Corante thanks to great Tripadvisor reviews, being no more than four days old. After writing to him and introducing my work as a travel blogger, he spontaneously offered to host me on a single tour including sending me these pictures of our experience. How cool! Very lucky I was to have found him.
So why Jorge? Besides being a true "Atacameno" and of direct descent of the local native tribes, he has an enormous knowledge about all things scientific & mystic about the stars and planets , explaining context and making me understand the night-time sky. His tours are offered in both Spanish and English, and he comes to take me out straight from my accommodation in San Pedro de Atacama. The tour lasts from about 21.00 – 24.00 h. Wonderful , Jorge: Well done!
Fancy more amazing impressions of the Atacama Desert? Check out my Flickr photo page and enjoy daydreaming over some of these images … !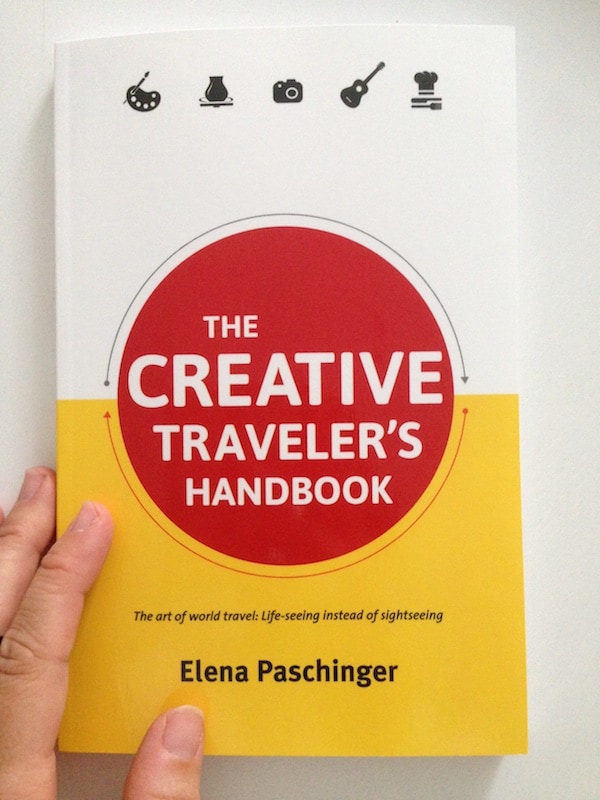 Ready for learning even more about creative travel?
Elena has recently published "The Creative Traveler's Handbook". Chock full of inspiratinal stories, travel tips and advice, it offers everything you need for planning and managing your next creative escape, addressing beginners and experienced travelers alike. Here's how to
get your hands on it
now!
Follow me on my travels: