During the past two months, I enjoyed giving four different speaking gigs at various tourism high schools, universities and colleges in both Krems and Vienna, my home towns here in Austria. We discussed hot topics such as influencer marketing, the latest developments in the tourism industry, as well as how best to (net)work with travel bloggers. In this context, the typical questions that even a bunch of adolescents can hold their breath for are: How does it really work? What exactly are you doing, Elena? How do you earn your money? And what is the real deal about making traveling a profession / starting your own blog / wanting to make a name for yourself, and following your passion in life ..?
Let's start with teaching at the HLF Tourism High School in Krems. I there spoke at the National Federal Symposium of Tourism High School Teachers in Austria about Social Media Marketing, Trends & Innovations in Tourism. So not students, but teachers this time, from all over Austria: An exciting multiplier event that I have never experienced before!
Next up is talking at the High School for Economics in Krems …
… where I find myself mentioning to my students: "Pictures of yourself in a bikini are not a sustainable business model …" 😀
I feel like I've raised a digital index finger. Haha. But still I believe it's true: There will come a day, where you no longer want to show off half-naked in order to make money through your blog. To show students the range of possibilities that exist, is exactly what I love so much about teaching here: To promote the idea of a #LifeOfATravelBlogger based on solid business consulting, marketing campaigns and clever, innovative strategies !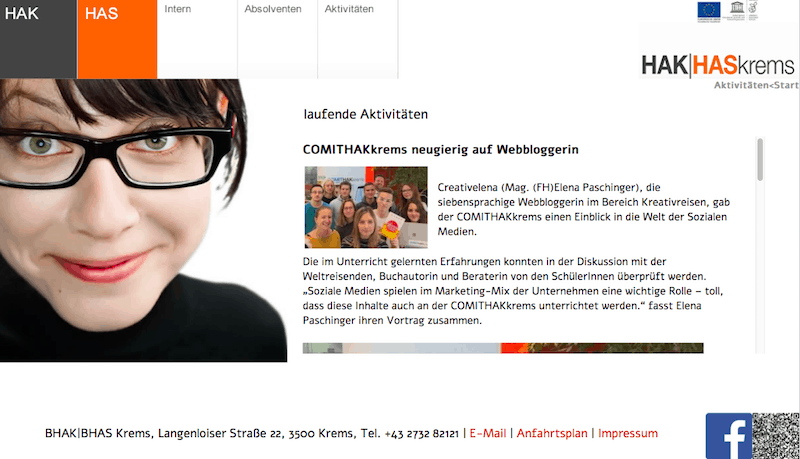 Last but not least, HLW / HLT Bergheidengasse Tourism High School in Vienna had me speak as part of their international "Travel & Destination Day"!
"Dear Elena, we recently met at the ÖLT Seminar in Krems and would like to invite you to speak at our 'Travel & Destination Day' on Wednesday, 14th February 2018. Next to students presenting their diploma theses, new trends and developments in the tourism industry will also be presented. The aim is to inspire the younger students for their own diploma thesis topics, so of course we thought of you as our preferred speaker!" Thank you for these warm words, dear Astrid Frisch!
February 14th, the day of lovers. This can only be a good sign for my presentation. And yes, once again, I really enjoyed doing what I love: Inspiring young people for new opportunities and jobs they never thought possible, in this exciting digital age of communication technologies and savvy (travel) business strategies ..!
Thank you to the school for gifting me with two bottles of wine! I naturally had to leave a personally signed book of mine, "The Creative Traveler's Handbook", for the school's library, then.
Check out my entire presentation here: