Dear Florian! Today, we would like to know more about your work as a "digital influencer". How important are community & networking for you, and where will the way still lead you both personally as well as in business?
We are curious to know more! Thank you for taking part and answering my interview. Here we go 🙂
How do you personally explain your "digital influencer" status through www.travelpins.at ? What is necessary to succeed, according to your belief?
As many of my colleagues would agree, I don't particularly like the word "influencer" (it reminds me of a viral disease that runs by a similar name, at least in German!). However, as conferences such as the "All Influencer Marketing Conference" show, being a "digital influencer" has grown to be somewhat trendy, encompassing many different types of broadcasters (YouTubers, Instagrammers, bloggers, etc.).
You need to be careful though, as reach of an influencer is not everything. To me, reach alone does not justify the expenditure of tourism companies in working with influencers. For them, it needs to be about "reaching further", i.e. creating booking volumes, managing better turnovers and ROIs. It is not an easy road, especially for those who are only setting out now. My advice would be to focus on a certain niche, to become an expert in your field, to have a sense of business and professional perseverance, before even thinking to monetise the blog itself.
What has been your most successful project through "Travel Pins"? How do you measure and evaluate that success?
The success of "Travel Pins", a blog I've started together with my partner Corinna, lies in the fact that we've ben able to grow it organically, over the years: What started out as a website to share travel tips from our round the world trip in 2014, has evolved to be a well-established resource base for travellers from all parts of the German speaking markets. We love getting feedback from our readers, acknowledging the fact that we put a lot of time and effort in keeping our posts useful and up to date for them.
Besides, revenue from commissioned work is increasing, which helps to keep the blog going. If we like a product or service a lot, we would still publish about it though, even without earning a paid commission through an affiliate link.
Why do you (still) attend travel trade shows, networking events, conferences, etc.? What are some of the most important criteria here?
To be honest, I hardly attend travel trade shows and conferences any more – much less than in the past. Of course, they are always a good networking opportunity, and it's great to keep meeting other bloggers & business partners there. To that end, I'll be visiting the ABCstar, the Austrian Blogger Conference that takes place later this month in Linz.
It's been several years now since you've become a trusted travel publisher in Austria as well as the German-speaking markets. Where will your spheres of influence still lead you? What are some business opportunities you would like to develop further?
First of all, our aim is to do a blog relaunch in 2017. More and more readers check our blog on their smartphones, and we would like to better our service there. Besides, I am willing to improve my writing skills, hence taking classes there. There are also other storytelling media I'd like to do more of, for instance short (and live) videos via different Social Media platforms.
Last but not least, I would like to mention #7ways2travel, a project we've started with six other Austrian travel bloggers. It's a lot of work to keep sharing and posting there, but very rewarding too as we are currently negotiating our first business deals!
What is your single biggest tip for those wishing to work with you?
Don't get caught up in the numbers' game: Pay more attention to the fact if the bloggers hosted actually match your niche & target groups. If you are really serious about working together, set aside time, budget and any further resources necessary.
How do you go about researching your next trip? Do you yourself value the opinion of other travel influencers, or do you prefer being surprised over planning ahead ..?
I am rather impulsive and love being "led astray". Of course, we do take influence from other travel writers and colleagues in the travel industry. As soon as we've settled on a destination, I look for blog posts specifically, while Corinna also enjoys buying traditional travel guides. I like planning, but also leaving room for spontaneous happenings while on the road.
What is your single biggest inspiration in travel? And in writing (sharing, filming, etc.)?
Travelling itself provides the greatest source of inspiration for me: No matter if it's meeting other travellers or locals, or trying out things for the first time on a trip which later become part of life (for instance, rock climbing!).
When it comes to writing, I intend to produce a good mix of advice connected to the travel story itself. It's definitely a challenge, I am very critical with myself and still have quite a way to go. A website I aspire to in my writing are Reisedepeschen.
What do you always carry with you on your trip?
My smartphone. I'd be lost without it, quite honestly speaking!
How do you (really) relax? Allow us a glimpse into your busy everyday life …!
Quite likely, the most difficult question, really. I am always on the go and do not enjoy "doing nothing". While on the road, the actual trip to or between different destinations relaxes me, believe it or not! If I want to relax back home, I go for a hike up the Riegersburg castle in our Eastern Styrian hill country. I don't go up the normal way though. I take the climbers' path, enjoying the views from up high while waiting for the sunset.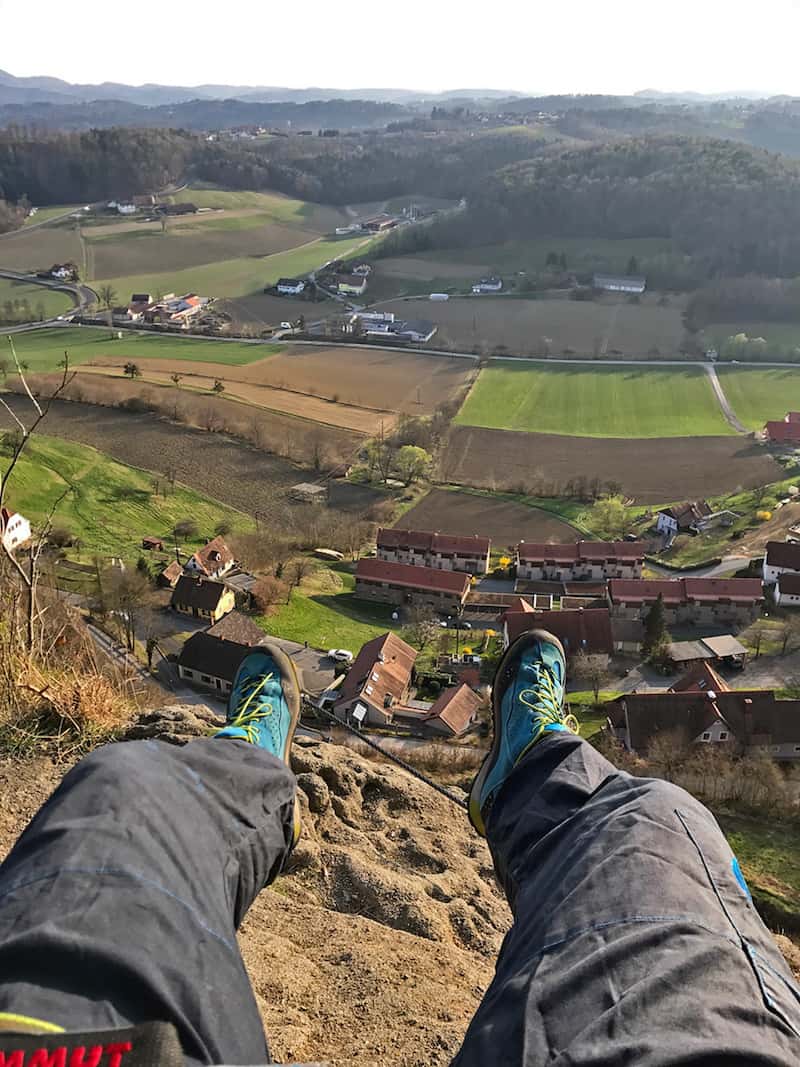 Last but not least : Give us three reasons we should immediately check out your blog for! What is "Travel Pins" all about? What do readers most comment on? What are you particularly proud of?
If after a hike or biking tour you still want to explore good eats or opportunities to relax, you have come to the right spot by visiting "Travel Pins": Corinna and I mostly write about active outdoor tips, foodie highlights & cultural encounters from near and far. We love introducing readers to new ways of thinking (and travelling), ways that lead them beyond what's commonly known as a destination's highlights. If we are able to achieve that, and still get good comments and feedback, then this is what makes us really proud I guess !
Thank you so much, dear Florian, for this interview!