You wouldn't be here if you weren't curious.*
Hi! I'm Elena! Welcome to my travel blog Creativelena.com.
For me, it is all about "life-seeing instead of sightseeing": Join me as I create, eat & live my way around the world. Curious?
*Check out my book, "The Creative Traveler's Handbook", for learning more about what we mean by creative travel. Travelling means the world to me, makes me fit for everday life and sometimes, I trust, also calmer on the inside. Read this blog with a smile, share what you love and remember to check back regularly: After all, when was the last time you did something for the first time?
The magic of travelling to the Baltic Sea Coast. Ever so attractive to us travellers from Austria or Switzerland. Ever so attractive to me. It is my third time up here along the Coast between Rostock & Rügen, and the travel bug has bitten me again. Baltic Sea Coast Blues …
"North Sea or Baltic Sea?" – "I prefer the Baltic Sea. The tides don't make it disappear as much …"
a community member writes to me on my Creativelena Facebook page ahead of my trip. And I do have to admit: The North Sea has really left its mark on me following my recent trip there! But still: The Baltic Sea Coast is what it is: A perfect destination for peace & relaxation. A truly creative holiday destination. A spa & health resort! So what else, you may wonder, is there left to discover between Warnemünde to Wustrow?
A lot. Let's start with something fresh & unique this time, as we #EnjoyGermanNature: A kayak trip across town with "Stadtpaddeln Rostock". Must-see & do when in Rostock!
Sandra is one of those people who know how to make you feel welcome at once. Her tone of voice is such that you just love to follow all of her explanations about the river Warnow, where we are kayaking into the sunset together. "Yes well, they have recently interviewed me on TV, too", she answers to all our questions modestly. And this despite having only started her kayaking tour business about a year ago, but really hitting a nerve: Exploring the town of Rostock in a comfortable, peaceful way from the river. Simple, actually. Check this out.
From Rostock, you can just as easily continue your journey by train or bus: I really like this environmentally sound way of travelling to my next destination, the area called Fischland-Darß-Zingst.
Despite carrying a trolley, backpack and/or handbag on most of my trips, I almost always prefer the train when travelling solo. It is simply the most relaxing way of travelling, at least far more over having to drive by car. Driving by bus and train from Rostock to Wustrow is only about an hour and perfectly prepares you for what's up next: The sweet aromas of freshly caught (and grilled) fish. The salt in the air behind the sand dunes. The colourful, reed-covered houses. I recall having been in Wustrow before, but must have missed a walk among the town's very pretty reed houses back then. Today, it is them I can especially recommend to you when visiting Wustrow & Ahrenshoop.
Fine dining & local sailing, this is what Wustrow & Ahrenshoop are well known for. Perfect for a beautiful summer vacation then …
… as I believe that the summer sun adds even more taste to the fresh fish around here. Or is it me just being hungry from tasting all that good remoulade sauce and the juicy local potatoes? I just can't get enough of the Baltic Sea smoked fish, Matjes, herring, or else. Don't miss a visit to the local Räucherhaus fish pub in Ahrenshoop / Althagen then, located right by the "Zeestboot" sailing harbour. 
… my next travel article here on my blog will take you all the way out to the island of Rügen and into the Hanse city of Stralsund, spoiling you to even more insider tips from my recent "nature trip in Germany"!
As a perfect appetiser, have a look at my tasty travel video here:
… as well as my colourful image gallery from this Baltic Sea summer trip. Enjoy!
Disclaimer: I have been invited by the German National Tourist Board to " #EnjoyGermanNature " on this nature trip to Mecklenburg-Vorpommern. All opinions are my own.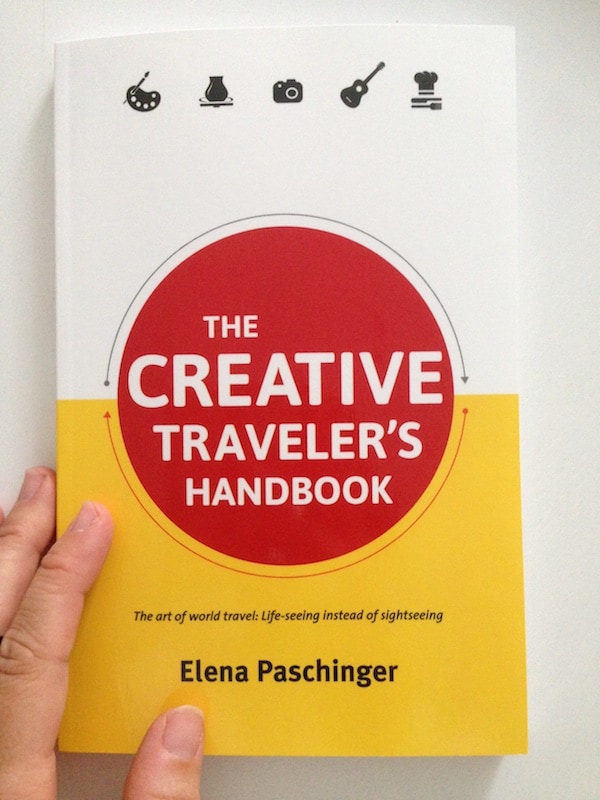 Ready for learning even more about creative travel?
Elena has recently published "The Creative Traveler's Handbook". Chock full of inspiratinal stories, travel tips and advice, it offers everything you need for planning and managing your next creative escape, addressing beginners and experienced travelers alike. Here's how to
get your hands on it
now!