You wouldn't be here if you weren't curious.*
Hi! I'm Elena! Welcome to my travel blog Creativelena.com.
For me, it is all about "life-seeing instead of sightseeing": Join me as I create, eat & live my way around the world. Curious?
*Check out my book, "The Creative Traveler's Handbook", for learning more about what we mean by creative travel. Travelling means the world to me, makes me fit for everday life and sometimes, I trust, also calmer on the inside. Read this blog with a smile, share what you love and remember to check back regularly: After all, when was the last time you did something for the first time?

Travel Video Highlights: Tango & Trekking in South America
A few days ago, I returned from 50°C Atacama desert in Chile into my homely home town of Austria (at about -5°C). Crazy, to say the least! Apart from having to get used to the temperature & season change, I am missing two nights' of sleep – left anywhere between partying in Santiago de Chile and high above the Atlantic Sea – as well as having to get used to the idea of snow again. Seriously, I could not believe it till the very end. Wasn't the spring already supposed to be here? So immediately, my mum and I took a photo of the snow storm greeting me in Vienna upon my arrival. How "cool"!
Dancing the Tango & Trekking with my friends: My very own highlights of travelling through Argentina & Chile
Before I'll start working on my 4-5 minute travel video summarising my travels through South America at length, I have already been able to publish these short three snippets of "animal encounters in Patagonia", "dancing the Tango in Buenos Aires" & celebrating wine & beautiful girls at the Mendoza Wine Festival for you!
Enjoy and don't forget sharing it with your friends 🙂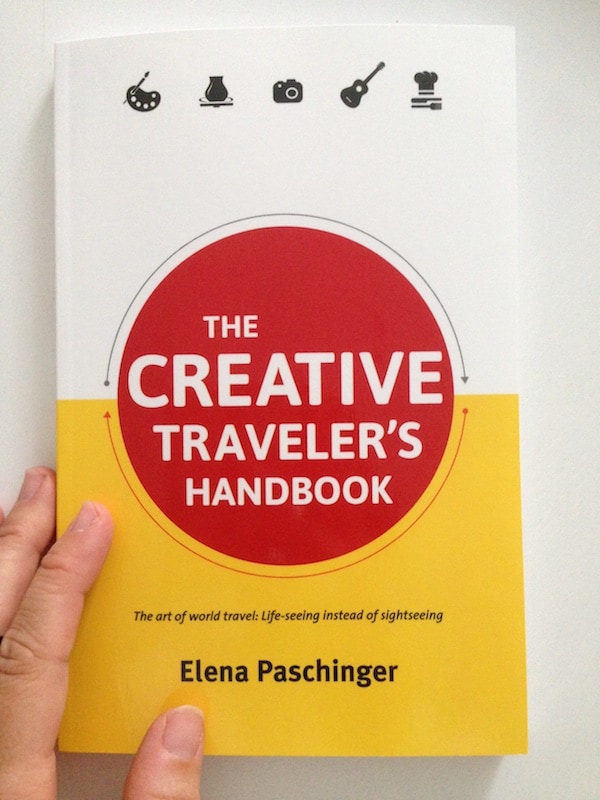 Ready for learning even more about creative travel?
Elena has recently published "The Creative Traveler's Handbook". Chock full of inspiratinal stories, travel tips and advice, it offers everything you need for planning and managing your next creative escape, addressing beginners and experienced travelers alike. Here's how to
get your hands on it
now!
Follow me on my travels: