You wouldn't be here if you weren't curious.*
Hi! I'm Elena! Welcome to my travel blog Creativelena.com.
For me, it is all about "life-seeing instead of sightseeing": Join me as I create, eat & live my way around the world. Curious?
*Check out my book, "The Creative Traveler's Handbook", for learning more about what we mean by creative travel. Travelling means the world to me, makes me fit for everday life and sometimes, I trust, also calmer on the inside. Read this blog with a smile, share what you love and remember to check back regularly: After all, when was the last time you did something for the first time?

Six Hours in Sweden: From Copenhagen to Malmö
"There is this bridge from Copenhagen to Malmö. Trains connecting Denmark with Sweden leave about every half hour, so just take any one you like." Martin, our wonderful local Danish host, tells us with a smile. Easy. Together with my brother Julian, we have travelled to Denmark in order to rock at Roskilde Festival and spend a few days' time with "our local Danes" Martin & Niels. So why would we go to Sweden, then? Because it is tempting. Because it is out there. Because it is beckoning on the horizon, strolling down harbour lane in Copenhagen. "I do not even carry my passport", I laugh sitting on the train in the middle of the North Sea crossing over the 20 kilometre stretch to Sweden. But it doesn't matter! Around 30 minutes later, we arrive at Malmö Main Station. And make straight for … coffee. And cake. It is late afternoon already, after all. Time to refresh, head into town, out to the harbour and find a nice seaside restaurant for dinner later on before hopping back over the ocean to Denmark. Easy. Isn't it?
I love spontaneous travelling. Malmö perfectly matches up for it.
To be honest, my brother and I did not have much of a plan, nor profound knowledge prior to heading out for Malmö. We got a map and some advice from the local tourist information at the central station, designing a walking trail covering parts of the old city, the city's park and canal system as well as the modern harbour district. The latter one features lots of shiny new flats as well as the so-called "Turning Torso", a masterpiece of architectural ingenuity and clearly worth seeing. It stands amidst a very modern housing district where beauty clinics, sports fanatics and visitors like us mingle enjoying the late summer evening atmosphere. Daylight until 10.00 p.m. One of the most magnificent sunsets I have ever seen. Free music concerts all July long. And a wonderful seafood salad. Our six hours in Sweden shape up to be just perfect! 😉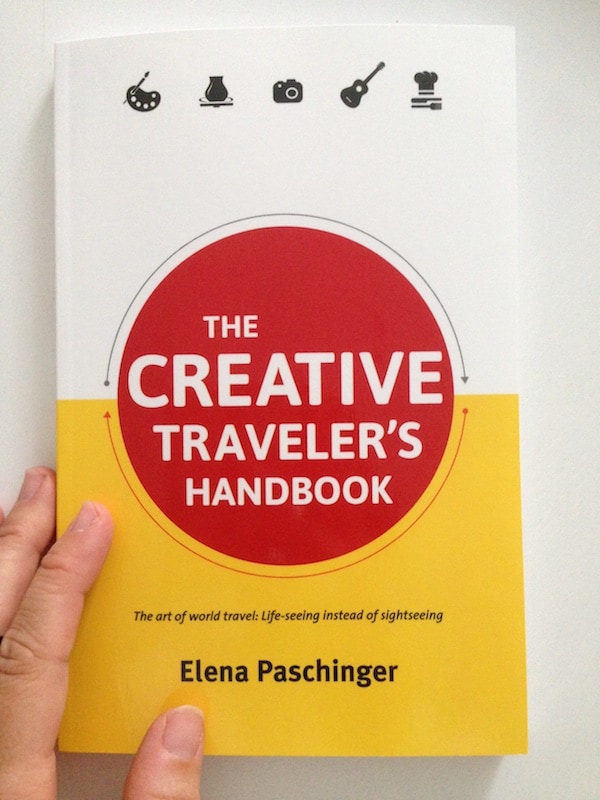 Ready for learning even more about creative travel?
Elena has recently published "The Creative Traveler's Handbook". Chock full of inspiratinal stories, travel tips and advice, it offers everything you need for planning and managing your next creative escape, addressing beginners and experienced travelers alike. Here's how to
get your hands on it
now!
Follow me on my travels: