You wouldn't be here if you weren't curious.*
Hi! I'm Elena! Welcome to my travel blog Creativelena.com.
For me, it is all about "life-seeing instead of sightseeing": Join me as I create, eat & live my way around the world. Curious?
*Check out my book, "The Creative Traveler's Handbook", for learning more about what we mean by creative travel. Travelling means the world to me, makes me fit for everday life and sometimes, I trust, also calmer on the inside. Read this blog with a smile, share what you love and remember to check back regularly: After all, when was the last time you did something for the first time?

I am emotional. Big time. 18 months living in New Zealand and back there two years ago as part of my round the world trip, I have just come off watching the "Whale Rider" on DVD. I know. Wonderful story, beautiful emotions and scenery, great actors, storytelling and the likes. I have seen it before. But the magic stays the same. Just the same. The movie still brings tears to my eyes, the landscapes still play with my imagination, the little tweaks in the Kiwi accent and sceneries of an everyday life continue to remind me of Aotearoa New Zealand and my own life there. I am in love with New Zealand. I think I will always be. It is deeply woven into my experience of freedom, of a spirit of travel, of human kindness, curiosity and openness for the world, of my professional career working to develop creative tourism and encourage cultural understanding of people around the world. I am emotional. I love it. Let me bring some of the magic home to you.
"World-Famous in New Zealand" …
… wonder what that may be?! Kiwis are proud of their own country. Reminded of their roots, they will smile kindly enumerating the realms of their greatest passion with commitment and care. "You must absolutely go and see this place … be sure not to miss that mountain trek … and oh, the lakes .. the beaches .." Woven into an innate desire to help, to be open and to be truly interested in your story and what brought YOU to Aotearoa New Zealand, is a Kiwi sense of pride about their own land & culture. You cannot help but feel entangled in it. It is a pride celebrated by all cultures and visitors who come to see it. It is passionate and chilled-out at the same time. "No worries mate … sweet as … she'll be right!" Hard to describe it ay. It's really best you go there and see for yourself. Before you go, do drop me a line though. "ElenaAroundTheWorld" has written extensively about New Zealand on the Tripwolf Travel Blog before. Besides, you can quiz me for pretty much everything Kiwi-related. I shall at least have an opinion about it. And some great stories to tell …
I love New Zealand. Have I mentioned this before? 😀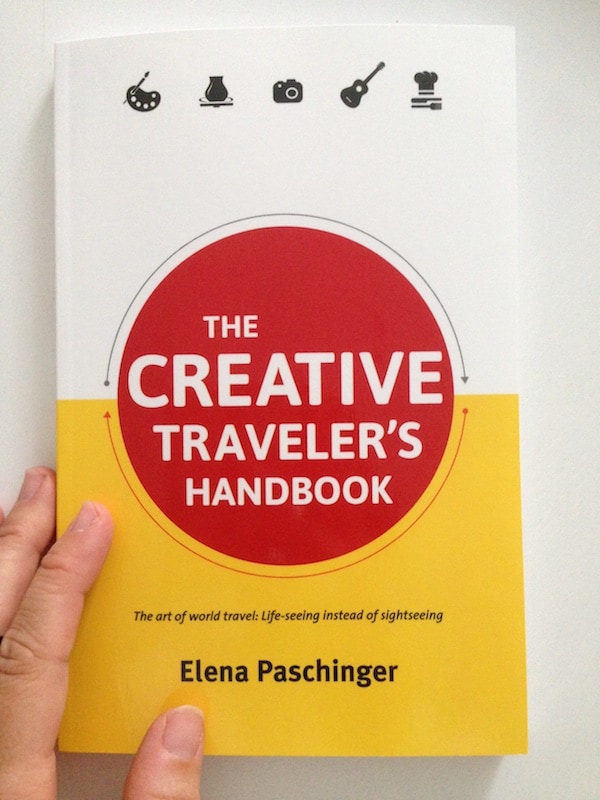 Ready for learning even more about creative travel?
Elena has recently published "The Creative Traveler's Handbook". Chock full of inspiratinal stories, travel tips and advice, it offers everything you need for planning and managing your next creative escape, addressing beginners and experienced travelers alike. Here's how to
get your hands on it
now!
Follow me on my travels: