Did you know that South Styria is also known as the "Styrian Tuscany"?
Looking at the following image, you may see why: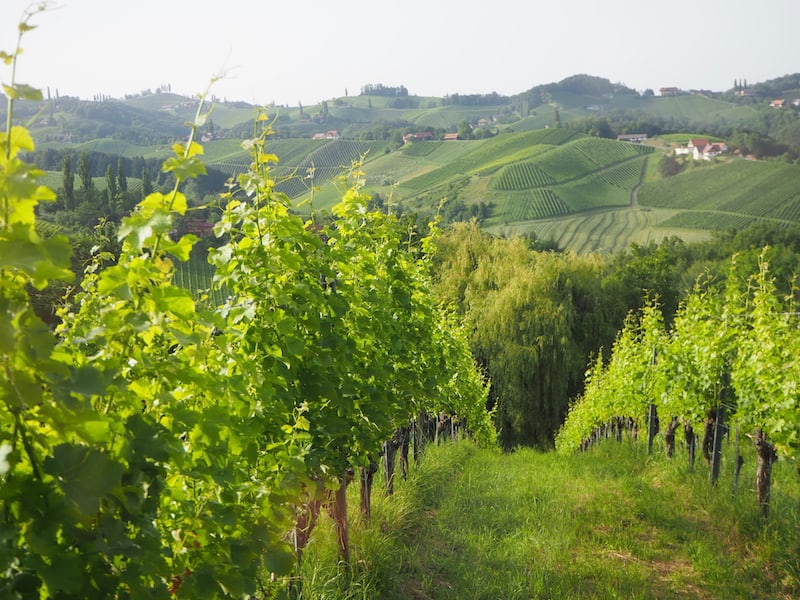 And yet, South Styria has more to offer than just gently rolling hills, excellent wines and well-known taverns for foodies called "Buschenschank". I recently had the pleasure of travelling to South Styria with international blogger colleagues, an area south-east of Graz close to the border with Slovenia. You can already find some information about South Styria on my travel blog:
Yet even I, having travelled here quite extensively, have never heard of something called Schilcher Vermouth, Liepert's Kulinarium or the personalised picnic baskets of the Tinnauer family #AmRebkogl. Read on if, like me, you are on the lookout for culinary delights and "vinous" discoveries in southern Styria.
You may also "go there quickly" by checking out this travel video I've made:
Wine Travel Tips: A world first – "Miss Rosy".
Who or what is "Miss Rosy"? "It's a unique vermouth made from our local Schilcher grapes, my final project at wine school", says young winemaker Katrin Strohmaier during our visit to the Strohmaier family winery, not without pride in her voice. The Misses (both the young winemaker Katrin and her vermouth "Miss Rosy") have hit a nerve: Cool new summer drinks are IN, and "Miss Rosy" is ideal for being served chilled with ice cubes.
We follow the young winemaker into the vineyard and cellar and learn that there is more to the winery than meets the eye. Be sure to check out the estate on your next visit to South Styria!
Wine + Food Travel Tips: Buschenschank Lazarus.
If you like the taste of Schilcher wine, you will also be delighted by the Buschenschank Lazarus near the town of Stainz in South Styria. We are welcomed at the local wine tavern by winemaker Simon, who skilfully guides us through a range of different Schilcher varieties for tasting.
From the terrace, you have a wonderful view over the surrounding Schilcherland wine country, whose wineries mostly produce Schilcher wine and sparkling wine varieties.
Wine + Food Travel Tips: Buschenschank Tinnauer.
Our visit to the Tinnauer family #AmRebkogl is a very personal one, too: Media savvy as the family is, they welcome us with personalised picnic baskets named after our Instagram accounts! Mine, for example, looks like this:
Come to the Rebkogl if, like me, you love 360° panoramic views: It's just a few minutes' drive from the wine town of Gamlitz, high up on the South Styrian Wine Route.
Also, ask for Martin Tinnauer. The talkative winemaker knows the answer to almost every question (and is happy to think up a few new questions with you, too!). What a nice evening spent in the family's rose garden park, an evening I will remember for a long time.
Wine + Food Travel Tips: Vinofaktur Genussregal.
The last of my wine + food travel tips is for the Vinofaktur Genussregal. One of the largest delicatessen shops I know, its location close to the highway connecting Graz with South Styria has made it well-known in the area: "Many people shop with us before they leave, taking seasonal delicacies or their favourite wine from southern Styria with them," the young man in the wine shop explains.
In addition to visiting the wine shelves and the delicatessen market, we also take time for a short snack and wine tasting; you can organise both at any time by prior appointment.
Food Travel Tips: Liepert's Kulinarium.
A visit to Liepert's Kulinarium restaurant in Leutschach promises culinary delights of a very high standard. It's the place to be if you want to devote yourself entirely to food – time is not an issue, we enjoy the menu that Manuel Liepert has created especially for us over the course of an entire evening. The charming young chef supports the idea that southern Styria can be more than "just" a wine tavern with simple local food.
I do, therefore, suggest you visit without being pressed to continue: What a great welcome we've enjoyed here!
Food Travel Tips: Stöcklpeter, Alte Post & Landhaus Kainz restaurants.
Last but not least, I can recommend three great restaurants for tasting typical local food in South Styria. Try some typical Styrian fried chicken, a delicious selection of fish and vegetarian dishes, and other culinary delights such as vanilla ice cream with pumpkin seed oil. So good, and very refreshing! Especially on hot summer days like now.
My second article about South Styria has more information about the black gold of Styria, pumpkin seed oil, tells you where the local lavender fields grow, what "Flascherlzug & Weinbergbummler" trains mean and where you can learn more about the historical and cultural background of Styria and Southern Styria. Check it all out here!
Stay tuned – for example with all the photos of my trip here:
Disclaimer: We have been invited by the South Styria and Styria tourism board to explore the South Styrian wine and food travel district. All opinions are my own.