You wouldn't be here if you weren't curious.*
Hi! I'm Elena! Welcome to my travel blog Creativelena.com.
For me, it is all about "life-seeing instead of sightseeing": Join me as I create, eat & live my way around the world. Curious?
*Check out my book, "The Creative Traveler's Handbook", for learning more about what we mean by creative travel. Travelling means the world to me, makes me fit for everday life and sometimes, I trust, also calmer on the inside. Read this blog with a smile, share what you love and remember to check back regularly: After all, when was the last time you did something for the first time?
"This is the kind of place my parents would like immediately." – "I have to bring my family here one day", I keep repeating, quite mesmerized, to my new friends from Catalonia. They are visibly pleased by my enthusiasm over their home country ("Catalonia is not Spain!" – but more about this in my next blog post 😉 ) and I have to say, Besalú & Banyoles are places not to be missed on your next trip to Costa Brava. Take pretty Banyoles for instance: Slightly inland from the Mediterranean Coast, it is only some twenty minutes' drive from the capital city Girona. Apart from its magnificent lake, called "l'estany de Banyoles", the small town benefits from surprisingly green and undulating surroundings, hinting at its proximity to the mighty Pyrenees. A beautiful spot, to say the least, at the transition of the sunny Mediterranean to a slightly higher altitude climate. As an Austrian, I must say I immediately like it here: The place really bears a faint reminiscence of my own hill & mountain backyard.
"You have never been to Besalú?!" My Catalonian friends and I are on our third glass of wine and I am smiling at the sound of the town's name: Beautiful Besalú! – "Elena, you must go."
Seriously now. "We will take you there!" Albert, Núria & Gemma exclaim merrily. To this day, I am honoured by the all-encompassing sense of hospitality of the Catalan people. They will go out of their way to make sure you have an enjoyable experience here in Catalonia. They absolutely love to show you around, from #winelover visits to beach time by the sea in a place called l'Escala, Platja de Montgó …
Beautiful Besalú, in any case, is a place not to be missed. It is on most travellers' itineraries when touring the interior of Costa Brava – and rightly so.
When I first lay eyes on Besalú, a fortified small town whose history spans several millennia, I remember being enchanted almost instantly. Its unique, picturesque location just has you fall in love with it- and become curious in the process: Who is it that lived here? What is the history of this place? Why is there so much interest from visitors today? "The next tour taking us around Besalú starts at 12.00 midday", Albert says, turning to us happily. During the main summer season, Besalú city tours are offered at several times and in several languages throughout the day.
If you are looking for a great place for lunch – one that easily invites you to linger in the Catalan fashion of taking hours and hours for it – head to Banyoles' "Vora Estany" restaurant.
"14 Euros for a two-course lunch meal, with many delicious starters and main courses to choose from, including water, wine, bread & coffee?! Sounds perfect to me!" My Catalan friends are not as hugely impressed as I am, but I still think it's great value for money. Especially as Vora Estany restaurant is right by the lake of Banyoles, overlooking the crystal-clear waters of this popular holiday destination #InCostaBrava. Taking a walk by the lake after lunch, despite all of its reminiscence of Austria, you definitely realize you are in the Mediterranean when all, literally all of the ducks around can be seen sleeping. After all, they are on Siesta. At five in the afternoon. It's what you do around here, right? 🙂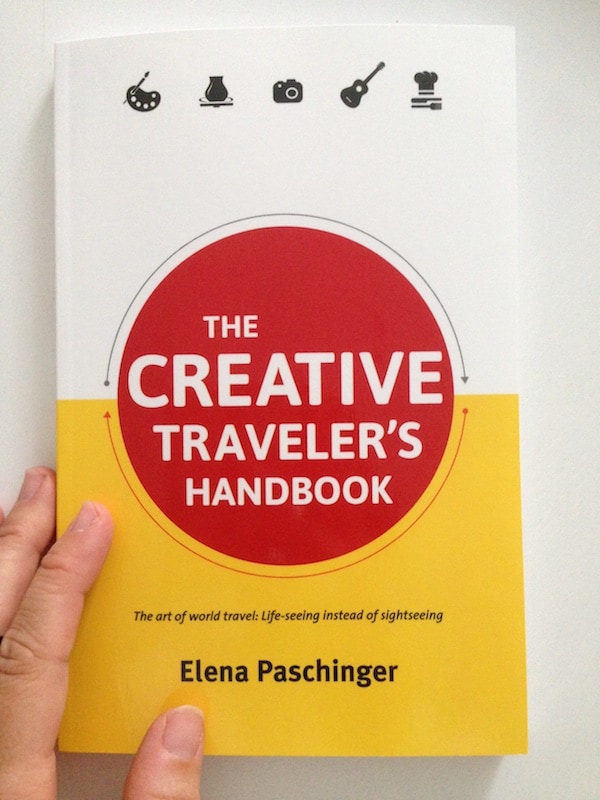 Ready for learning even more about creative travel?
Elena has recently published "The Creative Traveler's Handbook". Chock full of inspiratinal stories, travel tips and advice, it offers everything you need for planning and managing your next creative escape, addressing beginners and experienced travelers alike. Here's how to
get your hands on it
now!