You wouldn't be here if you weren't curious.*
Hi! I'm Elena! Welcome to my travel blog Creativelena.com.
For me, it is all about "life-seeing instead of sightseeing": Join me as I create, eat & live my way around the world. Curious?
*Check out my book, "The Creative Traveler's Handbook", for learning more about what we mean by creative travel. Travelling means the world to me, makes me fit for everday life and sometimes, I trust, also calmer on the inside. Read this blog with a smile, share what you love and remember to check back regularly: After all, when was the last time you did something for the first time?

Vienna hosts the "Styrian Spring Festival"
Viennese – and Austrians in general – just looove gourmet, wine and festivals. Every year in early spring, the Vienna Rathausplatz is home to the so-called "Steiermark-Dorf" (Styrian Village), where the country celebrates one of its provinces, Styria, its people, its wine and its delicacies. And let's be honest: What more reasons could you possibly need to celebrate anyway? "Pumpkin-seed Schnitzel" or "Hüttengröstl" potato roast: Having recently paid the succulent Wachau Gourmet Festival a delightful, culinary visit, I am again confirmed in saying that Austrians just love celebrating (food & drinks). 😉 For those who are looking for a winesome bath in the crowds, the "Styrian Spring Festival" in Vienna is definitely a must-go-to event.
Styria has "dressed to impress" – and welcomes visitors to the "green heart of Austria" right in the middle of Vienna!
From the Schilcher wines to the Vulkan wine country and all the top wine estates of the South Styrian Wine Road, the Vienna Rathausplatz is home to a dazzling selection of top Styrian wine estates. The "Styrian Spring Festival" even has its own homepage to inform about everything that's going on in the heart of Vienna: http://www.steiermarkdorf.at/de/programm/taeglich-anbandeln
Of course, visiting an event like this is all the merrier when going there with "real Styrians". That's why this time, I allowed myself to be taken by the hand. To be guided. Sampling the really good wines of the Vulkan wine country, like David 2012 for instance. Or to gourmet delights such as the "Styrian pumpkin seed schnitzel", that despite the crowds waiting still awarded us with a great taste. Martina has even had her next job confirmed, celebrated the end of her studies and just looked fantastic in her typical Dirndl dress! Go check it out …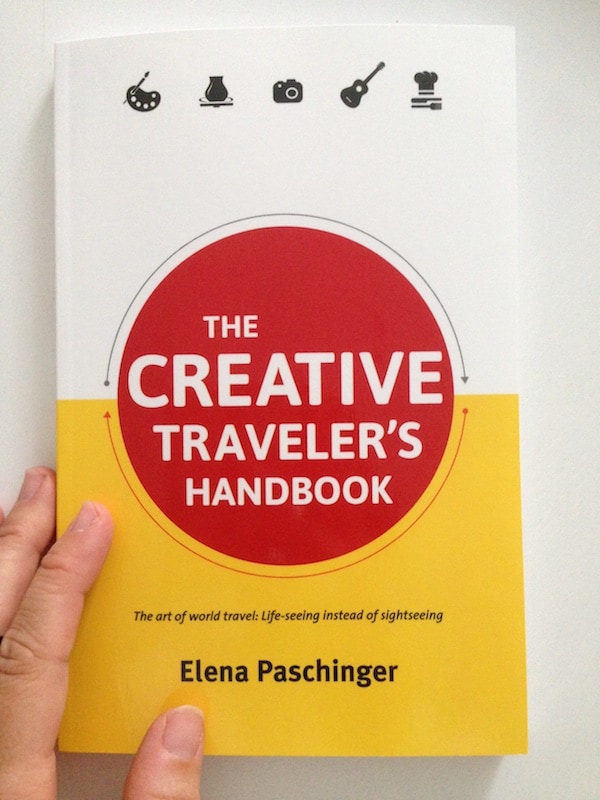 Ready for learning even more about creative travel?
Elena has recently published "The Creative Traveler's Handbook". Chock full of inspiratinal stories, travel tips and advice, it offers everything you need for planning and managing your next creative escape, addressing beginners and experienced travelers alike. Here's how to
get your hands on it
now!
Follow me on my travels: