"Babymoon" (taken instead of, or after a "honeymoon") is a type of travel which in my opinion all parents-to-be should enjoy before the birth of their child. On your own, with your best friend or with the expecting dad himself: As the baby bump grows, make sure you take that "last trip of its kind" before future family travel hits you! For me, it meant taking proper time for adult conversations with loved ones, for enjoying personal wellness treatments and simply relaxing with the growing baby bump. As I've recently experienced all sorts of #babymoon trips, here are a few cheerful anecdotes, travel tips & #babymoon resorts in my home country Austria for you.
1. Fighting the urge to nest: #Babymoon retreats mean taking mum's body, soul and inner peace out and away from the usual rushes of everyday life.
Between organising all those things that come with the arrival of a little human being, and all the appointments that have to be planned long, medium or short term (ouf!), there is not always time for the awareness of one's own pregnancy and the growing baby bump with all its exciting physical and mental changes. Taking conscious time, however, for gentle caresses, either figuratively speaking through positive thoughts or through actually practiced spa treatments, can really make a difference for the expectant mum and sweeten the "bumpy ride", especially towards the end of pregnancy.
2. #Babymoon = Timeout for that final push of creativity on your own.
Do you know the feeling? There's this new project, a change of place, a new love or even a BABY 😀 coming into your life, and you inevitably have "a thousand new ideas" (and – as in my case – still time to follow up on some of them, such as hours and hours of writing here …!). As for my #babymoon time-out, I spent some cheerful minutes creating funny InstaStories, taking notes in my diary, trying Pilates for pregnant women, or getting to know Smovey. (Smovey!? Yes. It's like a "baby rattle" gym tool for adults …! Do check it out online if you are curious to learn more).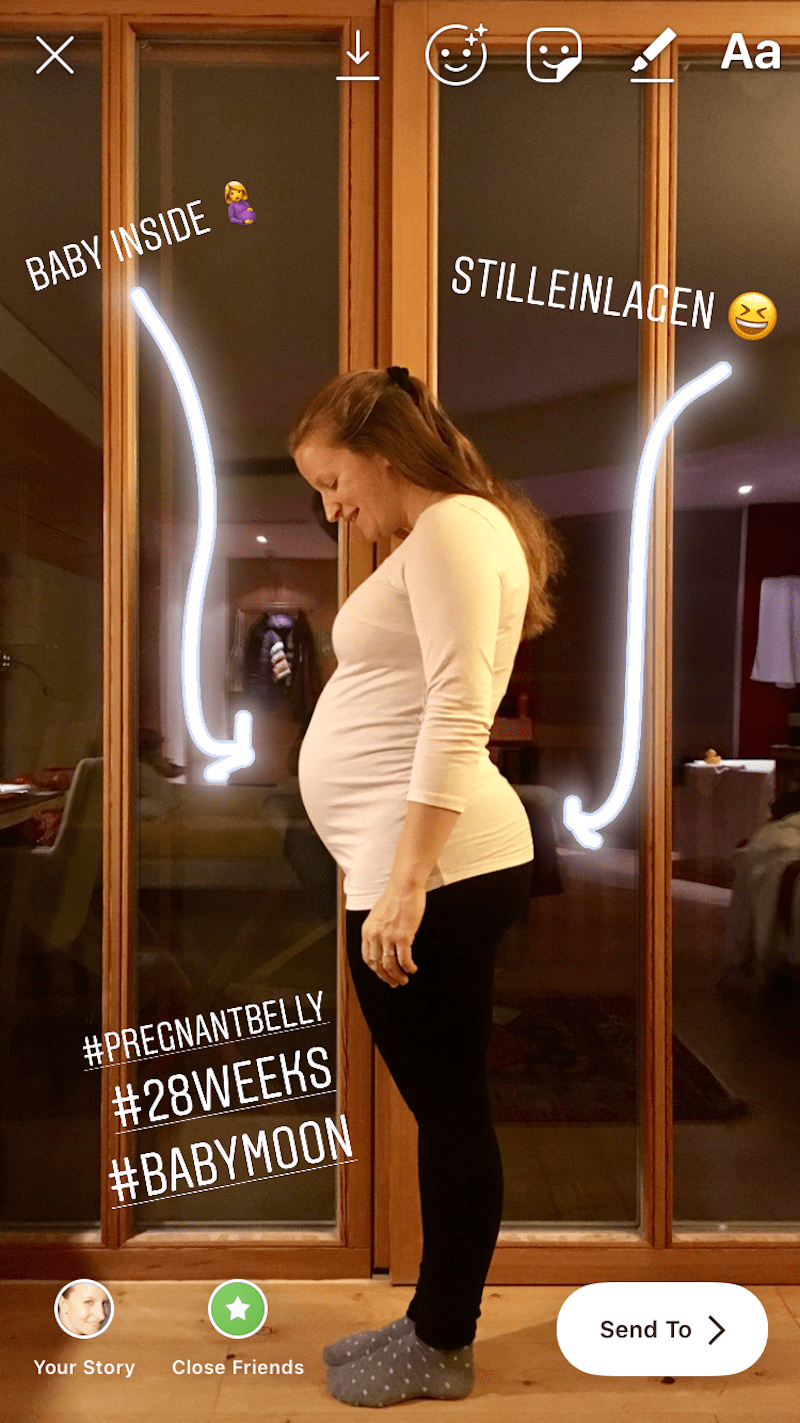 3. Look for that truly beautiful place on Earth …
… and (like my sweetheart and I) for the right hotel to go with it. I spent my first #babymoon days at the Retter Hotel in Styria (more about my stay in my next blog post, and feel free to check out my blog post about their "BioSlowFoodFest", which I already liked very much). Apart from all the hotel room and service details for expectant parents, the Pöllauberg hillscape at the eastern edge of the Styrian Alps just adds to the notion of taking time out. My lovely man was tempted to go on long running laps, and both of us just marveled at the happy chickens on the meadow next to the hotel. The local pear juice, an endemic type of cider pear that only grows here, tasted so good that we took several bottles home with us.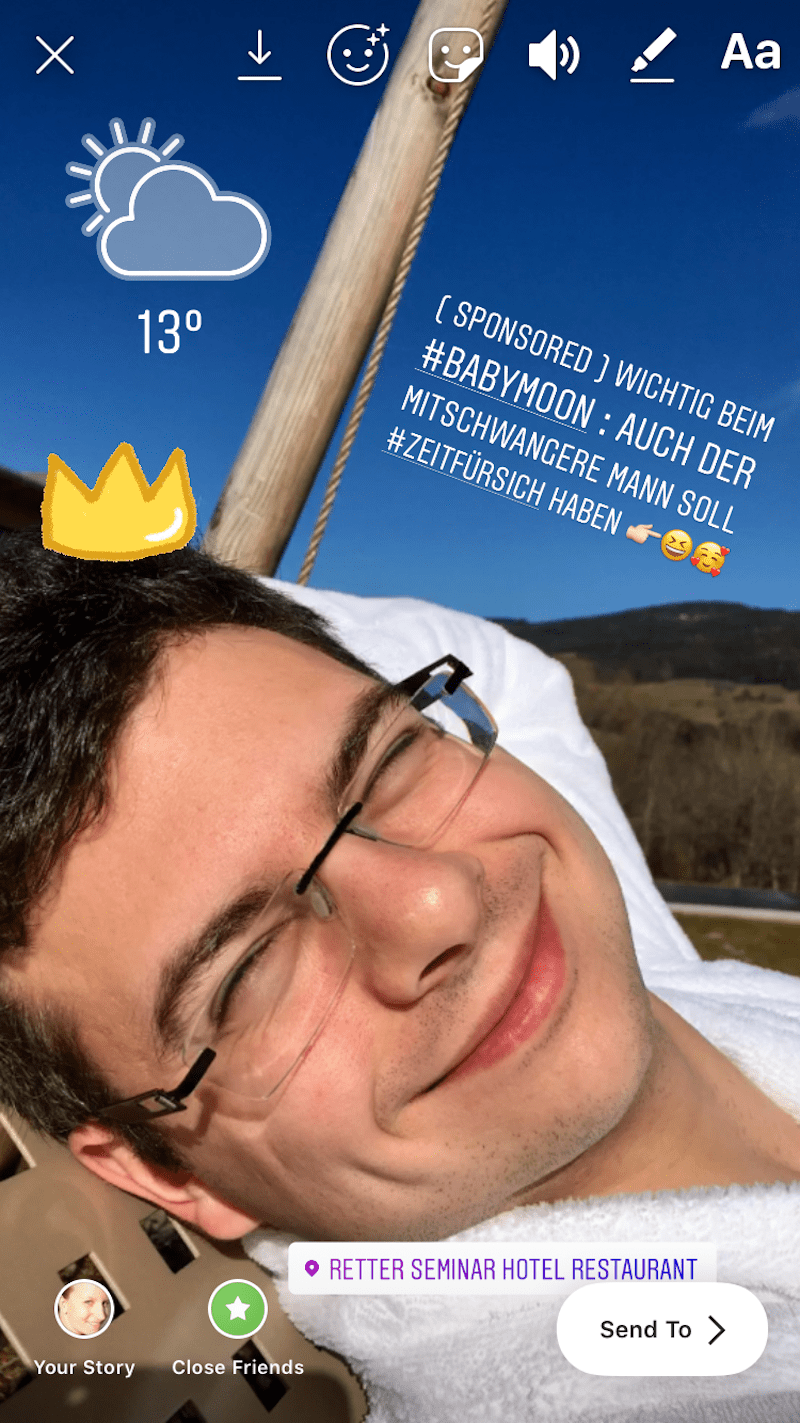 4. Taking time (again or still) to enjoy a favourite pastime before baby's arrival: Reading.
Any bookworm like me will love those undisturbed hours and minutes of personal reading time. No matter if it is simple "magazine skimming" or in-depth reading of a technical book or novel, I love all of it. During #babymoon, reading is extra nice because I realised it often occurs in a wellness couch, with a steaming cup of tea or coffee next to you and /or together with an extra long and lavish breakfast. Baby, please do sleep through from time to time so that mummy can read to herself and of course to you if she's not too tired …!
5. Trying new forms of spa treatments.
My legs still remind me of the pleasure of having had that lymph drainage, as this treatment works perfectly against water retention towards the end of pregnancy. Plus there's the bonus of your usual back-neck massage, a new facial treatment "Phyto5" taken at the Genusshotel Weissenseerhof in Carinthia, or the hotel's spinal gymnastics all offered throughout my #babymoon timeout. Since I always used to be on the move (running, swimming, skiing, Taekwondo …) and now have to get used to more and more weight gain and less and less sport, I take pleasure in all kinds of movement and wellness treatments that are "left to me". Ten kilos up right now is not fun if you are forced to reduce more and more exercise at the same time, but hey, it's all for baby's happy development after all.
6. Getting out and looking for … those like-minded fresh-air addicts!
Especially now during winter. I forbid myself to watch snow and skiing pictures for too long, otherwise I would miss "the winter sport of my life" too much (although #babytraveller is of course worth it all!). But just a little time on the ice, a little fun in the snow, a little feeling of the fresh, cold mountain air … well thank you, Weissensee in Carinthia, for your perfect holiday moments even or especially during pregnancy!
7. Spending a little bit of that precious #babymoon time on your own …
… that too has been a luxury of my #babymoon, and one I cannot recommend enough before baby's arrival. Thoughts, moments of reflections, simple awareness of your body, feelings of happiness and joy, an awareness of your surroundings … my partner and me I would like to keep creating this kind of timeout and atmosphere also as parents (if we can). Thank you already today, dear family and friends around us, if you support us in this knowing our baby will be safe and happy with you, and allowing us time on our own!
8. … or spending beautiful extra time with your best friend!
A wonderful thought, that one too. Even if ever so spontaneously, and just for a night and two days, at a nearby wellness hotel. Let yourself be pampered, enjoy the time together, the usual girls talk and whatever else is up for discussion. Check out these three Austrian hotels where you can enjoy a true #babymoon retreat, including special pregnancy massages for expecting mums, delicious (organic) food or just perfectly relaxing landscapes all around.
9. Last but not least: Rice milk for breakfast. Vegan fingerfood for lunch. And "Sweet-Baby-Cocktails" during dinnertime …
… anyone who believes that #babymoon retreats are all about getting used to cuts in your life is just as wrong as to believe that vegan food tastes bland (the Weissenseerhof in Carinthia taught us better!). As always with changes, everything will feel … just a bit different. The tasty fruit cocktails in the evening can't replace the wine list for a wine lover like me, sure, but hey, they can make up for it (after all, the pleasure of enjoying different foods is versatile). Rice milk soup with spices, as it is served for breakfast in the Thermenhotel Linsberg Asia, tastes excellent for mums to be (I think I'll have to keep that recipe for a while).
As with everything in life, staying open is important. Feeding your curiosity. And a willingness to tackle each thing one day at a time, and remain in good spirits overall. I am told children can teach us perfectly about exactly that.
Therefore: Be welcome here soon enough, sweet little #babytraveller !
Disclaimer: We have been invited by both Hotel Retter and Hotel Weissenseerhof on this trip around Austria. All opinions are my own.