You wouldn't be here if you weren't curious.*
Hi! I'm Elena! Welcome to my travel blog Creativelena.com.
For me, it is all about "life-seeing instead of sightseeing": Join me as I create, eat & live my way around the world. Curious?
*Check out my book, "The Creative Traveler's Handbook", for learning more about what we mean by creative travel. Travelling means the world to me, makes me fit for everday life and sometimes, I trust, also calmer on the inside. Read this blog with a smile, share what you love and remember to check back regularly: After all, when was the last time you did something for the first time?
I have told you about my many love affairs with Porto. I have told you about its beautiful people, hidden spots and magic sunsets. I have told you about its delightful food, splendid wine markets and why Porto should even be considered Europe's next foodie capital. I have shared with you, my top ten travel tips for eating, creating & walking your way around the city. And just recently, I have shared my enthusiasm of delivering my first-ever speech in Portuguese there.
What, you may be tempted to say, is there left for me to talk about Portugal's second-largest city?
A lot. Porto is another "city that never sleeps" – and has developed heaps in recent years. Here is my take on what's hot right now in terms of luxury foodie travel in Porto.
Let's take the increasing range of luxury accommodation, to start with. From Sheraton & Yeatman Hotels, to Fontainhas & Vitória Village Spa apartments, the range is as widespread as it is catered to your individual travel needs. Take a look at this.
Personally, I do prefer the atmosphere of an apartment such as Fontainhas & Vitória Village Spa. They have successfully managed to turn once derelict houses into newly furbished, comfortable apartments using part of Porto's old city walls in the process. This adds character to the building, contributes to the revival of Porto's city centre, and provides a touch of uniqueness. All of the above mentioned places are conveniently located in or around the city centre, "a Baixa do Porto".
If there is one road not to be missed in Porto, it has to be "A Rua das Flores do Porto". From charming wine shops, to Vitória Village & Spa apartments and many more restaurants and attractions, it is a central hub to feel good, enjoy and soak up the vibrant atmosphere of Porto.
Lots of little shops, interesting street art and super nice bars & restaurants line the way along this pedestrian road in the old town of Porto. As part of our Brazilian Bloggers Congress taking place here in Porto, we get to gather for a first group photo, some wonderful snacks & (Port) wine to start our visit with: Easily recommendable to repeat among any one of you.
And as we are talking luxury foodie travel, do not miss a visit to either one of these three places for excellent Porto (fish) meals: FishFixe. Restaurante Lusiadas. Taylor Winery & Restaurant.
"FishFixe" actually means, "cool fish"! And it really is that: The owner serves all meals with a beautiful sense of understatement, being naturally proud of what he does, but careful to show it only in subtle, "cool" ways. Restaurants Lusiadas does a great show of filleting fish in front of our eyes and serves us some of the best "percebes" I have ever eaten in my whole life (reminding me of my foodie visit to Galicia two years ago). They truly deserve their Michelin star for their excellent service and outstanding quality of food. Head to Taylor Winery & Restaurant for typical, grilled Bacalhau Porto codfish, served on a bed of tender spinach leaves and soft-boiled potatoes matched with some of Porto's best whites & reds available. The views from there are not to be missed, either. Check this out.
Last but not least, let's stretch our legs and catch some fresh air right by Porto's magnificent beaches. Luxury need not be expensive, as a morning ride with the bicycles, a boat trip on the river Douro or a tasteful visit to its famous Port wine cellars show …
After all, we all abide by different rules of what really means "luxury". It might be the feeling of morning sea breeze on your skin as you cycle down from Matosinhos to Foz, having a lovely lady with freshly brewed tea waiting for you at the other end. It might be the smell of old Port wine barrels, hidden deep inside the cellars of some of the oldest wineries along the Douro river. It might be the tears of joy welling up in the eyes of your friends over a really strong piece of music. It might just be … the warmth of your sunkissed autumn skin under a perfectly blue sky. Whatever it might be: Go out there and enjoy your luxury.
See you soon in Porto, my friends! 🙂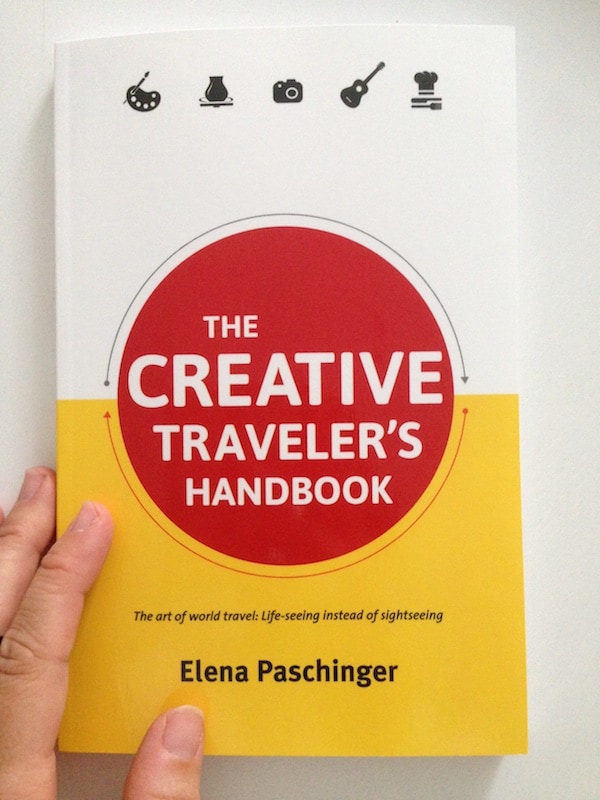 Ready for learning even more about creative travel?
Elena has recently published "The Creative Traveler's Handbook". Chock full of inspiratinal stories, travel tips and advice, it offers everything you need for planning and managing your next creative escape, addressing beginners and experienced travelers alike. Here's how to
get your hands on it
now!