For many, many years now – almost as long as I can remember – we have been driving past the area around Angerberg – Mariastein in the lower Inntal valley, just a stone's throw away from the border between Austria and Germany. Many years of heading to some of the most attractive ski resorts of Tyrol, including delicious mountain cheese tastings and winter paragliding adventures. But stopping in this part of the country?
Never before.
Until now, that is. This time, charming Martin Eigentler has invited us to come straight to Angerberg, at the heart of the Hohe Salve ski resort in the #KitzAlps. To visit him and his Husky dog pack: A family meeting of a kind.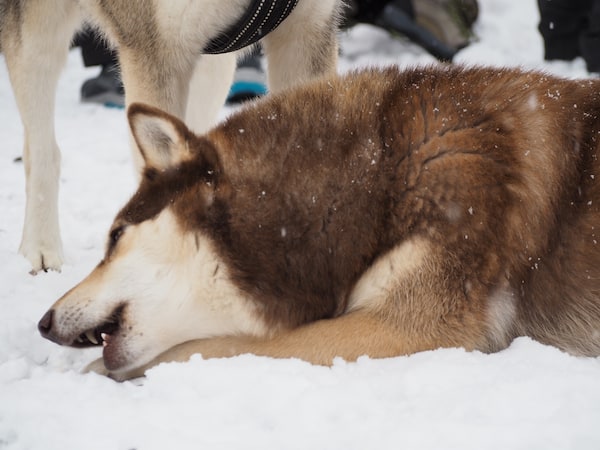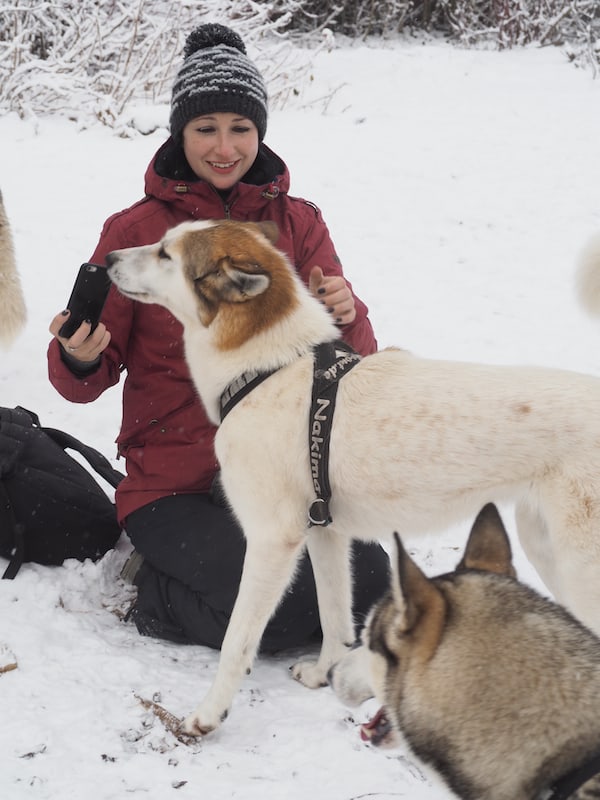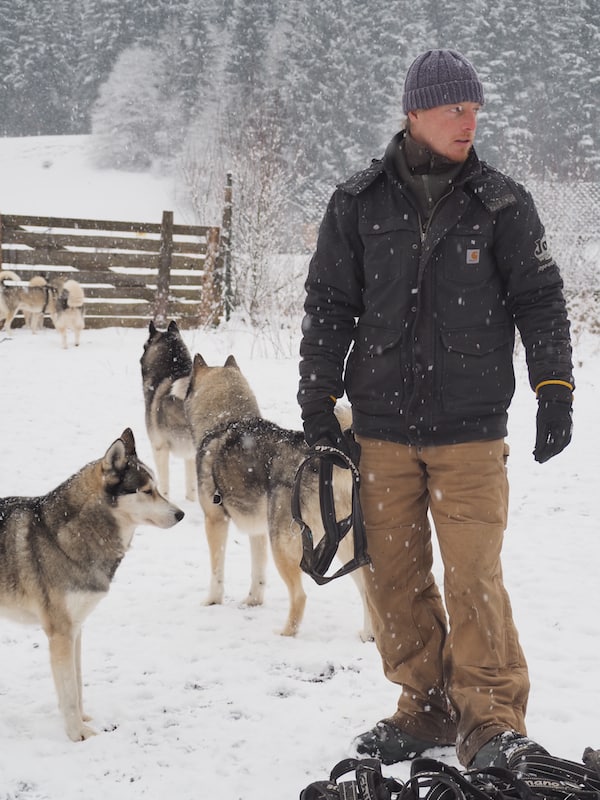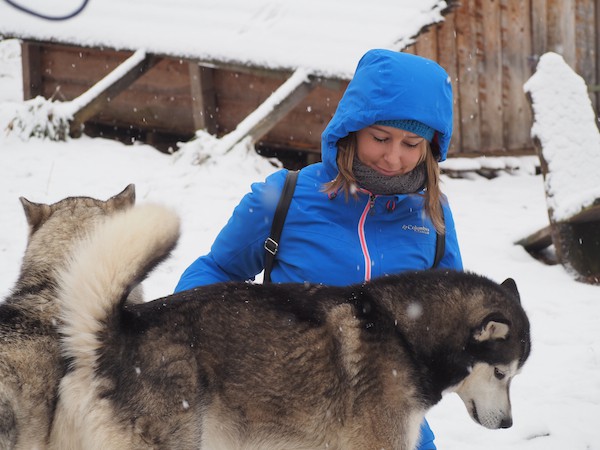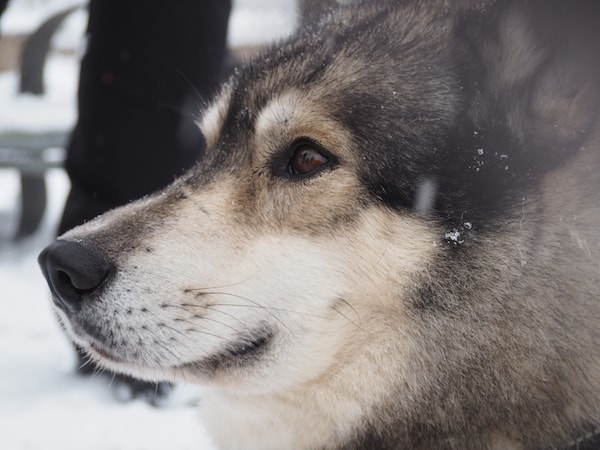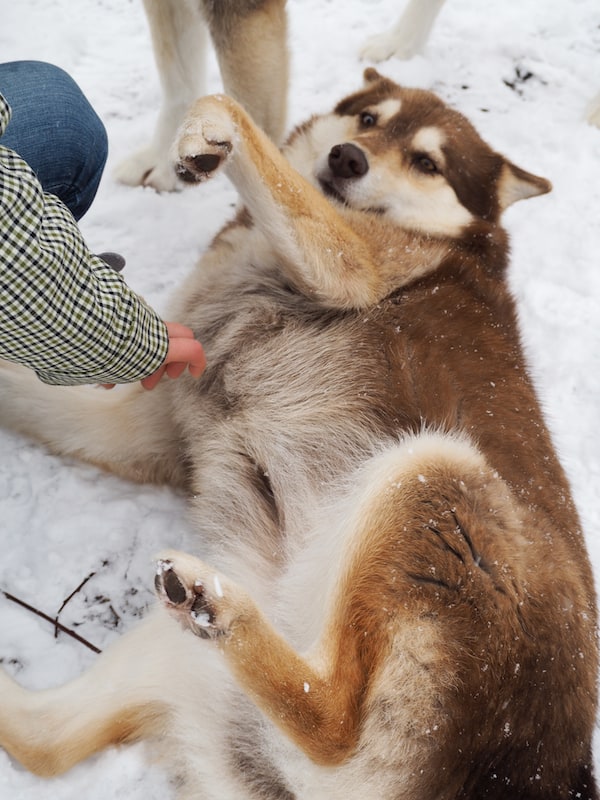 Huskies, let me tell you, are just stunningly beautiful and utterly mesmerizing animals.
Huskies make that the world becomes quiet, if but for a moment.
Huskies are Martin's life.
"Come on in", he calls on us with a friendly smile, standing by the fence of his husky enclosure. Some 20 huskies roam the grounds, completely free, without being tied to chains or anything. Unique all over Austria, as Martin likes to emphasize.
"Just allow the huskies to come up to you. They will come when they want it." Try and speak their language, is what he seems to add in silence. Even though it all seems super relaxed when Martin has a group of bloggers plus cameras and iPhones mix & mingle with his animals, he does of course always watch out for them (the dogs, not the bloggers. Or was it both?). And yet, there is one thing we never have to fear right inside the husky farm, where his 22 huskies play, eat, run or around or sleep: Uncontrolled excitement bobbing up among the animals. It is rather our own that we have to mind here.
Inner peace and visible excitement: I can feel the very same stimulating mix of feelings I have when I give a speech, speak my six languages or talk about my passion for creative travel. In this very moment, I feel an unlikely bond grow with Martin and his precious huskies.
Visiting Martin's Husky Ranch at the Angerberg takes about two hours; "afterwards it's time to give the dogs a break from the ride – and the people", Martin tells us with a wink. He gently pushes us to leave, while I still feel completely soaked up and enchanted by the gentle atmosphere of his extraordinary husky pack. One of them has blue eyes – tracing his ancestors back to Siberia. Another one's are brown – he is a descendent of the Canadian huskies in the Yukon or northern Alberta regions. Brown and blue eyes? "A twist of nature", Martin adds, shooting his dogs a loving look. Each one here has their own name, character and responsibility in the team: "It's like with us humans. Right up front pulling the sleigh are the 'professors'. They are the smartest, most talented and most enduring dogs, teaching the others where to go and what to do. I assign each dog according to its abilities and character, training them as best as I can. This is where I see my real responsibility and position in the pack."
And it is a most rewarding responsibility, if you read Martin's unspoken words. A life-long responsibility really.
Right next to Martin's Husky Ranch, Gasthof Mariasteinerhof has us welcome for a typical Tyrolean lunch. Try their tasty "Schlutzkrapfen" (a must when visiting Tyrol!) or spicy pancakes: An ideal preparation for a forest walk to the nearby Mariastein pilgrimage church. Check this out.
Check out some more travel tips & images from our international blog trip #inAustria here:
My international colleagues have had the following to say about their experiences #inAustria:
See you all soon #inAustria 😉
Disclaimer: We have been invited by the Tirol Werbung as well as the Austrian National Tourist Board. All opinions are my own.