You wouldn't be here if you weren't curious.*
Hi! I'm Elena! Welcome to my travel blog Creativelena.com.
For me, it is all about "life-seeing instead of sightseeing": Join me as I create, eat & live my way around the world. Curious?
*Check out my book, "The Creative Traveler's Handbook", for learning more about what we mean by creative travel. Travelling means the world to me, makes me fit for everday life and sometimes, I trust, also calmer on the inside. Read this blog with a smile, share what you love and remember to check back regularly: After all, when was the last time you did something for the first time?
To achieve, book or reach something "last minute": Is that what they call "positive stress", the one that drives you to achieve something you thought you could never have done? Well, I hope it is. After all, I have about 36 hours left to go before the final closing date for my first international photoblogging competition #CTC13 – Capture The Colour. How exciting! All major talents will be there when Travelsupermarket calls for the world's best color photography entries, subject to the eyes of a proven jury. Even if I do not (stand a chance to?) win, the Olympic thought is what counts: Being part of it is all that matters. 😀
So thank you so much, Sarah of LiveShareTravel and Tobias of KleineWeltreiseBlog for nominating my travel blog and telling me about the competition. Choosing what I consider the five best travel photographs in the colour categories of "White", "Blue", "Green", "Yellow" & "Red" from over 5.000 travel photos on my Flickr-Photosharing Website has not been an easy task. Here at least, I have tried – for your visual enjoyment and that of the jury! Read on and see how you can still participate: The deadline for submissions is 9 October, 2013!
1. Green ("Grüner" Veltliner). Being the home-grown #Winelover I am, this picture of sweet Austrian temptation simply had to win.
Are you, too, out there and already able to taste, feel, smell this year's wine vintage? To almost reach out and touch these big, juicy grapes here in the Wachau valley of Lower Austria, one of the Austria's most famous wine growing districts besides Southern Styria and the Burgenland wine district? I am. And I can assure you: It is going to be a great vintage! Thank you, dear Alexander Pfeffel of Gartenhotel & Weingut Pfeffel, for leading us up to these very grapes as part of a guided tour through the vineyards – simply delightful at this time of year.
2. Yellow: Please smile. Monks may take your photo at the Imperial City of Bangkok, Thailand.
Back in October 2012, I have been invited to travel to and speak at the first international Creative Tourism Network Thailand conference in Bangkok. What an adventure! The honour of speaking in front of a truly international – worldwide audience would have been enough, but the overly friendly, enthusiastic and professional Thai people even took the trouble to organise an entire "creative travel week" for Caroline Couret, of the International Creative Tourism Network, and me! As part of my visit to Bangkok, I have managed to shoot this photograph of monks passing us by in the Imperial temple city.
3. Red rocks. Or shocks. You be the judge of that: Street kitchen featuring octopus ("pulpo") in Galicia, Northern Spain.
To be quite honest with you: I was really shell-shocked back there. In front of me, a nice guy who might just as well have been a plumber or a software designer, pulls up a fat, red octopus from a steaming pot of water only to slice it all up into small pieces on a tiny wooden board in front of me. Slightly hysterical (and really at a loss), I manage a weak "Is it still alive?", only to realise I have just said something very stupid. Anyway … this "pulpo", as Galicians like to call their octopus, has turned out to taste really, really well. Yes, shortly after taking this photo we ate all of this mighty creature in our group of fellow travellers. Probably everyone else had to laugh or smile secretly at my out-worldliness with this culinary experience … something to remember. 😀
4. "Ice, Ice Baby": The breathtaking and intense blue beauty of the Perito Moreno glacier in El Calafate, Argentina.
Yes, I know: We must not say "breathtaking" over and over again in our travel descriptions. But if a spot on this planet has really deserved to be called like that, its sight literally taking your breath away, then it is one of the mightiest, largest glaciers that planet Earth has in stall for us. Perito Moreno in Argentina is one of them. Check it out.
5. Innocent white – well, something like that, anyway. In Vejer De La Frontera, Andalucia, people prefer being cheeky over being innocent!
This image is part of a happy exchange with the locals of Vejer who have taken us IN – into their hearts, kitchens and workshops in one of the "white cities" of Andalucia. I still have to smile at the memory of this happy bunch of elderly citizens: They inspire me to be just like them when I will be there age. I shall then close my eyes and think of all the people I have met, the places I have been to and hopefully be, much as today, just happy. 🙂
The show must go on: #CTC13 Photoblogging Competition welcomes final applications …
… so do join in and share your favourite, most beautiful or simply most memorable travel photos with the world! It is part of the competition to name five other bloggers – here are my favourites.
* Anna of Triumvin.at
* Gudrun of Reisebloggerin.at
* Monika of TravelworldOnline-Traveller.de
* Janett of Teilzeitreisender.de
* Máximo of Travellingforyou.com
Applications close on 9 October, 2013 so be quick! A truly great contest for all those who simply love photography 😀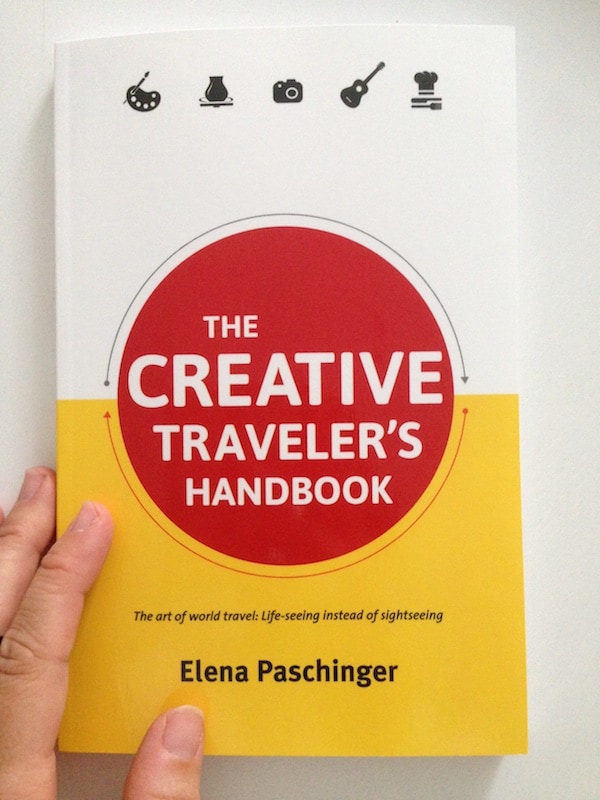 Ready for learning even more about creative travel?
Elena has recently published "The Creative Traveler's Handbook". Chock full of inspiratinal stories, travel tips and advice, it offers everything you need for planning and managing your next creative escape, addressing beginners and experienced travelers alike. Here's how to
get your hands on it
now!