It's been a while since I've been off to doing some creative travel activities lately. Finally, Carinthia in the south of Austria and their recently developed creative summer class near the border with Slovenia offered another opportunity. A true "hidden place" to get lost in while indulging in learning something new.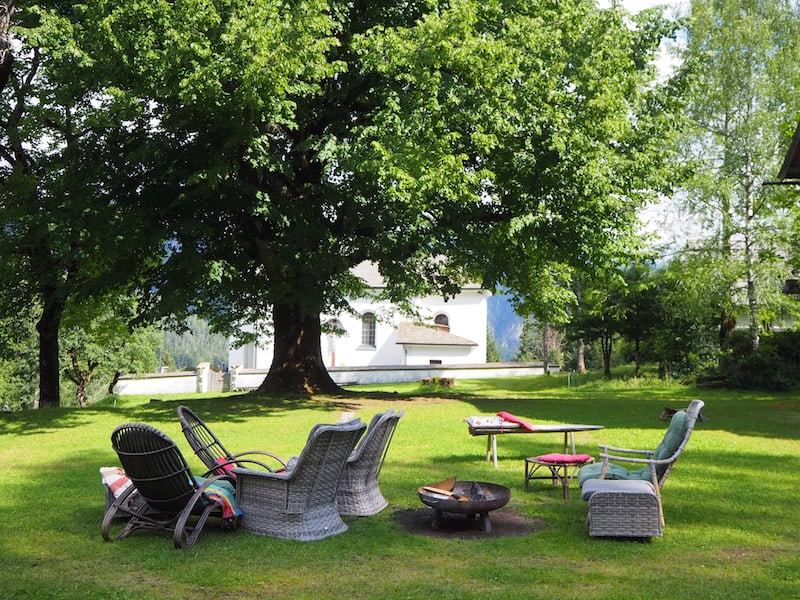 I was able to get to know Gut Trögern in southern Carinthia quite recently, during an intensive writing workshop in the spring, which – like the creative summer week – was organised by my lovely writer's friend Anita Arneitz. Anita describes herself as a true "writing nerd", and it's true that she is really skilled in conveying the craft of writing to others! Together with the leaseholder of Gut Trögern, Lydia Kienzer-Schwaiger, and her sister Dagmar, Anita created the creative summer week, which has taken place for the very first time in 2021. Anita and Dagmar, both experienced creative trainers, are the main course leaders. They skilfully entertain us to exciting creative workshops, such as the art of soap making, writing fairy tales or producing natural cosmetics, all of which I've experienced and loved!
Gut Trögern estate as a true "hotspot" for powerful creativity: The geological conflux of Africa and Europe, no less.
Even the first settlers in this part of the Southern Alps, the Karawanken mountains at the confluence of what is today Carinthia, Slovenia and Italy must have known or at least sensed it: There are incredible forces at work here. We see numerous trees for instance that catch our eye because of their special growth (or age). Noble larch and spruce wood from local forests have served for the (pile) construction of Venice – imagine! And almost every stone from the Trögern Gorge shows traces of fossils. The fracture in the earth's crust, along which the African plate slides under the European plate, runs directly across the Trögern Gorge! We learn all this and more from our charming guide Antonia, who during one afternoon teaches us about the many fascinating, geological aspects of the transnational GeoPark Karawanken.
The creative hotspot continues in and around Gut Trögern estate: A peaceful place to get your creative juices flowing.
The large guest house and restaurant, which makes up the majority of Gut Trögern estate, have been built almost 200 years ago. All rooms are now carefully modernised, equipped with contemporary, comfortable furniture. There are small details everywhere that invite you to relax – including the extremely delicious breakfast buffet as well as other refreshing meals.
The highlight of the accommodation however is the surrounding natural landscape: A large garden invites us to linger, the mighty lime tree and the adjacent Trögern church provide a protective border against the rest of the mountain world. There are also numerous other "housemates": hamsters, guinea pigs, rabbits, Mike the dwarf goat and Andi the sheep, plus Leo the tomcat and Kaya the dog. They delighted my little son Liam and my friend Irmie, especially the (inseparable) duo of sheep and goat!
Workshops offered during the Creative Summer Week.
So what has been offered in terms of creative travel activities at the Gut Trögern estate? We start our days with creative trainer Anita, who gives us a workshop in the art of soap making. Dagmar, then, provides us with countless tips on felting a small basket, while Anita inspires us to write little fairy tales, poems and other short text forms based on our experiences at Gut Trögern. She also encourages us to paint the stones we brought from the Trögener Gorge as colourfully and creatively as possible. There are templates, tools, colours and everything the creative heart desires to accomplish our tasks. Wonderful!
The finale is once again with Dagmar, who takes us into her "witch's kitchen" to make natural cosmetics (lip balm, pourable lotion, day cream & bath salts) and then offers a workshop on natural cooking too – including homemade bread, crackers, spreads and muesli bars. Check this out.
Around Trögern: Bad Eisenkappel and the mighty Obir stalactite caves.
As you might have guessed, everything you need in order to become creative can be found by looking at the natural environment. The Obir stalactite caves are a perfect place for this sort of inspiration. A guided tour through the lonely world of overwhelmingly beautiful stalactites, stalagmites and sinter "curtains" takes about one and a half hours. You can book it at the tourist information office in Bad Eisenkappel. Besides a few cafés and souvenir shops, the town also has a freely accessible public "library"!
Check out even more colourful images from our creative summer class at the Gut Trögern estate:
Disclaimer: I have been invited on this trip to Carinthia by the Gut Trögern estate. All opinions are my own.