"Men do the yodelling straight from their cojones, women yodel … from the depths of their soul!", Toni calls out enthusiastically. During our yodel class in Zell am See, we not only learn some yodel techniques ourselves, but also that yodelling has existed since the early days of settlement in the European Alps. It is, according to Toni, "a perfect way to communicate across mountains and valleys, to greet your neighbours and to call for your loved one, of course. Rüdl Du Di Hola Dedl Rüdl Du Di Ho", is what he instructs us to train, times and times again. His accordion just serves to emphasise the musical atmosphere, and puts us in the mood for,
"Rüdl Du Di Hola Dedl Rüdl Du Di Ho … Rüdl Du Di Hola Dedl Rüdl Du Di Hooo!" Not that easy, even if you are Austrian.
Wonder if the farmer across the valley can actually hear us (and whether that's a good thing)?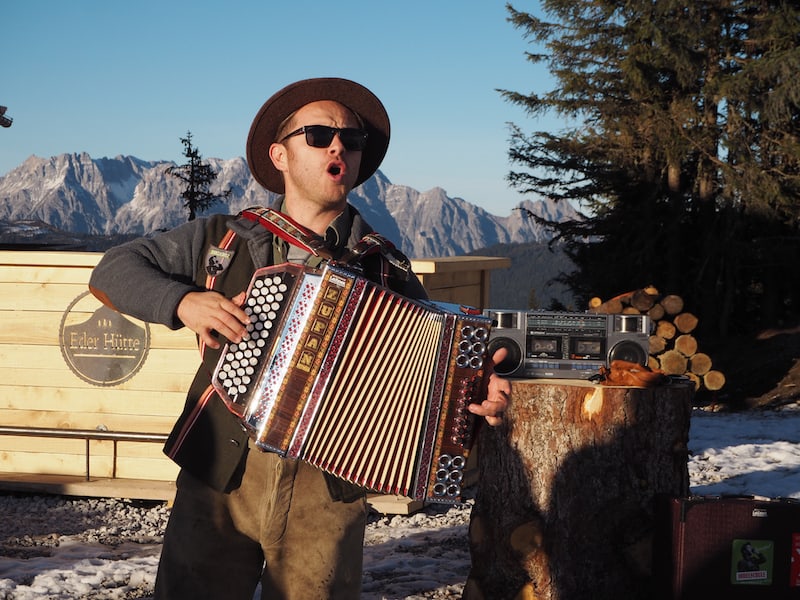 As you know, I just love anything creative travel. However, a yodel class where we cried with laughter and have been handed an official diploma with "permission to yodel in public places", is beyond anything I could have imagined prior to this trip.
Only at Toni's Yodelling School in Zell am See. High up at the historic Eder mountain hut, some 2.000 metres above sea level, reality has shifted. It might just be normal to pay witness to a cacophony of musical instruments, megaphones, and yodelling voices from a good dozen Austrian travel bloggers combined. As if to emphasise the ski day out and make for some cultural grounding along the way. I love it.
Consider a fairy-tale like boat trip across lake Zell in order to "wind down" from all the boisterous laughter and excitement.
Several times a day during the pre-Christmas season, the "star ship" (Sternenschiff Schmittenhöhe) takes people on a one-hour boat ride across lake Zell from the Grand Hotel & Casino Zell am See. It is a beautiful way to experience the natural surroundings, watch the moon rise and cast its pale light upon the snowy mountain tops, or witness the sparkle of the Christmas lights in Zell am See .. Add to that, a cup of Glühwein, some steaming hot chocolate with whipped cream on top, Christmas carols as well as a good friend / family / your beloved, and you really come to realise you do not need anything else for feeling perfectly fine.
Last but not least, try "Dinner & Casino": The Casino in Zell am See is located right by the lake and counts as one of the most beautiful ones all over Austria.
"Imagine stepping out on the lake terrace at night, sipping that glass of real champagne, wondering which number to place your bet on next. It really has something to it, I must say .. Perhaps it's the beautiful dress code of both boys & girls?", I muse with my friends, remembering my first time at the Casino Zell am See earlier this year. Lucia then got especially lucky quintupling her bet, while I missed out: "Rien ne va plus .. … thirty-five", and I had just considered placing my bet on the number 35! It was as if I had known and missed out (only I didn't, of course). Well, you know what they say: Lucky in love, unlucky at cards. Or something like that. Check this out.
Because yes, good sleep is everything if you want to head up the mountains for the ski the following day. Next time up, I will tell you about my winter sports experience of the well-renowned ski resorts Kitzsteinhorn & Schmittenhöhe, throwing in how I really felt going back to skiing after more than a decade of snowboarding .. Wow. What a revelation. What do you think: Did I like it or not? Stay tuned in order to find out soon!
More winter fun fair from Zell am See – Kaprun:
And if you feel inspired to read on, my friends have shared the following about their trip:

Disclaimer: We have been supported on this trip by Casinos Austria as well as Zell am See – Kaprun tourism destination. All opinions are my own.