You wouldn't be here if you weren't curious.*
Hi! I'm Elena! Welcome to my travel blog Creativelena.com.
For me, it is all about "life-seeing instead of sightseeing": Join me as I create, eat & live my way around the world. Curious?
*Check out my book, "The Creative Traveler's Handbook", for learning more about what we mean by creative travel. Travelling means the world to me, makes me fit for everday life and sometimes, I trust, also calmer on the inside. Read this blog with a smile, share what you love and remember to check back regularly: After all, when was the last time you did something for the first time?

Beer Workshop in Salzburg: Make Your Own Beer at the BierKulturHaus in Obertrum!
All fogged up (with beer steam). Laughing. Sharing photographs & keeping it going. "You have to continue stirring and check the temperature!" – "Make sure nothing falls in here, as that would be a real catastrophe and all of your work destroyed!" We take a respectful step back from the tank, which slowly starts filling up with "our beer". Not even a single flake should land in this beer soup, which we have taken all these hours to brew up together with brewing master Sven: Who would have thought that the high art of beer brewing consists in hours and hours of cooking, mashing, filtering, pumping (around) and … waiting?! Add to this wafts of beer steam drifting around the cavern as well as the naturally open tap at the "BierKulturHaus", and you get a truly happy group of young beer masters in the six-hour brewing workshop. This is a truly magnificent experience for every small group wishing to experience Salzburg and its beer culture. Check it out!
Brew Your Own Beer at the "Creativbrauerei" in Salzburg: An unforgettable creative travel experience
Thanks to charming local beer expert Johanna, we are having a blast around the modern "beer world of experience" at Trumer Brewery near the city of Salzburg: So many stories, so much beer knowledge there! But before we start our own brewing workshop, we first make our way to the tap wall. "Could I please have one for my own living room?", Christian asks slyly: Johanna has to tap at least 10 times till all shots and angles are taken. For the real passion of our international group of travel bloggers & video journalists from Germany and Austria consists in filming, taking photographs, tweeting, "instagramming" & sharing. With the whole world. "The sunset photo Yvonne has shared on Instagram has received the most "Likes" ever", her brother Johannes, who writes for his sister's international travel blog JustTravelous, smiles proudly. Well, let's start then. Today, I want to tell you of a day when we made our very own, unique and hand-crafted beer in Salzburg. Check this out!
Disclaimer: We have been invited by Tourismus Salzburg to travel to Salzburg and experience the brewing seminar at the BierKulturHaus. All opinions are my own.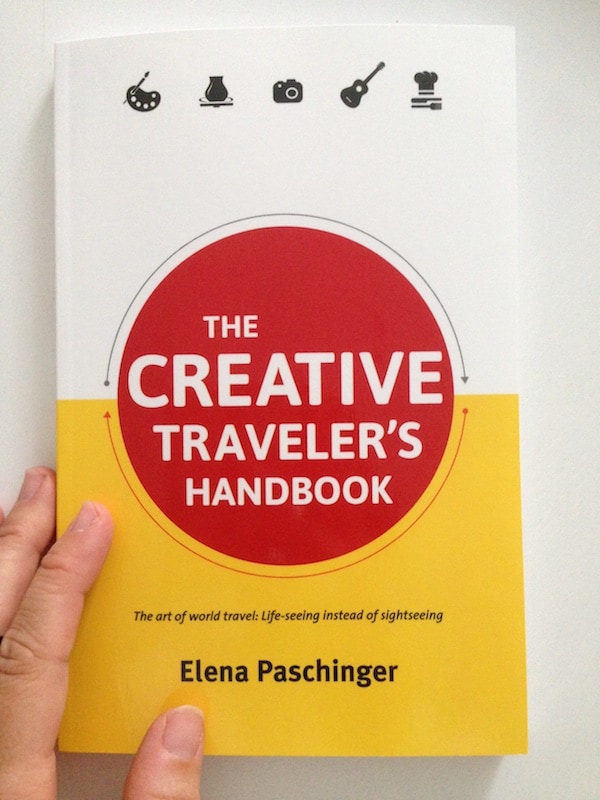 Ready for learning even more about creative travel?
Elena has recently published "The Creative Traveler's Handbook". Chock full of inspiratinal stories, travel tips and advice, it offers everything you need for planning and managing your next creative escape, addressing beginners and experienced travelers alike. Here's how to
get your hands on it
now!
Follow me on my travels: