Iceland.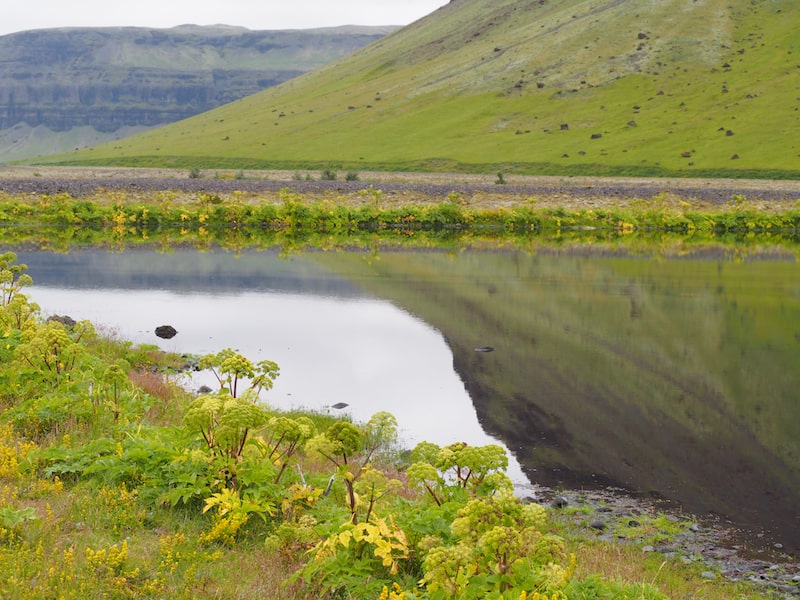 Imagine it's quiet in Iceland, and nobody says a word.
Absolute silence. The wide open land, the fascinating views over that sheer endless horizon, the insignificance of oneself against such soaring mountains and towering volcanoes. Only a gentle breeze recalls the presence of being on Planet Earth over Mars. In the blink of an eye, Iceland has the power to transform you into fairytale like character, set in a landscape that is unlike any other on this planet.
In order to live your dream and get ready to start enjoying Iceland yourself, I have put together some practical tips for you based on my recent family trip there. In July 2016, my parents, my brother, his girlfriend and I took off on a 10-day road trip across Iceland. Except for myself, who has already been roadtrippin' there as well as doing research as part of my creative round the world trip, it was the first time anyone of us visited Iceland.
One advantage over my previous trip in early winter was that this time round, we got to enjoy those long hours of daylight as well as the fact that literally every little attraction is open for visitors during the summertime. This leads over to my first travel tip for you, which is about:
1. The weather in Iceland. From the treasured midnight sun all the way to a heat wave starting at 22°C.
"Each day since the summer solstice, we've lost around 10 minutes of daylight", my dear friend Björn from Reykjavik tells us. During summer, it never gets really dark, only slightly dusky: With the sun currently setting around 11.00 p.m., it rises again around 3.00 a.m. too. The hours in between never grow beyond the light of dusk. In case you are worrying about being able to sleep, don't. Based on our experience, you are a) going to be tired from the activities of the day and b) can always close the rather omnipresent curtains.
The temperature range during our time in Iceland has always been between 10°C and 20°C, according to the temperature gauge in our rental car. When the sun shines, highs reach some 18°C to 22°C depending on wind strength at the same time. Everything over 22°C is being classified as a (rather serious) heat wave. Most of the time, we had a medium temperature of around 14°C to 16°C, meaning: Do go prepared, and/or buy a yourself a beautiful Iceland wool sweater just in case!
2. Clothing for your trip.
There is no such thing as bad weather, only good or bad clothing. Who of you has heard this before? Right. It is all the more true in Iceland, a land that is simply inhospitable in many ways. Its isolated location between latitude 63° and 66° in the North Atlantic Sea make it prone to mighty storms, tremendous rainfalls and vast amounts of snow during winter. Most of its terrain is simply unsuitable for any form of permanent agriculture. The only animals we've seen happily persisting in this kind of climate are the sheep and horses with their naturally thick wool or fur, and this goes for clever human dressing as well: Layer and wool up for Iceland!
3. Planning your budget.
Iceland is an expensive country. Reeeaaally expensive! It needs to be said: "Yes, the prices for a glass of wine are, well. The right thing to do is not to think about and just get over with it, even though it hurts", even my local friend Björn from Reykjavik has to admit. We are talking € 10-15. Per glass of wine, that is. Beer follows suit, a main course in a restaurant can easily reach anywhere from € 25, 30, to 40 or more, according to where you go. Accommodation, too, is expensive, however you can help yourself by planning via AirBnB, farm stays, guest houses or else to alleviate the financial suffering.
What we did for instance was to spread out our payments over time, paying off our flights, rental cars & accommodation well ahead of the trip, leaving only the actual expenses while in Iceland during the main summer season. This helped us to manage our cash flow levels, but still left us with a bill of a few thousand Euro's worth each. Easily. Without looking for too much luxury. Entrance fees, petrol (a litre is about € 1,80), eating out (even shopping at the markets and sharing meals or snacks can become somewhat expensive), activities & attractions: In order not to "get hurt" too much, I advise you to save a good amount of money well in advance for this unique, once in a lifetime trip !!!
4. Accommodation.
"International travel agencies are taking over Iceland and booking everything in advance", my second friend in Iceland, Nicolas, writes to me at the beginning of the year. Both him and Björn advise us to book all our accommodation for five adults way ahead of our trip. And this is exactly what we did, following the "almost booked out" alert signs on pages such as AirBnB, Booking.com etc.:
5. Getting Around.
For getting around Iceland, we naturally opted for a rental car – like most other individual travellers. Here, too, we had to make a decision well in advance, with availability becoming scarce months ahead of our trip. Finally, the German platform Billiger-Mietwagen.de helped us to find a model that cost only some € 30,- per day per person, including full insurance and unlimited mileage. You need the latter – not necessarily the 4×4, which I would only rent if the plan was to drive a lot on Iceland's off road interior rough terrain.
6. Riding an Icelandic Horse!
I strongly encourage you to consider this activity for planning your trip. Why? Icelandic horses are unique in the world and have a surprisingly comfortable "fourth gear", called "tölt", which is suitable for beginners and advanced riders alike. We thus went riding on a beach near the famous Snæfellsjökull glacier, in the very west of the Snæfellsnes peninsula. This experience offered us views upon the snow-covered volcano and its glacier, while sprinting through lagoons and trotting along a soft sandy beach. A true adventure of a lifetime!
7. (Mass) Tourism.
Yes, more than a million people arrive in Iceland each year. No, those masses are definitely not comparable to those elsewhere (for instance in Tokyo), even though Iceland is really popular with Asian visitors, too. If anything, large concentrations of people only take place at the main attraction sights: In between, you can just as well "get lost" even during the main season and only be travelling around a few people at a time. Sometimes, those "few people" swell up to a few hundred, but this is rather the exception than the rule. Our general conclusion: It's all good (still)!
8. Ring Road: Yes or No?
Yes! Of course, most of you will say now. Isn't that what you ought to do?! Well, first of all, I'd recommend you to check your timing. If all you have is a week or ten days max, as we did, time travelling all around the Ring Road may become scarce: "Only driving" and having to "change accommodation all the time" might not be high on everyone's wish list for travelling, considering the 1.500 kilometres there are to go. That's excluding all the little side tracks you will want to do in addition.
So we have opted for the alternative to only go West, then all the way South-East and back. Staying in some areas two or more nights at a time, thus being able to get a deeper sense for what the place is all about. Less is more, then? Not all of you will agree with me, what with all the natural temptations Iceland has to offer along the famous Ring Road. We, however, were very satisfied with the choice we did. From Reykjavik, to Snæfellsnes, continuing with the "Golden Circle", down along the South Coast and all the way to Egilsstadir and the Eastern Fjords of Iceland (and back).
9. "Creative Iceland".
Looking for some real off the beaten path experiences? Look no longer. The organisation "Creative Iceland" (www.creativeiceland.is) has already helped me organising an Icelandic Elf class, a postcard printing workshop or a culinary lesson during my previous stay in Iceland, unearthing these and many more creative, cultural and foodie type of experiences in & around Reykjavik. This time, we met charming Eirny, who very modestly calls herself the "Cheese Minister of Iceland". She had a cheese tasting of a kind prepared for us, including modern-day storytelling about Icelandic history, farming culture, everyday life of people in the past and present, and many an anecdote of 1000 years of settlement history. Definitely recommend!
10. Last but not least: "Three definitions of twilight".
So what do we mean by that? "We do actually have three words for twilight", Björn confirms over our last lunch meeting together in Reykjavik. I smile at him, making a mental note to put this on my blog. Something very typical given the climate in Iceland. Like the English and their many words for rain. Or the Inuit and their huge range of vocabulary for snow!
Travelling to Iceland, is thus also always about being mystified. By the country, its magic, its stories about the Elves, Trolls as well as the Hidden People. Chasing your dreams, by looking out over mighty volcanoes, enormous glaciers and sheer endless horizons. Or simply staring at miles and miles of dark lava stones, long black sandy beaches, and erupting geysers.
Iceland: A country worth travelling to a million times over.