All of us working in, or directly affected by, the travel industry would surely love having a crystal ball right now. What will happen to travel in a few months' time, let alone by next year at the time? While the global Coronavirus pandemic still has its firm grip on us today, Sarah and Terry Lee, together with their conference partners at Graz Tourism Board and a whole host of other supporters, organised a virtual conference through their Captivate media team to answer exactly that: How DO we recover, refocus and re-imagine travel after such a devastating year as it has been?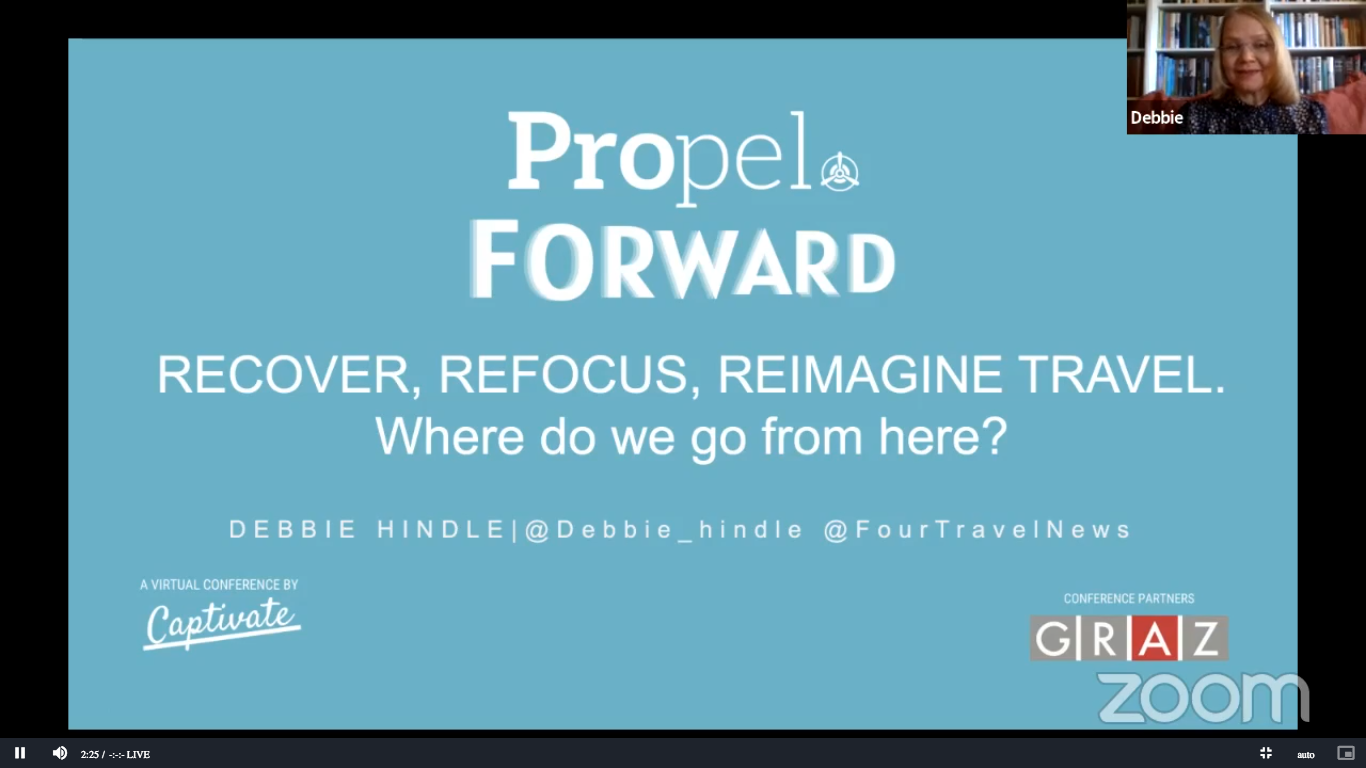 The conference, albeit virtual, took on a lovely, personal atmosphere, brought about as much by its format as by its participants and speakers.
"Propel: FORWARD provides the travel industry, and the content creators that support it, with the road map for travel's recovery in 2021 and beyond". Such has been the bold claim the two-day conference made, hailing more than 100 participants from all over the world. Breakout rooms in the "Forward Lounge" or the "Virtual Café" created repeated opportunities for extended, in-depth talks (talks that were sorely missed already, and almost as good as the real ones), while one on one meetings provided great opportunities for discussing personal business ideas.
What I truly treasured as part of this conference was the incredible wealth of industry knowledge that was promoted and shared through the many conference's sessions, some of which were very insightful indeed. Read on if you wish to know more about what was being said and discussed as part of Propel: FORWARD this past February.
#PropelForward : Where do we go from here?
Debbie Hindle (follow Debbie on Twitter through @Debbie_Hindle and @FourTravelNews), CEO of Four Communications Travel, kicked off the virtual conference by talking about trends and perspectives for the travel industry. She mentioned that "while savings are at a record high, many businesses have been suffering and unemployment continues to be on the rise. Tourism right now needs content creators to talk about the benefits of travel, and the benefits of world recovery."
In the short term, domestic tourism can expect a strong rebound in 2021. At the same time, it is important to attract "the right kind of tourists in the process": The best recovery plan, she states, starts "in the white heat of the actual crisis":
In the "pre-recovery phase", which is still happening (and has been for almost a year), it is important to keep connected and to keep innovating new business ideas.
The "emerging phase" should target those most likely to return to travelling first.
As for "full recovery", one should re-evaluate who wants to visit where, which travel businesses and partners are likely to stand out, and be sure to continue talking to the right people.
So who will travel again soon? Younger, as well as older travellers (given rising vaccination levels!). At the same time, there is a changing consumer sentiment across all age groups, resulting in sympathy and commitment to things that affect us all, like sustainability or #BlackLivesMatter.
Imagining so-called "travel personae" could help with recovering and refocusing the travel industry, says Debbie Hindle. One among them is self-care Suz.
All of this data confirms a great hunger for insight. After all, everything and everyone has changed. Content creators currently have a great opportunity to shine, says Debbie Hindle: "Now is the time to put forward any insights into the travel industry you might have. What are your audiences thinking? What are they looking for? Are they searching for long haul, or short haul travel destinations? Put all of the information you can gather into a media pack, and find creative ways for sharing audience insights with the rest of the world."
As an example, she mentions a 2020 video storytelling cooperation between Storytravelers and Visit Sweden, called "My Swedish Heart", resulting in record views on platforms such as Vimeo and YouTube:
In 2021, everybody in the travel industry has the same problem, message and audience. Once recovery begins, it is going to be the most competitive year the travel industry has ever seen – for fewer visitors.
The pandemic, Debbie explains, has "escalated media trends that have already been happening over the past few years. Take a look at the BBC, for example: In 2020, more people consumed its content through digital channels than traditional broadcasting means."
Podcasts shot up to a record high of 500 million in 2020, compared to 'just' 558,000 in 2018. Social media, online video, video on demand and streaming services have increased dramatically across all age groups. There is a bigger potential target group on Social Media than there has ever been before. Fashion shows, she mentions, have been very innovative on TikTok, but many brands weren't quite so innovative.
So how can you reimagine your role in this "brave new world" of travelling?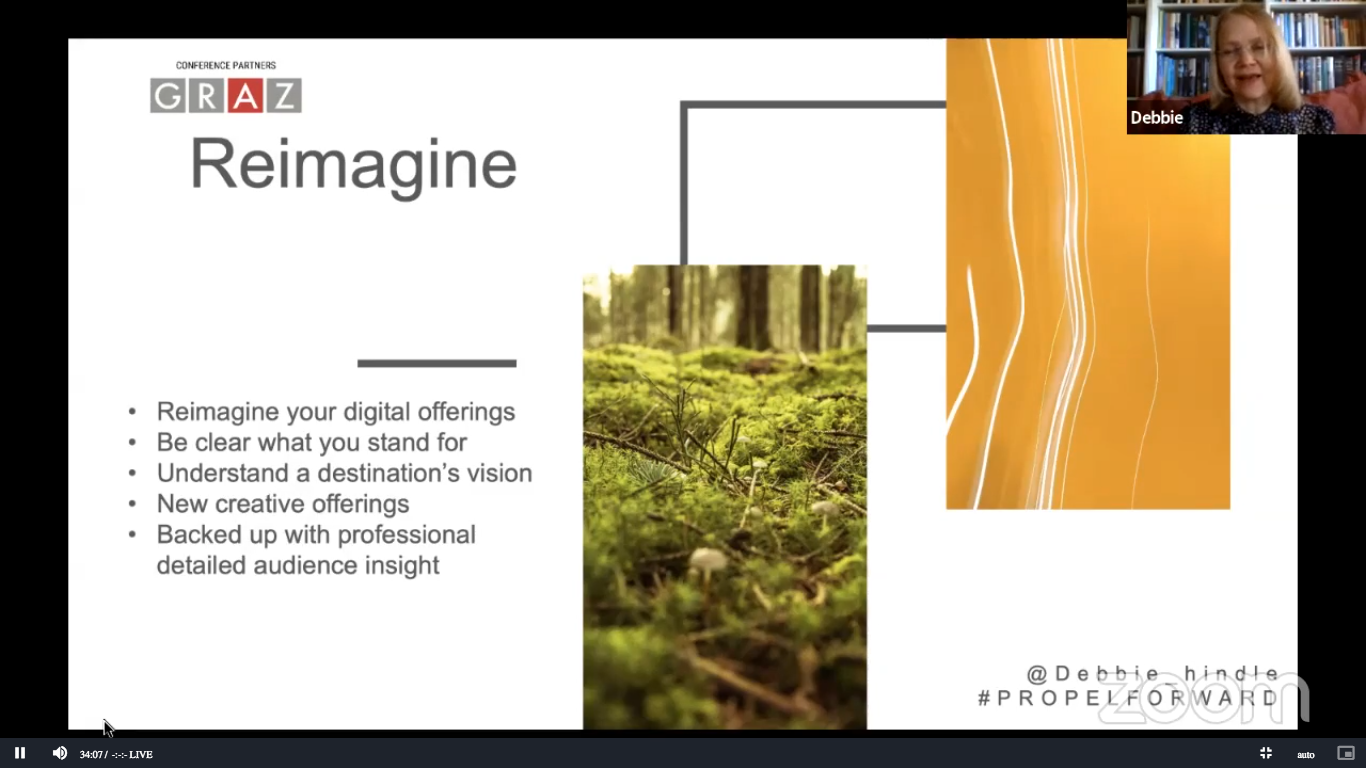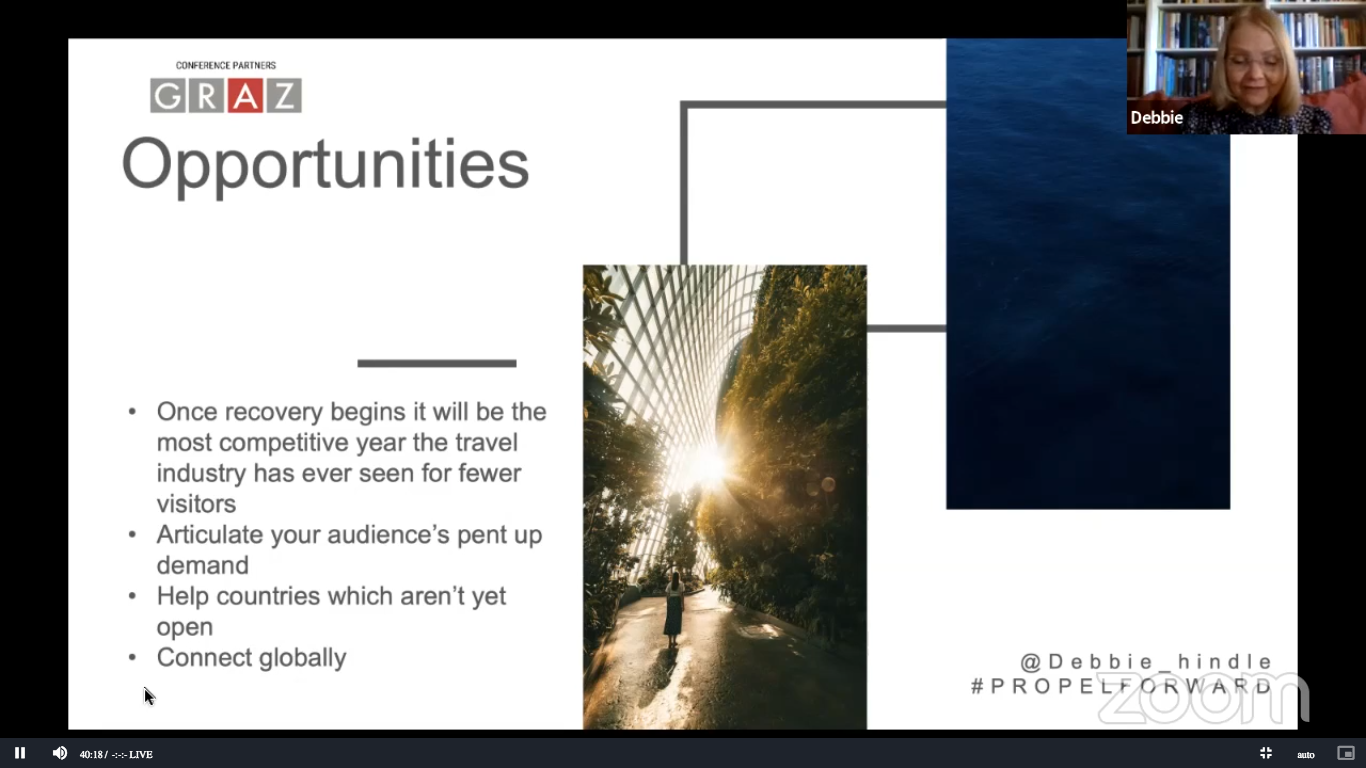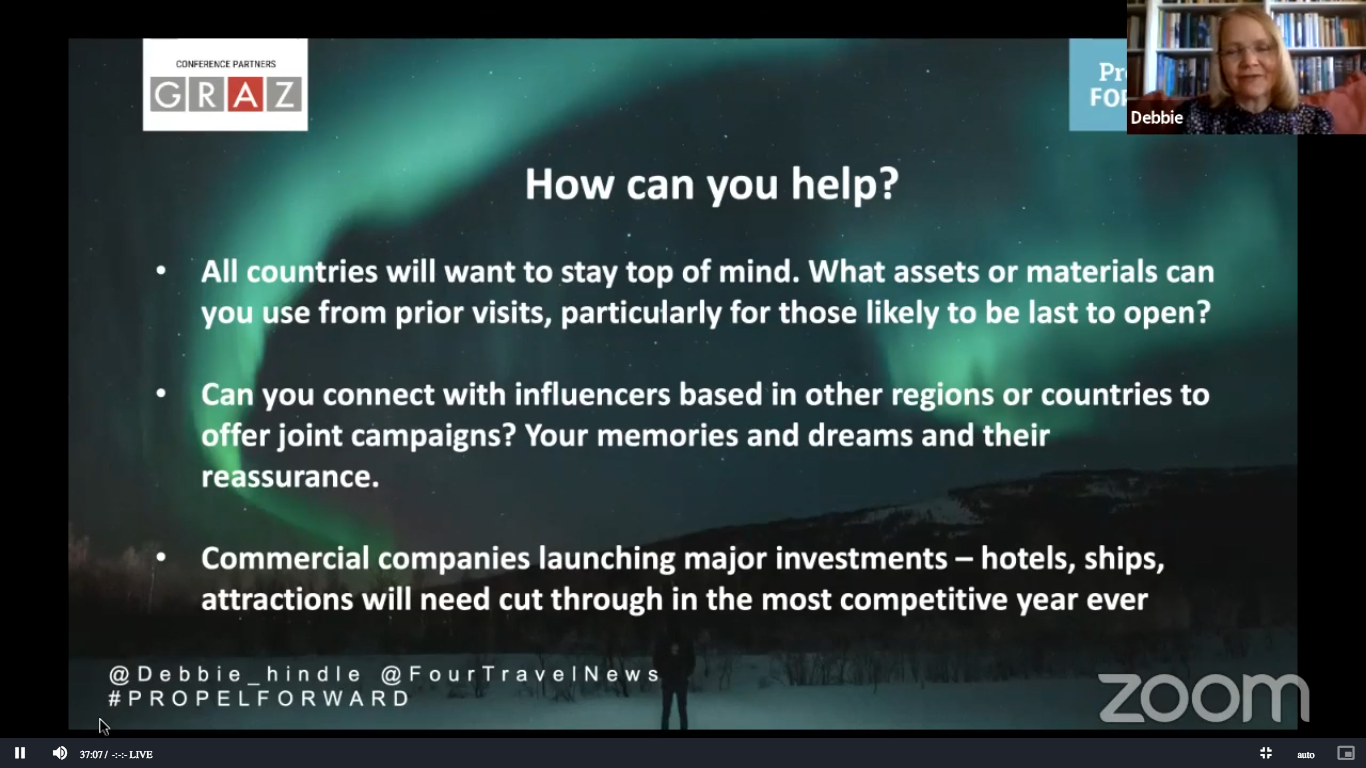 Concluding, Debbie Hindle mentions that it is important to stand out in a sea of same-ness. The world is likely to "open up at different times" (vaccination levels and individual health crises prevailing), thus new target groups are likely to emerge in the process. One example is a live stream of little penguins broadcast from Australia to the UK, on the Independent TV, raising an awareness (and potential desire for travel) for a place called Philipp Island. Another is of a company called Virtualtrips, helping small entrepreneurs become virtual guides: At the end of your virtual tour (for example through the city of Budapest), you pay the guide an online tip. #SingaporeImagine is another campaign targeted at post-Corona travel opportunities in the market.
#PropelForward on sustainable travel, and transforming travel's impact on communities.
Elke Dens, of Visit Flanders Tourism Board (follow Elke on Twitter through @ElkeDens) talks about a shift in destination management organisations from managing tourists to enabling communities. "Sustainable behaviour must be at the forefront of how we re-envisage travel", she says, talking about a need for balance between residents' interests and visitors' desires to explore. Meaningful connections are to be key in this process, moving from storytelling to story-doing. This allows visitors to get to know local people on a deeper level and encourage more respect. The move has to be from volume to value, with tourism providing a means rather than an end. Specific interest travel, she says, does not necessarily invite mass tourism. Efforts should therefore be made on finding the right balance between the two.
Mikey Sadowski, general manager of Global Communications at Intrepid Travel, talks about the company's impressive track record of 32 years of responsible travel development (Intrepid Travel has been founded in 1988 and is now the world's largest B Corp company, providing its employees with the highest possible socioeconomic standards). In achieving this goal, they work with travel bloggers, zero waste bloggers, influencers and activists, all of whom are directly in line with company values. "Make sure you only talk about things you have an authority on", he says, mentioning Intrepid's proven products such as an animal welfare policy toolkit, a guide to decarbonise travel businesses, and a climate action plan to measure emissions.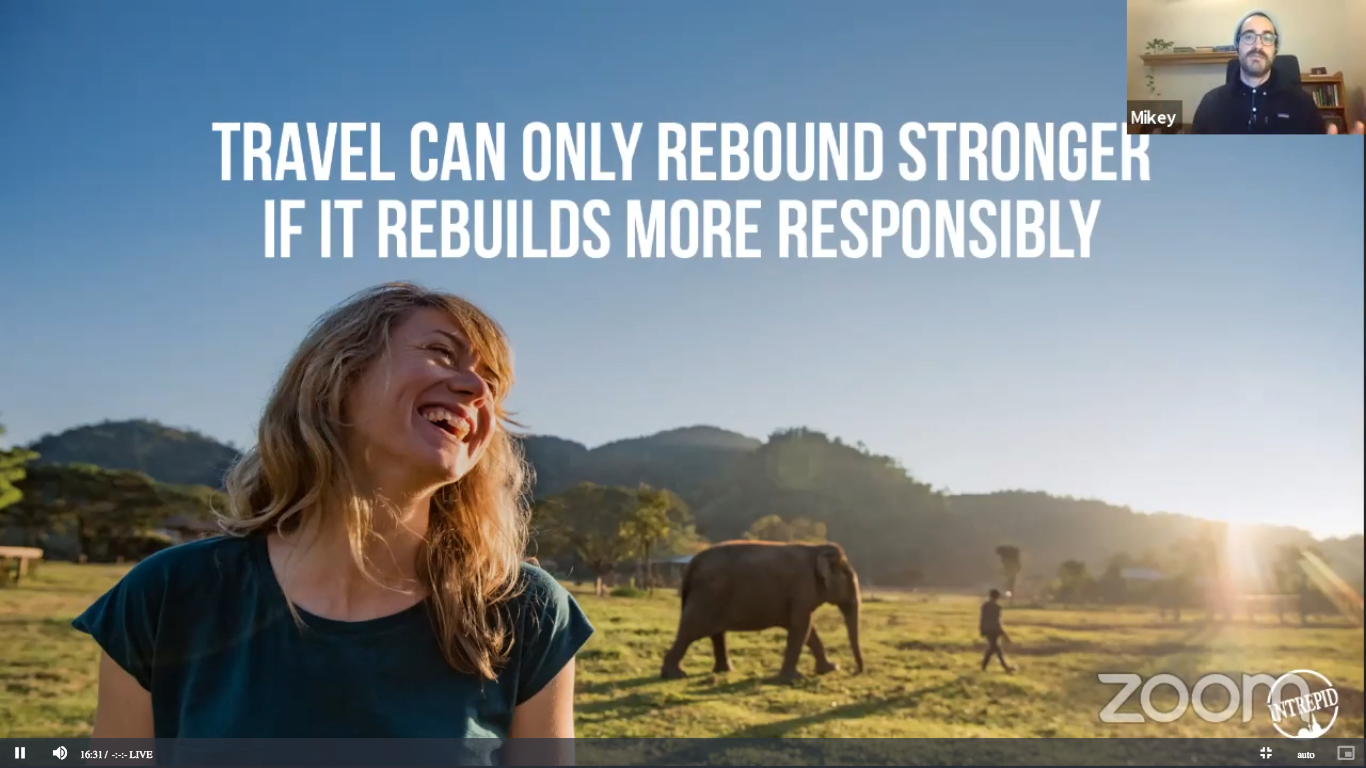 Natasha Lawrence (follow Natasha on Twitter through @tash_lawr), head of Sustainability and Global Product Strategy at Contiki Travel, explains that by sending young people on trips around the world, having a sustainability plan is key in ensuring the company's long term future and survival. Their current target group, generation Z, cares about important topics such as climate change and social issues. They also feel overwhelmed, as in having to make sacrifices for a problem they have inherited from previous generations, and expect big companies (such as Contiki) to be accountable. Contiki has acted by launching #MakeTravelMatter experiences that support sustainable development goals, such as "Refugee Voices" in Berlin, or "Protrack Poaching Centre" in Kruger National Park in South Africa.
Lily Lebawit (follow Lily on Twitter through @sunandstilettos) then talks to us about 12 years of sustainable travel storytelling in the Caribbean: "We have to show people it's not (just) about hugging trees or volunteering. The media has a powerful role in connecting travellers, readers and people in a destination, and shaping an image of the latter." She encourages content creators to use multiple sources in researching the story to a destination: What are social sustainability issues, what work are NGOs doing? Could you ask somebody out of the tourism board, a local expert perhaps, such as a historian? What are great stories about people's passions?
April Cernuschi, account manager at Atlantic Canada (Newfoundland as well as three maritime provinces in the East of Canada), explains how to get travellers dreaming about Atlantic Canada during times of global lockdowns. Their answer has been in working with visual content created during previous blog trips, as well as in working with bloggers who have not yet been to Atlantic Canada, and who are able to get their audiences excited about coming. There has been an Instagram foodie series about each Atlantic Canada province, as well as a podcast series with interesting locals. Thus, she argues, meaningful and inspirational content about Atlantic Canada continues to be shared, so that when the four provinces are opening again, everybody will be ready to welcome travellers with great stories.
#PropelForward on how to pitch post-pandemic: What are brands, as well as content creators, looking for?
Sarah Lee, one of the conference organisers, kicks off this important session of successful industry-content creator relationships: "Over the past few years, there has been a growing understanding on how to work with bloggers professionally, i.e. of paying them adequate fees. But how will this look like post-pandemic? There might not be a lot of money to go around, but travel will take off again, and content creators will again be in the game! There are always budgets, for instance when new airline routes and new tourism offers are being introduced. To quote US President Joe Biden: The way out of this crisis is to invest, not to cut back on spending."
Bloggers and influencers, Sarah goes on to say, will be in demand especially. Creative ideas, as well as having responsible travel messages delivered, are all things that are going to be needed. The important question to ask yourself as a digital content creator is: What do brands and DMOs pay (and continue to pay) for?
As for projects that sell, Sarah mentions that based on her many years of experience, one should develop angles that will fit all parties involved and create a win-win-win situation (content creators, clients, as well as audiences that read the stories). One should flexible and clear about deliverables: It helps to detail experiences with case studies, and to focus on solutions for tailor-made client needs. Concluding, the says: "Never undersell your talents!"
Su Hoeller, Sarah's "partner-in-crime" @VisitGraz, a city destination management company in the south of Austria, continues this session by sharing further insights from a DMO's point of view. Su talks about the evolution of the DMO's role, especially with regards to content production and promotion. In this process, Graz went from having any content creator, to creating more long-term relationships with certain bloggers, something that in her opinion "makes a lot more sense".
"Content creators are a huge help when it comes to educating about the quality of tourism products in Graz. Their feedback has become invaluable for our continued feedback loops, and DMO work."
Su frankly explains that many city DMOs in Europe are currently suffering from severe funding crises, as the financing structures usually rely on stakeholder investment from key economic branches, such as restaurants, shops and the hotel industry. Graz, however, is in the happy position to be funded largely by the city council, resulting in a stable financial situation for now. When working with European DMOs, Su encourages content creators to try and familiarise themselves with the financial situation of the partner they wish to work with. How is their funding set up? Does it still work the way it used to? In a trustful partnership, you can simply go out and ask: "Please tell me more about your budget situation. What is the scope I can send you a proposal in?" That would be the most sensible procedure in times like these.
She also mentions that content creators must make sure that their readers are still the target group of the destination they wish to work with. It is just as important to educate oneself on responsible and regenerative travel.
"Responsible travel is so much more than travelling green! It's not just a trend that will come and go, it is here to stay. Tighten your relationships with existing brands, capitalize on the trust factor that you have established in the past. Graz, too, is happy to reach out!"
#PropelForward : The why and how of responsible reporting.
Becki Enright (follow Becki on Twitter through @BordersOfAdv) kicked off the second day of the two-day conference by talking to us about responsible content creation. What do we mean by that? "It can be quite a grey area", Becki says. "As content creators, we should always show what is really happening in the places we visit. The danger is that we live in an 'age of narcissim', where we should move from replacing the sense of self with a sense of place again. Content shared about destinations should be thought-provoking and focused on solving potential problems, not necessarily show selfies with wild animals or in culturally sensitive locations."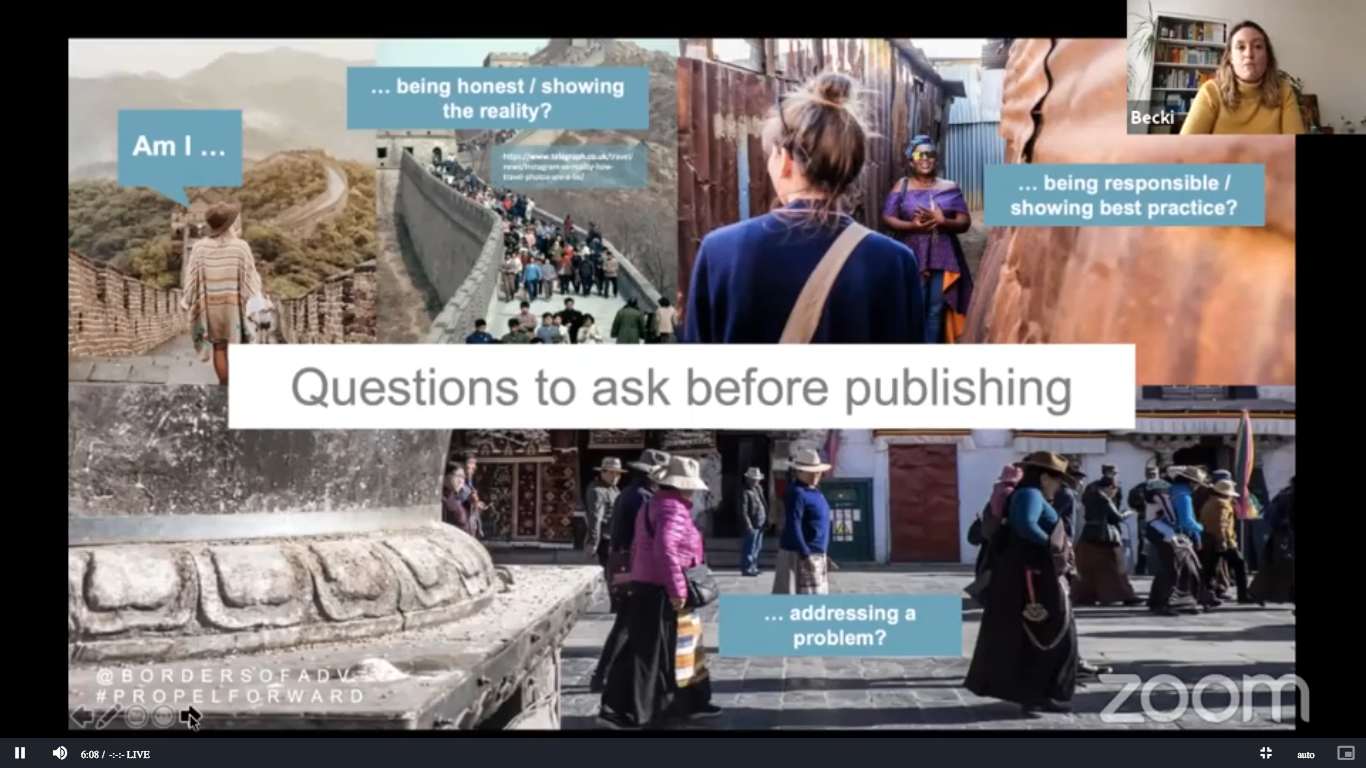 According to Becki, being responsible content creators we should ask ourselves these questions:
Am I honest in showing the reality to a photo?
Am I responsible in showing best practice examples of tourism development?
Am I addressing a potential problem in my portray of the destination and its people?
Am I thinking about environmental, community or child welfare at all? Do I respect the local communities' wishes?
Am I being "media trained" and savvy enough to do my own research prior to any trip? Am I avoiding becoming a spokesperson for a government or an organisation that promotes a place that might not be safe to visit (yet)?
"Children are not tourist attractions. And please, don't take selfies with wild animals! Culturally sensitive locations, and controversial destinations are to be addressed very carefully, too. Right now, it is best to think about promoting and supporting domestic tourism, and about finding out ways in which you can", Becki concludes her talk.
Juliet Rix (follow Juliet on Twitter through @JulietRix1) continues this session by talking about the responsibility content creators have towards their readers.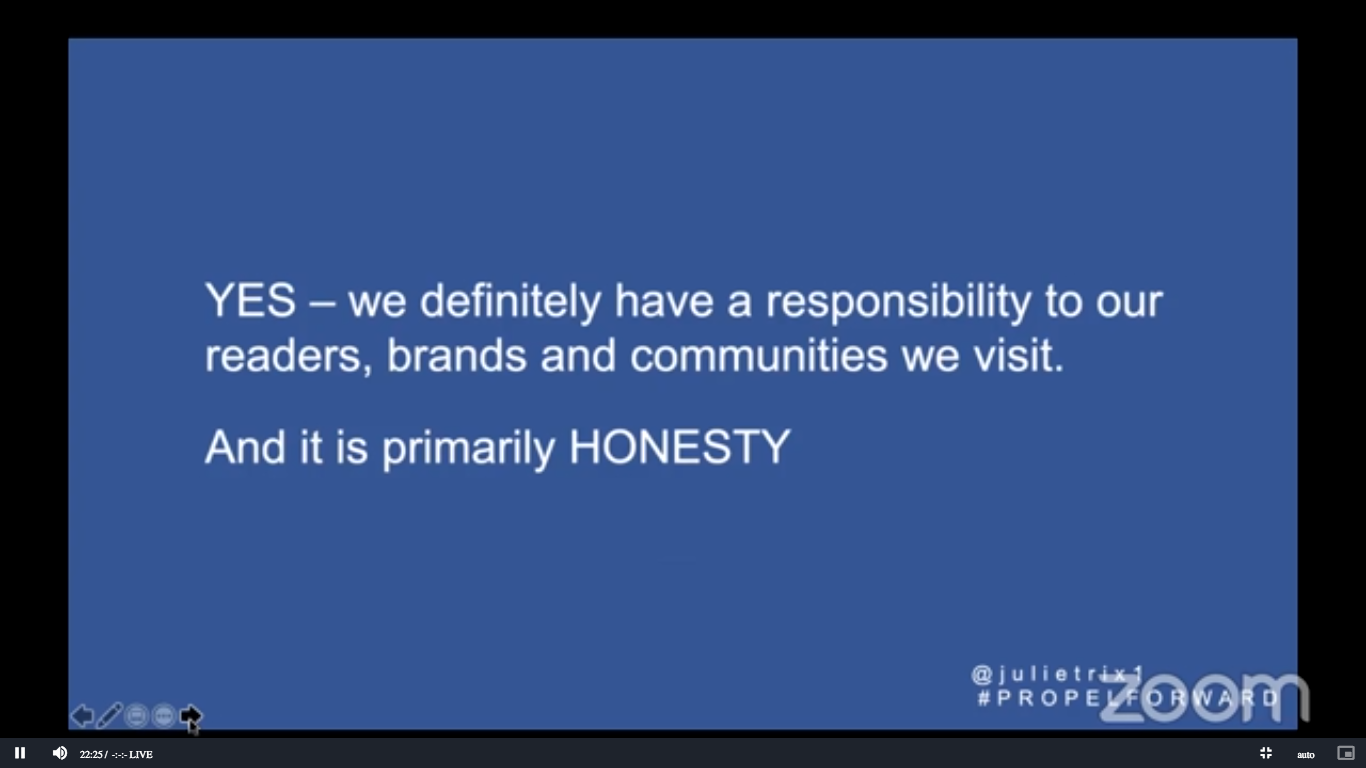 Tensions in travel writing, she says, arise from telling the truth (about a certain destination) to enjoying the support of the organisers of that trip. This kind of tension, she argues, is mostly due to the cost of travel, but not only that. Her answers and recommendations to solving this situation are to:
Remain honest with yourself, but also with the stakeholders you are working with: "Be upfront about what you can, or cannot offer."
Never agree to provide copies in advance (for an organiser to review): "No should always be the straight answer!"
Take scrupulous notes when on the trip.
Offer trip supporters a chance of redemption when something goes wrong: "Allow them to put it right, rather than going straight out and criticise in public."
Leave time before you finish writing up a piece, as it disengages you from an emotional overflow.
Work only with writers you respect, and emphasise on any relationship of trust.
Next up, travel journalist and SEO specialist Steph Dyson (follow Steph on Twitter through @WorldlyAdventur) gave an insightful talk about capitalising on Google search and SEO trends. Here is an overview of the main takeaways from her sessions: SPEED MATTERS, as does solid keyword research, and – new to me – Google WebStories !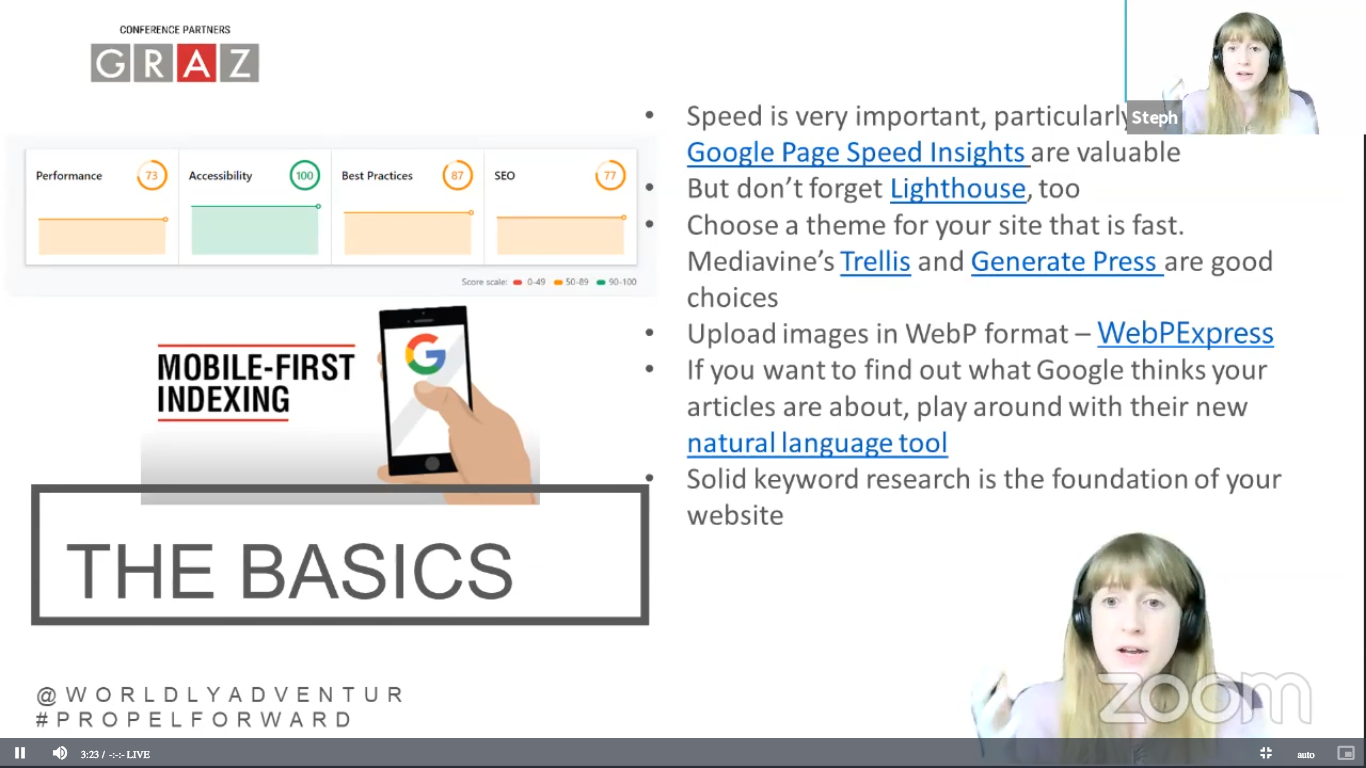 Jenny Heinrich, senior partner at FINN Partners and a teacher at the University of Chicago on Influencer Relations, then talks to us about the so-called influencer checklist: How to boost any chances of working with brands?
"Influencer", she explains, "has become an official word of the English language in 2019. Most influencers these days are in fact Instagrammers. The focus of any serious influencer should always be his or her community. Is it growing? Is it engaged? This is what potential business partners are interested in. Working together, you should share something they don't already know through technology."
#PropelForward : Closing remarks on travel trends and forecasts.
Finally, I wish to share a few interesting conclusions from keynote speaker Jenny Southan (follow Jenny on Twitter through @GlobeTrender), who has founded a travel trend forecasting company dedicated to the future of travel. Through this link, you can access most of their current travel trend reports for free (some of them carry a minor fee). I'd say well worth the investment!
In her talk, Jenny recommends having "a thorough understanding of the market, or being an outsider with a unique perspective. Either way, being creative, brave and bold will continue to be key qualities. First of all, I recommend you write down your problem, and break it down into more precise challenges. As you do this, you will start seeing solutions. Innovation has always been about problem solving, and finding solutions! Listen to your intuition: It usually steers you in the right direction. Read a lot and do your homework: What are existing opportunities in the market?"
As an example, Jenny mentions the remote working trend. Jubel, a new platform for workations abroad, is currently cashing in on this phenomenon (read more about it here). Hyatt tapped into the remote working trend by offering hotel rooms as day use offices, from as low as $65 a day. Barbados was the first island destination to issue "digital nomad visas", valid for up to one year to encourage long-term digital nomads to "work from paradise" (the starting rates, to quote Jenny, apparently go from $2000 for individuals, and $3000 for families).
Major trends that are relevant for the travel industry right now.
"Travel Testing": Testing against Coronavirus should be offered as part of the booking service, and Covid-19 tests made affordable, painless and convenient. IATA's international travel pass could likely be an option here, too.
"Vaccined VIPs": A coveted target group which, given a so-called immunity passport, is likely to travel abroad again soon.
"Honeymoon Madness": With a large backlog of newlyweds waiting to go on their honeymoon, this is a target group waiting to be served and spoilt.
"Gen Z Exodus": The youngest generation in the world, born in the late 1990s right through to 2015, are also highly likely to wanting to go travelling again soon (also for longer periods of time).
Families with children should also be given attention. Reunion holidays will be big business, and hedonism high on the agenda!
Sabbaticals: Emerging from personal crises, people will want to undertake big changes to their lives – including opportunities for travelling.
"Clean Air Travel": Any destination able to promote itself through the absence of germs, pollution or crowds will be highly sought after.
Thank you, dear Terry and Sarah, for organising such an insightful conference exploring the many questions (and answers) travel has for us right now! Let's hope the next #PropelForward conference can again take place in a non-virtual format!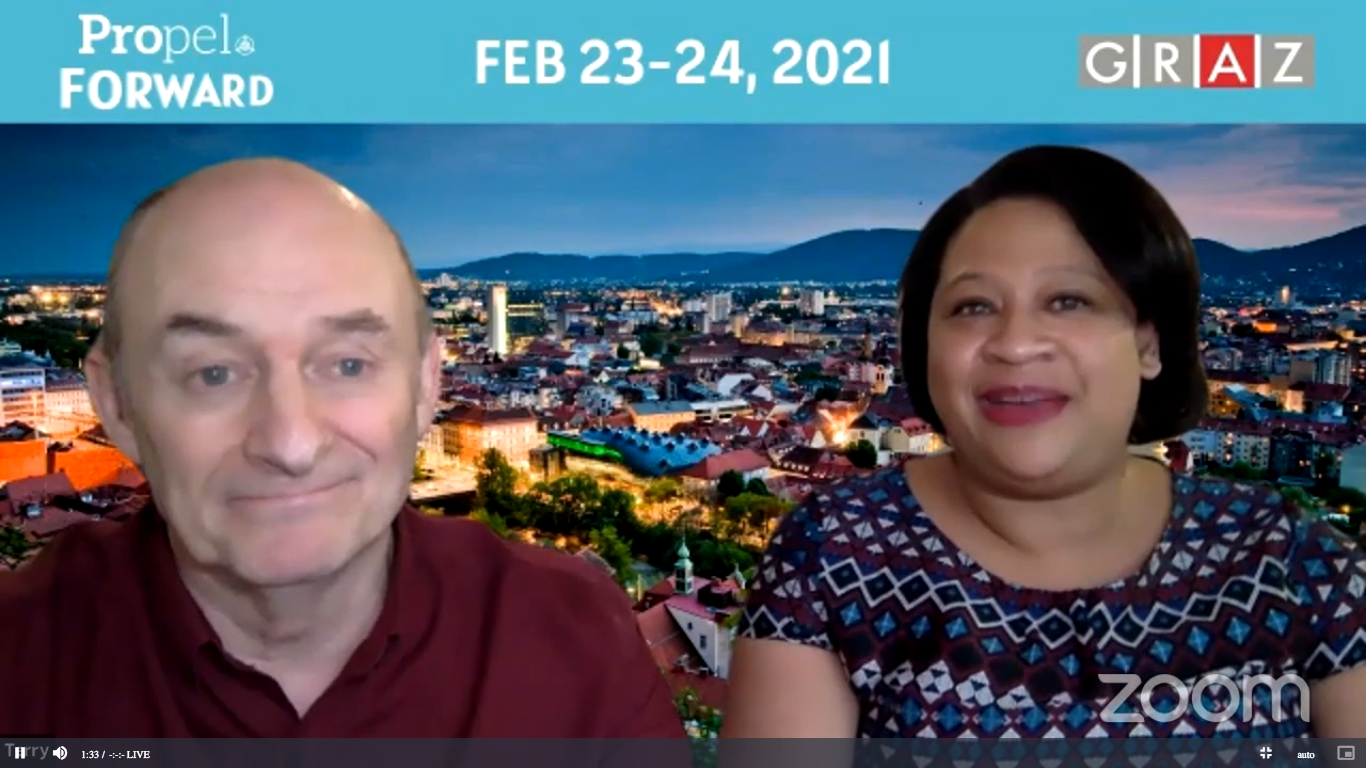 PS: I loved our virtual "wine bar" at the end of it all, and wish it would not have ended at strictly 8pm as dictated by the networking software. Such good fun hanging out, relaxing and unwinding after all this knowledge gathering together!