You wouldn't be here if you weren't curious.*
Hi! I'm Elena! Welcome to my travel blog Creativelena.com.
For me, it is all about "life-seeing instead of sightseeing": Join me as I create, eat & live my way around the world. Curious?
*Check out my book, "The Creative Traveler's Handbook", for learning more about what we mean by creative travel. Travelling means the world to me, makes me fit for everday life and sometimes, I trust, also calmer on the inside. Read this blog with a smile, share what you love and remember to check back regularly: After all, when was the last time you did something for the first time?
From 6 to 7 December, 2012, Paris was host to the 2nd International Conference of the "Creative Tourism Network". More than 200 delegates from over 20 countries in Europe, Thailand & the United States have come here to develop, discuss & debate trends in creative & "relational" tourism involving active, hands-on engagement of visitors with their respective destination. Invited by the city of Paris, I also get to explore the mighty town hall (Hôtel De Ville) where the conference took place. These magnificent rooms may even leave Versailles look second best!
"À l'heure du touriste créatif": Developing Creative Tourism
"If people participate, they are left enthusiastic, wish to come back and next time also bring their friends/family!" Sounds logical? Well, you might want to become the next creative traveller yourself. Which is why I'm taking you, dear readers, straight into the heart of Paris for some great, creative feedback here. Check this out!
An interactive, "one of a kind" workshop: Here, conference participants learn about the Art Burlesque by ladies who know. Just before, a choir led by a professional tutor and singer engages the audience with real French chansons: You can't help but tune into "Oooh, Champs-Elysées …" .
"Vous avez une passion dans la vie? Venez la pratiquer à Paris!"
"We don't sell Paris. We attract people to live their passion in Paris", says Laurent Queige of the city of Paris: CreativeParis.Info. More than 200 studios and creative spaces, 1000 workshops p.a. attracting some 80.000 visitors from 150 different countries are prove to the success of this initiative, which has officially been launched in February 2012 in order to attract primarily repeat visitors to the city of Paris.
"Paris doesn't just want your money. It also wants to become your friend!" (Prof. Greg Richards, International Creative Tourism Network Conference)
"Being unique is the greatest competitive force you have."
"Get together: (Celebrating the) Effects of Human Exchange"
For many years, Greg Richards has been leading the field of cultural tourism research, strategy development, consulting and advice concerning "Creative Tourism". As part of this year's Creative Tourism Network Conference in Paris, he perfectly sums up what many others are busy developing market models around:
"The argument ist: There is a basic need for co-presence. (…) Everyday life becomes a source of creativity. We can now intervene in the production of culture, we can make our own films, we can share them, edit them and so on. It's not so much the economic capital that is important. It's the relations that develop!
'Tourism' is an extremely contested word. We are now dealing with what we may call 'temporary citizens', as (… ) people are increasingly interested in 'life stories' (…). Creative tourism is not about tourists being creative: It's about mobile people being creative and co-creative with the locals of a certain destination."
I guess this is our "manifesto" for more active and enjoyful creative travel opportunities that foster understanding of each other's cultures and broaden the mind of all travellers.
Check out the following photo presentation for an overview of all participants, presentations & impressions of the Creative Tourism Network Conference in Paris 2012: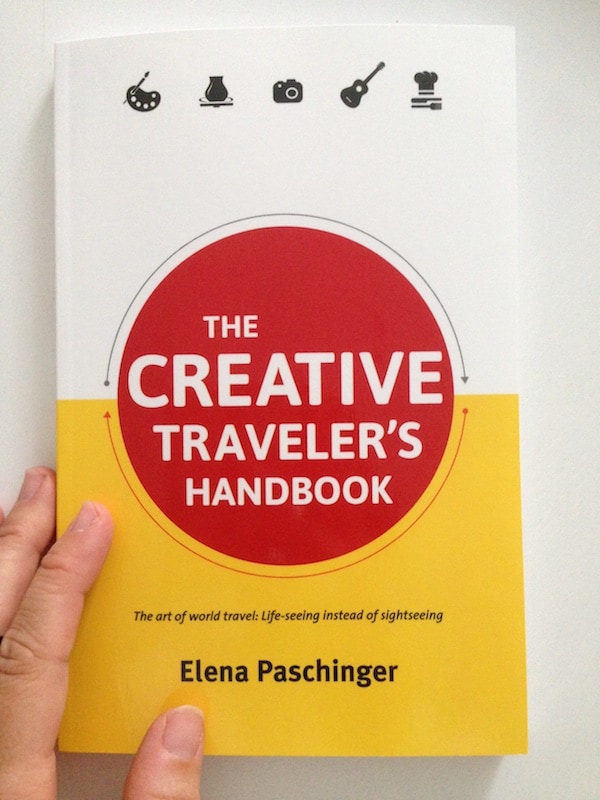 Ready for learning even more about creative travel?
Elena has recently published "The Creative Traveler's Handbook". Chock full of inspiratinal stories, travel tips and advice, it offers everything you need for planning and managing your next creative escape, addressing beginners and experienced travelers alike. Here's how to
get your hands on it
now!