"It's a kind of magic …" Magic. Magic! Well yes, walking the Camino is full of magic. And partly so, because it is a Women's Way.
At least 80% (that's four out of five pilgrims we met on the Way) are women.
From groups of friends, to couples, to female solo travellers and our accommodation hosts along the Way: It's a women's world on this Camino, really. Not to forget ourselves, me & my companion spirit, friend & Brazilian blogger Rita Branco, equally choosing to walk this Way together. So here is my ode to all the "Women walking the Way of St. James".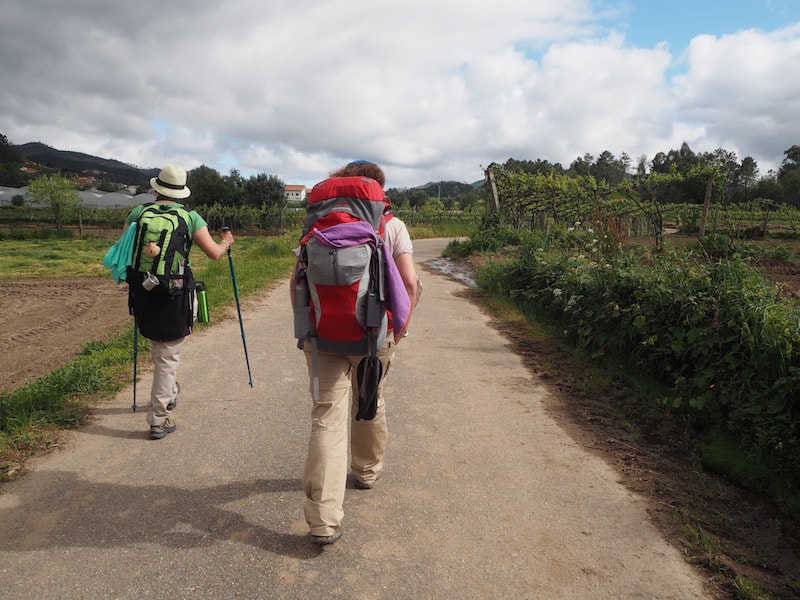 In May 2016, the classic pilgrim on the Portuguese Way of St. James is female, German, aged 50 to 60 years or over.
If I say, at least 80% of pilgrims are female, then at least another 50% of all pilgrims we met on the Camino are from Germany: The top nation among all those who currently walk the Way from Porto to Santiago. Why? The reasons we heard are manifold: "The Portuguese Way is not so crowded (yet). It offers more shade and diversity. Portuguese people are so nice. We were looking for alternatives to the main Camino. We have already done the main Camino. We simply wanted to come and enjoy the difference, walk a shorter section, connect to our love for Portugal."
The Portuguese Camino from Porto to Santiago totals about 260 kilometres, out of which 100 km have to be made walking (or on horseback!) in order to obtain the official pilgrim's certificate at the Cathedral of Santiago de Compostela. In order to start planning & preparing a Camino adventure yourself, check out my previous post about "10 Top Travel Tips" for the preparation of the Portuguese Way of St. James here.
Read on today if you are looking for encouraging inspiration from us and other women travellers as to why.
Men we met mostly talked about kilometres, achievements and doing the Portuguese Camino in three to four days – on (sports) bicycles. Women we met talked about inner journeys, life changes, and soul searches.
It really does sound like a cliché, but we found it very much confirmed: Women on the Way were without exception focusing on life issues, going through trying periods in their lives, and wanting personal achievement / rewards from their pilgrimage journey. It certainly got to (some) of the men we met, too, especially where they were walking with groups of women and / or their partner, less when they were on their own or with a group of other male friends. We met a very inspirational English man, Tony, who was all about reflection and life change having lost three of his friends in a matter of two years. At the same time, it almost never happened that we shared a part of the Camino with other men pilgrims, likely to be for reasons of speed and ambition, too. It's the old issue of competition vs. care, I guess. Looking for flowers, or to check the time and distance: A bit of both, really, works best on a spiritual path as the Camino provides.
Last but not least, it's all about Women's Issues, too. From having your period while walking (and how to handle that!), to pushing yourself to a greater sense of self-confidence: Women walking the Way come out stronger, deeper and more reflected after an inner and outer journey such as this one.
The stories we shared, the reflections we've made, the (inner) peace it brought to us: No one I've met comes out of a two-weeks pilgrimage such as this one "unscathed". It all gets to you, really, and oh so good that it does. Our American friends, inviting us over to their homes in Vale or San Diego. The Canada couple who wants to come to my Toronto book presentation later that year. A Belgian girl, the same age as me, opening up about her life and the stories she already had to go through. The incredible kindness of (women) strangers. The understanding of all the ups and downs, the unspoken bonds, the inspiration and the miracles: Perhaps it's true what they say about us women much more readily attuning to our sixth sense, third eye, common sense, or else.
Let's just say: Women have really impressed me this time. <3
Check out all my inspiring & useful travel pictures along the Portuguese Way of St. James here:
More pictures about our accommodation along the Way in Portugal & Galicia are available here, including all of our accommodation in hotels, B&Bs, apartments, etc.:
My dear companion friend & pilgrim blogger Rita Branco has also published about the Camino on her blog, "O Porto Encanta", in her truly light-hearted and captivating way: "Do Porto para Santiago de Compostela: Uma experiência incrível." Check out all articles she has published about the Camino here: "O Caminho Português de Santiago" .
Besides, English expat blogger, writer & translator Julie Dawn Fox has also published the following articles about the Portuguese Way of St. James here.
Disclaimer: We wish to thank our partners & accommodation providers along the Portuguese Way of St. James for their generous support. All opinions are my own.