You wouldn't be here if you weren't curious.*
Hi! I'm Elena! Welcome to my travel blog Creativelena.com.
For me, it is all about "life-seeing instead of sightseeing": Join me as I create, eat & live my way around the world. Curious?
*Check out my book, "The Creative Traveler's Handbook", for learning more about what we mean by creative travel. Travelling means the world to me, makes me fit for everday life and sometimes, I trust, also calmer on the inside. Read this blog with a smile, share what you love and remember to check back regularly: After all, when was the last time you did something for the first time?
The so-called "Bergische Kaffeetafel" in the German city of Mettmann is featured in a single entry on Wikipedia. Researching about our trip to Mettmann, I also read astounding words such as "Muckefuck" or "Dröppelminna", words that even make a native German speaker like me look up in wonder. How to explain this to my English-speaking friends ..?!
"Just take a seat & relax", local lady Yasmin tells us laughing, warmly welcoming us to the museum of local history in the small town of Mettmann. Yasmin is visibly pleased by the arrival of so many interested guests following the motto #nl4blogger, promoting the German "Neanderland" for visitors. "Our afternoon tea and coffee time, you must know, is really being celebrated. The coffee dispenser you can see here is called Dröppelminna, welcoming you to enjoy the coffee 'drop by drop' as in the old days", Yasmin explains. The history of this local ceremony, known as the "Bergische Kaffeetafel", spans many centuries and does not lack a good deal of foodlover delights either. Served on precious porcelain plates, we are spoiled to a kind of sweet bread with raisins, instructed to top it with rice pudding (!), cinnamon as well as several types of jams. Cream cheese and rye bread provide a more savoury alternative too, apples and maple leafs underline the festive autumn season here in Mettmann.
"Our so-called Bergische Kaffeetafel is like a fourth meal during the day, celebrated around the famous 'afternoon tea time'", Yasmin continues to explain. "Here at the Alte Bürgermeisterei of the city of Mettmann, we have made it our responsibility to proudly showcase our living traditions and encourage visitors to explore everything the surrounding Neanderland has to offer."
Check out even more pictures explaining what a "Bergische Kaffeetafel" as well as the so-called Neanderland around the cities of Cologne & Düsseldorf is. Dig in & enjoy your meal!
Apart from visiting Mettmann, we enjoy the time with our friends sharing some of their personal Cologne & Düsseldorf highlights with us. Or did you know that Düsseldorf, for instance …
… boasts an incredibly creative variety of local street art graffiti? The Ackerstraße and Kiefernstraße especially are full of them, with the Kiefern street featuring tremendous paintings over the walls of every single house. What is more, we actually get to meet an Irish squatter from the 80s, now calling Düsseldorf and Kiefernstraße home, relating all of this and the area's history to us in fluent German. Not even Janett, my friend and local street art graffiti guide, could have imagined such a happy chance meeting … Check this out.
Cologne offered us some more lovely weekend travel tips, especially now during the time of the "Indian summer" …
"Such a beauty", I find myself taking picture after picture of the colour display in the local forests. It does remind me of the magic we found at the foothills of the Pyrenees, only two weeks ago, hiking in northeastern Catalonia.
Then again, as a kind of juxtaposition, we look up in awe at the mighty Dome of Cologne, as well as the thousands of love locks at the Hohenzollern bridge. "How much may they weigh by now?", we muse, happily enjoying the quiet autumn strolls and downtime together …
Disclaimer: We have been invited to join the "Bergische Kaffeetafel" as part of our local exploration of the German Neanderland. All opinions are my own.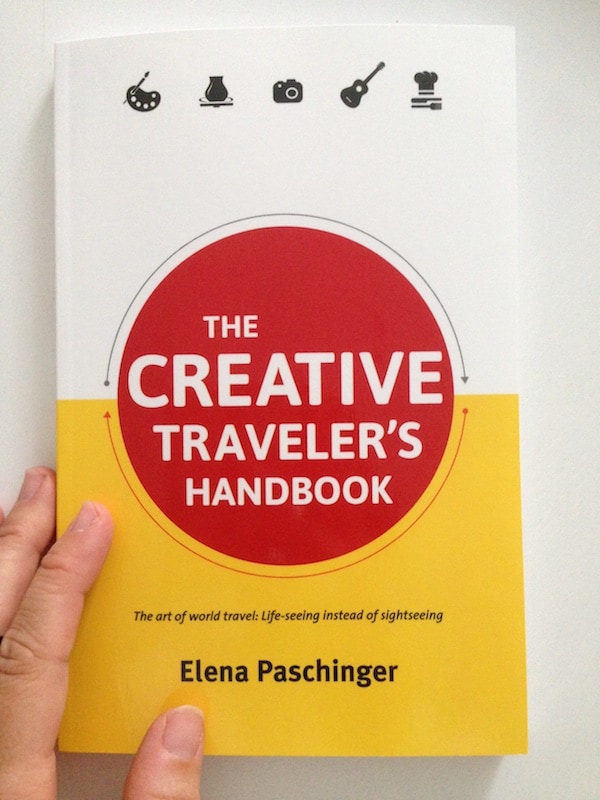 Ready for learning even more about creative travel?
Elena has recently published "The Creative Traveler's Handbook". Chock full of inspiratinal stories, travel tips and advice, it offers everything you need for planning and managing your next creative escape, addressing beginners and experienced travelers alike. Here's how to
get your hands on it
now!