You wouldn't be here if you weren't curious.*
Hi! I'm Elena! Welcome to my travel blog Creativelena.com.
For me, it is all about "life-seeing instead of sightseeing": Join me as I create, eat & live my way around the world. Curious?
*Check out my book, "The Creative Traveler's Handbook", for learning more about what we mean by creative travel. Travelling means the world to me, makes me fit for everday life and sometimes, I trust, also calmer on the inside. Read this blog with a smile, share what you love and remember to check back regularly: After all, when was the last time you did something for the first time?
We have only been in Buenos Aires for 24 hours. And yet, we have already had the chance to experience one of its "must-see" attractions: A Buenos Aires Greeter Tour ("Cicerones, un amigo en Buenos Aires"). After a crazy journey to our summerly destination on the other side of the world, an extended breakfast on the sun terrace of our "cool" Art Factory Hostel in the central district of San Telmo complete with Buenos Aires Greeter Joaquín Brenman is just what we need. Joaquín, a retired industrial engineer, has been leading the organization "Buenos Aires Greeters" with some 35 members (all of them volunteers except for one part-time employee managing website & bookings) for more than 10 years: Thanks to his iPhone, cool open-mindedness & and many a happy laughter, the fact that he is more than double our age goes unnoticed – five hours later, it is us who are rather unhappy about having to let him go. And that we "only managed to invite him for lunch" …
"If you want to write up a good story about your experience, then this is more than enough", he explains, still smiling. The Buenos Aires Greeters are part of the international Global Greeter Network and count about 30-60 personalized city tours with locals per month in Buenos Aires alone: "The idea is to give you a friendly visit. We focus on your area of interest in 8 different languages thanks to our international team of volunteers: Music, Football, Art or History." 
Market Life & Hot Tango Rhythms in San Telmo
"Walk left, then right and then continue straight ahead: It's about 12 Blocks. The street will change its name, from Florida to Perú, then at Defensa you have to turn left again and then you're there." Todo claro!?
The sheer size of Buenos Aires is literally mind-blowing. However, our walk does not give us tired feet: Rather, it increases our curious mind! Enjoying the famous San Telmo Sunday market and staying afloat atop music, market life, children's laughter and of course street tango shows finally immerses us in this city after only a couple of hours here – Bienvenidos a Buenos Aires, otra vez! 🙂
Our Tip: Stay at the Art Factory Hostel!
Let me express a personal word of Thankyou to the team of Hostelbookers, who have really supported us in looking for, finding and booking the perfect match to our expectations. The Art Factory Hostel and its extraordinary ambiance of art & culture couldn't be a better fit for us looking for "tips off the beaten path": Here, the lady of the house is blogging herself and each wall is decorated (painted or sprayed) with the works of art of local Buenos Aires artists – look at what we get to sleep in !!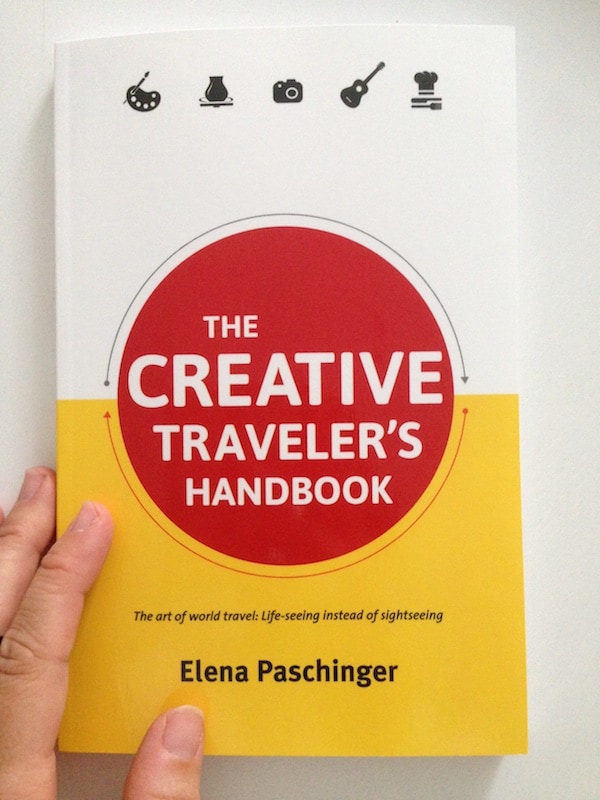 Ready for learning even more about creative travel?
Elena has recently published "The Creative Traveler's Handbook". Chock full of inspiratinal stories, travel tips and advice, it offers everything you need for planning and managing your next creative escape, addressing beginners and experienced travelers alike. Here's how to
get your hands on it
now!