You wouldn't be here if you weren't curious.*
Hi! I'm Elena! Welcome to my travel blog Creativelena.com.
For me, it is all about "life-seeing instead of sightseeing": Join me as I create, eat & live my way around the world. Curious?
*Check out my book, "The Creative Traveler's Handbook", for learning more about what we mean by creative travel. Travelling means the world to me, makes me fit for everday life and sometimes, I trust, also calmer on the inside. Read this blog with a smile, share what you love and remember to check back regularly: After all, when was the last time you did something for the first time?
The excitement in the room is palpable. The general manager of Hotel Mainport, this year's venue for the Travel Bloggers Unite Conference, talks to us about how the hotel has literally opened up just in time for the event, only five days ago. A round of applause: Let's hope the WiFi does not break down just yet. And then, somebody, quietly at first, without flashes or fanciness (indeed, without even a presentation to back him up) shows up on stage, and talks to us about making good art. For about thirty minutes. Compelling, captivating, Marks Richards aka "Best Dad I Can Be" proves being a great storyteller and a beautiful British humorist, for as much as I can say from my Austrian point of view.
I love how he hits home message after message about his take on blogging, essentially saying: "These days, everybody can make a movie or write a book. And everybody has." Dot. So: "Do what you can do, as best as you can." And do it now.
Making Good Art: Mark Richards aka "Best Dad I Can Be"
One of the best, and perhaps most obvious tips Mark Richards gave in his introductory speech at TBURTM (Travel Bloggers Unite Rotterdam) was about knowing your audience as a blogger: "I know my audience. I know who they are, and I know what they want." The second step would then be to give them what they want in the content you deliver. Obvious, you may say. However, perhaps not always as easy to achieve as markets (and readers, and indeed yourself) are all evolving, and fast. So Mark went for "being the best Dad he can be". And hit the nail on the head.
Creating Content For Travellers
In a second introduction to TBURTM, Gary Bembridge (Tips For Travellers) reveals the results of a survey conducted among 280 travellers and 180 bloggers, highlighting two rules to success. The first: Give people what they want. Second: Do it better than the alternatives. It all sounds very business-like, and indeed just shows the way to go in professional travel blogging. Thirdly, he stresses, it is important "to look at content through the eyes of travellers, not bloggers." From a consumer's point of view, the most important type of content in travel blogs according to the survey was money-saving advice, accommodation reviews & advice as well as useful tips / "how-to's". DON'T do "pop-ups", spelling mistakes or bad grammar or post links that don't make sense / sponsored posts off topic. Content should always be delivered in a user-friendly environment.
The Main Reasons to Read Blogs?
Opinion of others

Unbiased and honest
Real-life experiences
I think we can all agree to that, especially with regards to authenticity & personality in a blog. Personally, I love the way I can choose to portray real-life experiences through the myriad of ways offered to me as a Social Media & website publishing writer (implying bloggers require a multitude of skills, including persuading readers to "keep coming back for more" – tips, advice, inspiration).
Another interesting point mentioned by Gary was that "travellers do not travel very much, actually". Under six weeks a year. Half of travellers travel only once or twice a year. So, one of the main points in creating content for travellers should therefore be to "help travellers to reduce risk by making the most out of limited time: Be like a trusted friend."
Further images & photo impressions of this year's Travel Bloggers Unite conference in Rotterdam can be found here: Enjoy!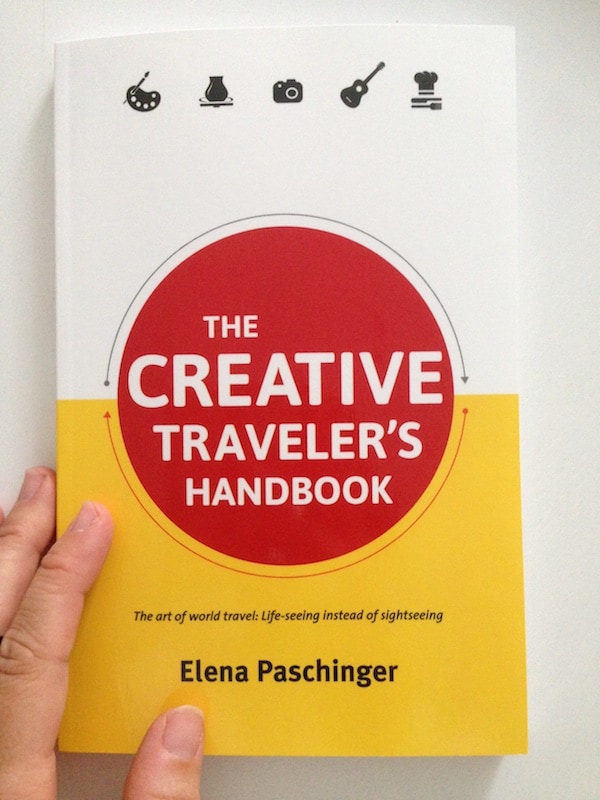 Ready for learning even more about creative travel?
Elena has recently published "The Creative Traveler's Handbook". Chock full of inspiratinal stories, travel tips and advice, it offers everything you need for planning and managing your next creative escape, addressing beginners and experienced travelers alike. Here's how to
get your hands on it
now!